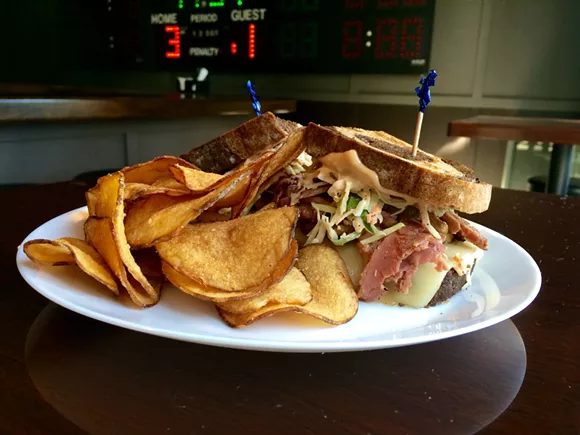 The downtown space formerly occupied by Tom's Oyster Bar has been reimagined as Briggs Detroit. The spot, at Jefferson and Beaubian, features burgers and bar snacks, 24 beers on draft, a dance floor and next spring will open The SkyBox rooftop patio. Tim Moored and Rocco Tossone, formerly of The Fern in Ferndale, announced the opening of their long awaited sports bar on Monday.
The duo has been holding soft openings to tweak the menu during lunch and dinner hours over the past several weeks. A full menu is expected to roll out early this month and in the next few weeks, Briggs will hold weekend brunch. As for brew, the bar features 24 beers on tap.
The opening is a long-time coming. Moored and Tossone originally intended to open in Midtown. "Our initial intent was to open a neighborhood bar. With our previous experience with The Fern, we knew exactly where we wanted to be and this time it was in Detroit," says Rocco. "However, being very particular, it took us about a year and half to find a place that we could call home. Downtown Detroit has been activated and we couldn't be happier being a part of it."
Rocco says Briggs is the first gay-owned bar to open in downtown since the early 1990s when TimeSquare closed. This development certainly adds to the diversity of folks getting into the city's food and drink game. What's more, the new space may inject this corner of downtown, which is dominated by older establishments like Jacoby's German Biergarten, Sweetwater Tavern and Niki's Lounge, with a new vibe. We'll be sure to check this place out soon and give you a full report on our first impressions.