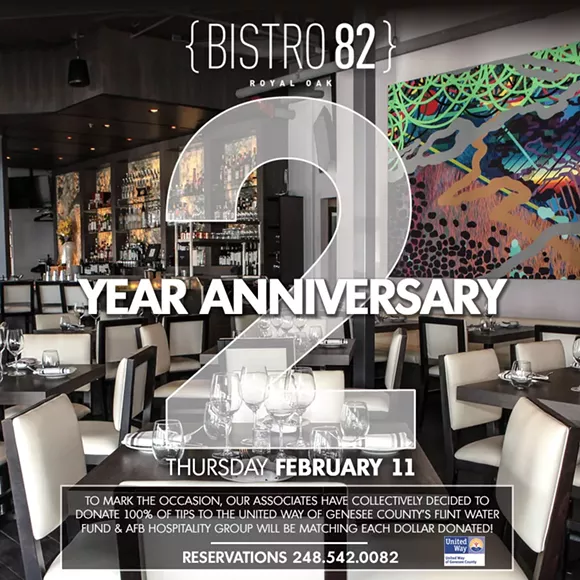 Staff at the acclaimed Bistro 82 in Royal Oak will hand over their tips today to the United Way of Genesee County Flint Water Fund. The fund goes toward the purchase of water filters, bottled water, emergency support services, prevention efforts, and drivers who distribute water to residents of Flint, where the water has been contaminated by lead.
On top of the tip donation, Bistro 82's parent company, AFB Hospitality Group, will match each dollar collected today, and Farmington Hills native actor James Wolk says he too will match a percentage of the workers' donations (Wolk is a bistro regular when he visits Michigan).
"What's happened in Flint is a tragedy," Wolk says in a news release. "I really admire what the Bistro 82 team has chosen to do for their anniversary, and I am proud to help support the relief efforts in my home state."
Bistro 82 is at 401 S. Lafayette Ave in downtown Royal Oak. For more information or to make reservations, call 248.542.0082 or visit www.bistro82.com.