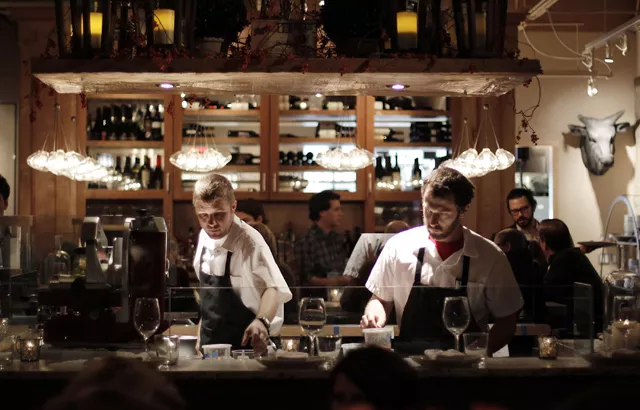 Bella Piatti
167 Townsend St.
Birmingham
bellapiattirestaurant.com
Handicap accessible
Prices: $30-$44
Sharing a meal can be among our most enjoyable of experiences — conversation, companionship and food. So it should be of little surprise that the trend toward shareable dishes and upbeat social dining rooms across the country has taken hold in metro Detroit. Perhaps no place has so thoroughly and successfully adopted the concept, however, as one of Birmingham's newest hot spots, Bella Piatti.
The dining room is energetic, fueled by open space, exposed metal ceilings, and a layout designed to foster a convivial atmosphere. There are two separate bar areas — a traditional spot for parking with a cocktail, and an antipasti bar where patrons can watch some of the plates be prepared and meticulously plated.
Seated at a table, one is almost compelled to reach a fork out to snag a bite between sentences. Quarters can be close, though not uncomfortably so — and when your table isn't big enough to accommodate all your shared dishes, a server will bring a portable shelf: Plates fit both atop and below.
Consider beginning your meal with their charcuterie. They offer some fine, expected choices, such as soppressata and capicolla ($5), but among our favorites is the wild boar cacciatorini ($5), a slender salami, thickly cut, with a robust flavor that just verges on gaminess. And pork lovers will want to try the prosciutto from La Quercia, the renowned Iowa-based purveyor of cured meats. At $12 for six or eight slices, it's certainly more expensive, but the unusually sweet and tender meat, generous ribbon of fat, and almost earthy flavor are enough to elicit an audible moan.
The meats and several other dishes are accompanied by thick slices of fluffy bread coated in olive oil and grilled; one of those dishes is whipped sheep's milk ricotta with honey ($12), a creamy, delicious play on sweet and savory, perfect for spreading on that toasted bread.
This potted appetizer pretty well exemplifies Bella Piatti's approach — delicious ingredients, largely simple preparations, and small, elegantly composed dishes.
Among the other popular starters is a trio of sweet shrimp tossed with a horseradish and set atop thinly sliced pickled green tomato ($12). But perhaps our favorite small plate is a single grilled sardine ($12) with a heaping spoonful of sweet pepperonata. Because of the preponderance of canned sardines (which are not always even actual sardines), the sometimes-funky fish has developed a negative reputation. But served fresh with a modest char and some bread or roasted veggies, it's an awesome treat featuring rich, bitter, oily, rustic flavors.
Delicious as they may be, plates like these illustrate one of the few things that may give patrons pause — the prices. Good ingredients and servers as knowledgeable as those at Bella Piatti always cost more, but a couple sharing several plates and a moderately priced bottle of wine could easily be handing over $250 at the end of the night.
The pasta dishes are much the same: For $16, one may expect a sizable portion. Instead, the orecchiette arrives on a tiny plate — perfect for two people to each enjoy a few bites each, but a hefty sum when ordering several other dishes. Still, the tiny ear-shaped pasta arrives with miniature lamb meatballs, a coating reminiscent of bread crumbs that lend an interesting texture, and some perfectly cooked, wonderfully bitter rapini. Delicious!
Main plates start at $24 for half a richly seasoned chicken and rise from there to $70 for a 1-kilogram porterhouse. Kobe beef makes an appearance on the menu here in the form of the rib cap ($42), a heavily marbled cut that isn't common to many menus in town. The porchetta — a boneless pork roast sliced paper thin — is remarkably tender, piled atop a piece of toast, and served with onion and lightly dressed arugula for a nice contrast between fatty and bitter.
Each of the desserts is quite reasonably priced at $8 each, and they cover a wide range of tastes — seasonal fruit, ricotta cheesecake and chocolate espresso cake among them. But our party particularly enjoyed the honey and pine nut tart. The flavor is much like a caramel, rich and concentrated, and the pine nuts practically melt in one's mouth.
The drinks menu is intelligently constructed, with a handful of Italian-inspired cocktails, many of which employ a bit of Campari and all of which use quality ingredients, including fresh juices. The beer list is similarly short — perhaps a half-dozen Italian-brewed ales and lagers — with a few items that go beyond the de facto Peroni or Moretti, including a pleasant spiced saison from Birrificio del Ducato.
While the wine list has an awful lot of bottles costing more than $100 and represents plenty of common grapes, such as Merlot, the all-Italian approach is a welcome choice. It thoughtfully includes some less weighty, food-friendly wines, including a dry, leathery nebbiolo from Travaglini for about $60, as well as such inexpensive choices as Tami Frappato, a flavorful Sicilian red from natural winemaker Arianna Occhipinti, priced here at around $30.
This Birmingham newcomer would be a bit of a splurge even in many bigger cities, and there are arguably better fine dining values to be had in metro Detroit. But if you're after a well-educated staff and well-prepared food, there is plenty waiting for you at Bella Piatti.
Open 5-10 p.m. Tuesday-Thursday and 5-11 p.m. Friday-Saturday.