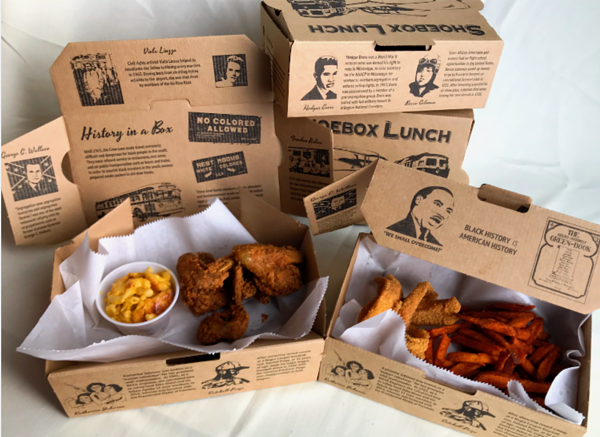 Southfield restaurant Beans & Cornbread is bringing back its "shoebox lunches" in honor of Black History Month.
Like last year, the lunches are served in custom boxes designed to look like the shoebox lunches from the Jim Crow era — a time when black people were banned from eating in restaurants, and had to pack their own meals in a shoebox.
Beans & Cornbread's shoebox lunches are printed with black history facts on them, and come with soul food dishes like Down Home Chicken Wings, Harlem Burritos, or Southern Fried Catfish Strips, with sides of sweet potato fries, coleslaw, or mac & cheese. The boxes are also available for sale without purchase of a meal in quantities of 10 or more.
Last year, Beans & Cornbread owner Patrick Coleman
told us
the idea was inspired by stories his mother and grandmother told him about growing up in the South, which he thinks is important for the younger generations to learn about.
"You're experiencing history, you're doing what people had to do to sustain themselves," he said. "There are kids who have no idea this happened. I think every kid in the sixth grade should have one of these boxes. I think this would be something great for corporations to serve their employees."
Boxed lunches are $11, and the box by itself is $3. A portion of proceeds go to Central Detroit Christian Community Development Corporation's youth education programs. The boxes will be available throughout the month of February.
Beans & Cornbread is located at 29508 Northwestern Hwy., Southfield. More information is available at 248-208-1680 and
beanscornread.com
.
So many restaurants, so little time. Sign up for our weekly food newsletter delivered every Friday morning for the latest Detroit dining news.