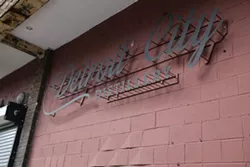 Ever wanted to have a say in your whiskey-drinking experience? Detroit City Distillery is giving bourbon lovers a chance to weigh in on which new spirit will make the cut as the Eastern Market booze maker's signature bourbon.
DCD is offering a series of tasting events starting Feb. 14, wherein guests get to taste four, single-barrel bourbons that are each aged in different ways, utilizing local ingredients. They'll choose the "finest cut." The winning spirit will ultimately be named Butcher's Cut Bourbon.
Butcher's Cut will join the distillery's current roster of spirits that includes Homegrown Rye, Railroad Gin, and Gilded Age Vodka.
Each tasting is $40 a person and includes four 1 ounce tastings and a tour of the distillery (includes samplings straight from the barrel). If you fancy any one variety in particular, a limited number of bottles from each single barrel can be purchased.
Tickets must be purchased in advance. For more information and tickets,
click here.
Here's the lineup: 6 p.m.-7:30 p.m., 7:30 p.m.- 9 p.m., and 9 p.m.-10:30 p.m. Feb. 14, 26, 27