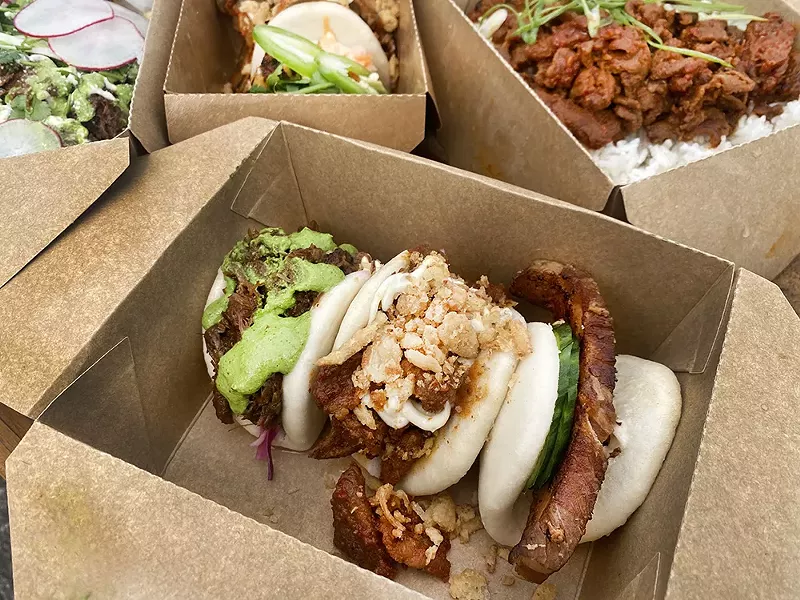 While bao buns function as a slightly sweet but mostly plain flavor backdrop for whichever meats and vegetables they're stuffed with, it's the steamed buns' soft, pillowy texture that really enhances the small packages, which are effectively sandwiches.
For that reason, bao buns are one of the universe's best vessels for pork belly, or chashu, which is often flavored with some combo of soy, mirin, sake, ginger, garlic, and more. At Ann Arbor's Bao Boys food truck, the slight touch of sweetness in the buns perfectly complements the fat, salt, and depth in the small pork belly slab, which owners say is braised in its jus for four hours, then quickly seared before it's served. Bao Boys adds mayo and quick pickled cucumbers for fresh and crunchy contrast to the squishy bun and tender pork, and the pickles' acid cuts across the pig fat.
It's textbook bao, and the chashu is a good baseline, but there's not a dud in the mix among the five we tried. Bao Boys got up running nearly three years ago and now calls the lot behind the York cafe in Ann Arbor home. Los Angeles transplants Steven Choi and Brian Kim had no formal culinary training prior to launching the truck, but are avid home cooks who saw an opening in the market.
Bao Boys offers five buns each day, as well as rice bowls, or dons, and fries. The chashu is perhaps the most familiar, Choi says, but venture beyond the pork belly to the spicy pork, which is composed of thinly sliced pig rendered a tad sweet with a light touch of heat from the liberal use of garlic and gochujang sauce. It's a bit of a take on a Korean barbecue plate, and wrapped with a vinegar cabbage slaw that provides a sweet and sour element, mayo that balances, and crispy onion that provides more depth in flavor and texture.

One can also get the spicy pork in a bowl with rice. It's served with a dashi broth, a common base that is typically made with bonito flakes and kombu, and at Bao Boys is extremely deep and umami-heavy. Bao Boys loads it with onions giving it a French onion soup vibe at moments, and it's one of the most intense things I've eaten in recent memory.
The Shorty centers on Bao Boys take on galbijjim, a braised Korean short rib dish that is typically reserved for special occasions in Korea, Choi says. They shred it instead of cubing, as is traditional, and it's sweet and savory, popping with soy, sesame, pineapple, and other flavors, and coated with an enlivening, acidic cilantro-mayo sauce.
Bao Boys' vegetarian options are not just an afterthought. The Shroomy is composed of thin sliced white button mushrooms and is basically the same marinade as the spicy pork. It's also folded with mayo, the slaw and the onion crisps, which work particularly well in this setting, and it's all a bit earthy and funky with plenty of gochujang. The "bao mi" is a mash up of bao and the Vietnamese banh mi sandwich with marinated tofu, cilantro, jalapeño, and a vinegary daikon-carrot slaw that makes the package.
If there was one minor complaint it was the lack of beverage options. There were only Jarritos soft drinks on a recent visit, and no bottled water. One can take food to go or eat at a nearby dining area composed of picnic tables. Choi says only about 40% of customers they encounter have previously tried bao. For the uninitiated, Bao Boys is an excellent place to start.
Coming soon: Metro Times Daily newsletter. We'll send you a handful of interesting Detroit stories every morning. Subscribe now to not miss a thing.

Follow us: Google News | NewsBreak | Reddit | Instagram | Facebook | Twitter