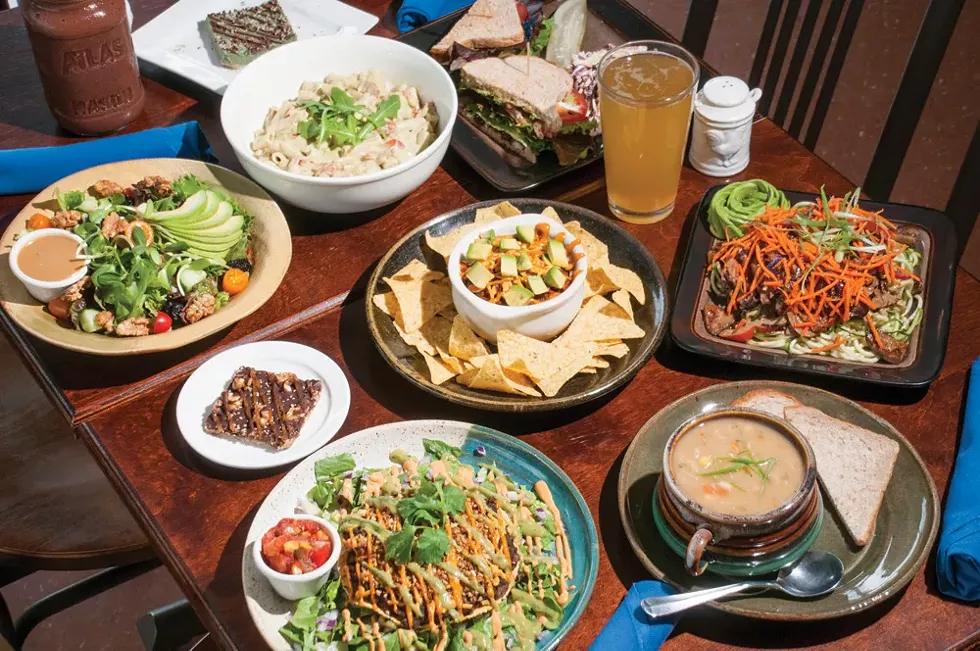 Detroit usually lags a few years behind the coasts in kitchen trends, so if you want to know what we'll be eating here in, say, 2021, check out what's up in Portland's restaurants today. That's how it often goes (see also: the zaatar craze), but there's one culinary discipline in which we're ahead of the game — veganism. Despite the size of our still relatively small food scene, even PETA and VegNews each recently named Detroit as one of the nation's 10 most vegan-friendly cities.
Still, the city is a bit deficient in the overall number of restaurants specializing in vegan fare. But while it may not have quite the count of San Francisco or New York City (which is partly attributable to overall population), many feel that our vegan chefs and restaurants measure up to anyone, anywhere. Leaders like Detroit Vegan Soul, the Clean Plate, or GreenSpace can put together a meal as tasty as what's rolling out of the kitchens at Portland's Bye and Bye or Doomie's in Los Angeles.
"I've traveled extensively, especially in New York in the 2000s ... and I've found that Inn Season Cafe offers some of the best vegetarian and vegan food that I've had anywhere," says Amber Poupore, a former Inn Season chef and owner of Cacao Tree and the Clean Plate. "Same with GreenSpace — they've developed a product line that is really top notch, and I think that their food is amazing. Same for Detroit Vegan Soul — there's nothing that comes close.
"So even if we don't have the numbers, we have a superior product."
Beyond that, Detroit's new, talented chefs are generally hip to the fact that more and more people are going meatless, and they're adjusting their recipe books accordingly. Add to that the presence of national and regional cuisines like Middle Eastern or Bangladeshi that come with vegan options built in, and you start to see why meatless dining in Detroit isn't too difficult.
Still, there's a way to go says Kirsten Ussery Boyd, a co-owner and manager at Detroit Vegan Soul. And part of the next step is educating people about the vegan lifestyle.
"While our restaurant is in its fourth year open, we started our business five years ago. I can remember people asking us, 'Are you sure you want to use the word vegan in your name?'" she says. "There seemed to be this sentiment that Detroit might not be ready for vegan and certainly at that time there weren't any other options." But Vegan Soul's success, she says, proves that a market exists.
"We still have some ways to go, however. Some people are still confused about what 'vegan' really means and that it's not just a diet, it's a lifestyle."
To get a better handle on the pros and cons of plant-based dining in Detroit, we talked to over 20 vegans in southeast Michigan. They range from chefs to restaurant owners to those who went vegan for health reasons to those who did so because the industrial meat industry is a horror show.
We asked about their favorite restaurants and preferences when it comes to vegan cooking, and, not surprisingly, there's a lot of range in both. Some confessed to being addicted to "junk food" — like the double scoop of dark chocolate vegan ice cream from Treat Dreams — while other more health conscious diners steer away from most oils and soy products. Some love pre-prepared "meat substitutes" like "not dogs" or seitan, while others gravitate toward whole ingredient fare and rarely dine on anything processed. Some say Daiya cheese is an abomination. Others seem to love it like some love cheddar.
As for the restaurants, we looked for eateries, cafes, pop-ups, or food trucks at which vegans enjoy the same sort of hard decisions that meat eaters encounter. It's by no means a definitive list, but here are 72 of the spots that our sources say are among the metro Detroit and Ann Arbor's most vegan-friendly.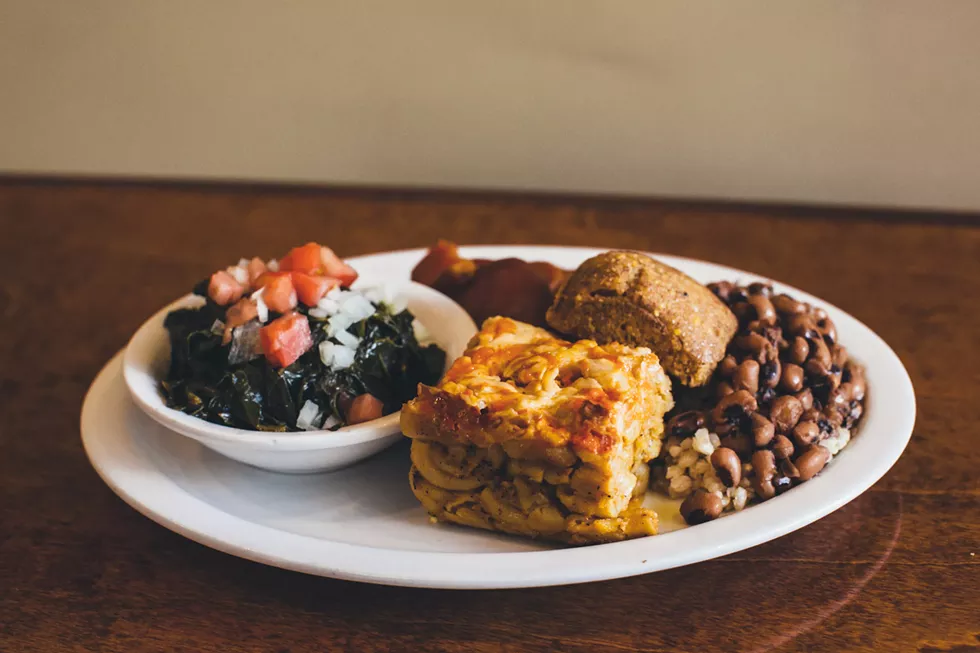 1 Detroit Vegan Soul 8029 Agnes St., Detroit; 313-649-2759:
It's Detroit's only all-vegan restaurant, which several of our sources point out is a huge bonus because "you don't have to worry or ask questions." Vegan Soul trades in comfort foods and our favorite is the Catfish Tofu (cornmeal battered tofu, a broccoli and corn medley, redskin potatoes, and onions). Collective favorites include Smothered Tempeh (tempeh smothered in a brown mushroom gravy topped with green onion and sliced almonds, served with redskin mashed potatoes, and green beans) and the Soul Platter (mac-n-cheese, tenderly smoked collards, maple-glazed yams, black-eyed peas, and a cornbread muffin).
2 The Clean Plate 45629 Hayes Rd., Macomb; 586-580-3293: The east side's most comprehensive vegan and vegetarian restaurant makes everything from scratch and serves dishes like the ABLT, a veggie BLT on toasted wheat bread topped with avocado, shiitake "bacon," lettuce, tomato, and garlic aioli. There's also the Thai, a colorful, piquant Thai-inspired dish built around spiral zucchini noodles, sauteed shiitake mushrooms, and a peanut sauce. Owner Amber Poupore is one of the area's most talented and pioneering vegan chefs, and her resume is lengthy - she worked at Inn Season for around 11 years, then opened Cacao Tree Cafe before venturing to Shelby Township for the Clean Plate three years ago.
3 PJ's Lager House 1254 Michigan Ave., Detroit; 313-961-4668: The Corktown dive bar offers a good selection of tasty vegan sandwiches like the bahn mi, po' boy, or bbq tempeh sandwich, among many more plant-based menu items.
4 Ollie Food + Spirits 42 E. Cross St., Ypsilanti; 734-482-8050: In Ypsilanti's Depot Town, Ollie's can make all the options off its lauded mac and cheese menu vegan, but don't forgo the dinner menu with items like mushroom and chestnut pierogi made with apples, herbs, nuts, and arugula salad.
5 Pepe Z at EL Club 4114 W. Vernor Hwy., Detroit; 313-436-1793: There's a lot to love about Pepe Z's, not the least of which is Pepe's housemade vegan cashew cheese. Three pies are topped with it: Glenda (oyster mushrooms, shiitake mushrooms, and arugula); You Butternut (seasoned butternut squash puree, Italian tomatoes, sauteed onions, and spicy chili honey drizzle); and the Julian (kalamata olives, sauteed onions, green peppers, Italian tomatoes, spinach, and a drizzle of housemade tahini and balsamic dressing).
6 Yemen Cafe 8740 Joseph Campau Ave., Hamtramck; 313-871-4349: Some of the Hamtramck Yemeni eatery's dishes might need some modification before they're vegan friendly, like the misleadingly titled Foul which is a jumble of mashed fava beans, tomato, garlic, and onions, but it should be ordered sans eggs. Others need no modification, like the hummus, fattoush, or vegetable gallaba.
7 Brooklyn Street Local 1266 Michigan Ave., Detroit; 313-262-6547: The Corktown diner is one of our sources' collective favorites for the variety and because it sources from the area's best producers. That shows in its vegan breakfast options, like the banana walnut pancakes (organic bananas, Carncross Sugar Bush real maple syrup, and candied walnuts) or vegan breakfast hash with tempeh. The housemade Ashley's Veggie Burger is another favorite, as is the spicy tofu sandwich, along with sides like roasted potatoes and fresh greens.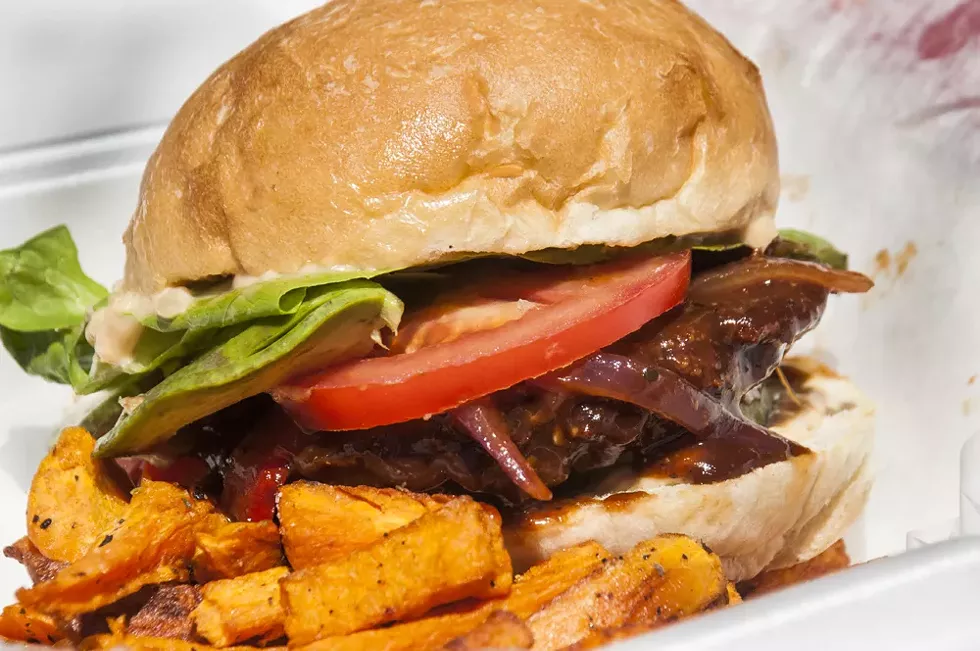 8 Paradise Cafe and Juice Bar 19164 Livernois Ave., Detroit: The vegan restaurant will be opening on Livernois later this year, but, in the meantime, find its pop-ups multiple days weekly in Highland Park. In chef Nezaa Bandele's cooking, you'll find influences from all over the globe, but her speciality is Jamaican. The moist and crumbly black-eyed pea patty is one of the best veg patties in town, and can be prepared as a standard burger or Jamaican jerk barbecue-style.
9 Taste Of Ethiopia 28639 Northwestern Hwy., Southfield; 248-905-5560: Ethiopian kitchens generally produce a good deal of vegan-friendly cuisine, and some of the top dishes here are gomen with collard greens and teff injera, and defin misir with green lentils simmered in garlic, ginger, onion, and turmeric.
10 Cacao Tree Cafe 204 W. Fourth St., Royal Oak; 248-336-9043: This raw, soy and gluten free cafe is a favorite of the city's vegan community, and a second owned by Amber Poupore. The smoothies and juices are a main attraction, and our sources recommend the Strawberry Shortcake Smoothie (strawberry, almond mylk, honey, date, brown rice protein, hemp seed, maca, and raw tahini) and burrito (seasoned nut "meat," pico de gallo, guacamole, cashew sour cream, and shredded romaine). We also will point you to the General Tso's Lettuce Wrap (romaine leaves, sesame nut "meat," cilantro, basil, avocado, carrot, red cabbage, sprouts, and General Tso's sauce).
11 Al Ameer 12710 W Warren Ave., Dearborn; 313-582-8185: Lebanese and Middle Eastern restaurants' come with a good amount of vegan options built in, and Al Ameer is a James Beard winner for a reason. Items like the Ameer tomato kibbee — a meatless take on the classic Lebanese raw meat dish — are unmatched in its piquant flavor.
12 Neu Kombucha 33305 Grand River Ave., Farmington; 248-837-0932: Visit its downtown Farmington fermenting room where you'll also find vegan snacks, like kale chips, Mitten Bites, and ice cream floats prepared with Neu Kombucha.
13 Ima 2015 Michigan Ave., Detroit; 313-502-5959: The Forest Udon made with porcini broth might be one of the best vegan menu items under the sun. Several other bowls can be made vegan with little effort, and the tofu tacos are hard to beat.
14 Pie-Sci 5163 Trumbull Ave., Detroit; 313-818-0290: Most Pie-Sci pizzas can be made vegan for a couple extra bucks, and the Woodbridge pizzeria uses Follow Your Heart Vegan Gourmet cheese, which some of our sources say is the best on the market for pizza making.
15 Dilla's Delights 242 John R St., Detroit; 313-346-3771: The small downtown Detroit donut shop includes options for vegans in its cinnamon raisin and blueberry doughnuts — but get there early as they sell fast.
16 Try it Raw 213 E. Maple Rd., Birmingham; 248-593-6991: Among the highlights in a simple-but-exciting menu at the Birmingham raw cafe is Los Tacos. In the dish you'll find a collard-green wrap holding walnut pate, pumpkin seeds, "refried beans," avocado, tomato, lettuce, green onions, red pepper hot sauce, nacho kale chip crumbles, red peppers, sprouts, and cashew "sour cream."
17 Astro Coffee 2124 Michigan Ave., Detroit; 313-808-0351: Our most trusted sources rank chef Jess Hicks among Detroit's best chefs, and she prepares plenty of vegan options like the Avo Sandwich (avocado sandwich) and almond cake, among other rotating baked goods.
18 Moor Herbs 16140 W. Seven Mile Rd., Detroit; 313-583-9709: Detroit's Moor Earth is part store, part grab-and-go restaurant offering daily specials and dishes like pineapple fried rice, or sandwiches like the Philly Cheeze Shroom, a take on the Philly cheesesteak but with shiitake mushrooms, red onions, green peppers, garlic, seasonings, and vegan cheeze.
19 Chive Kitchen 33043 Grand River Ave., Farmington; 248-516-7144: This slightly more upscale vegan-only restaurant boasts items like the Grilled Chicken Marsala (panko crusted grilled chicken seitan, creamy marsala wine sauce, cremini mushrooms, potato mash, and grilled zucchini) and the jalapeno burger (seitan, house made cashew nacho cheese, jalapenos, and Avalon bread) along with a long list of craft cocktails.