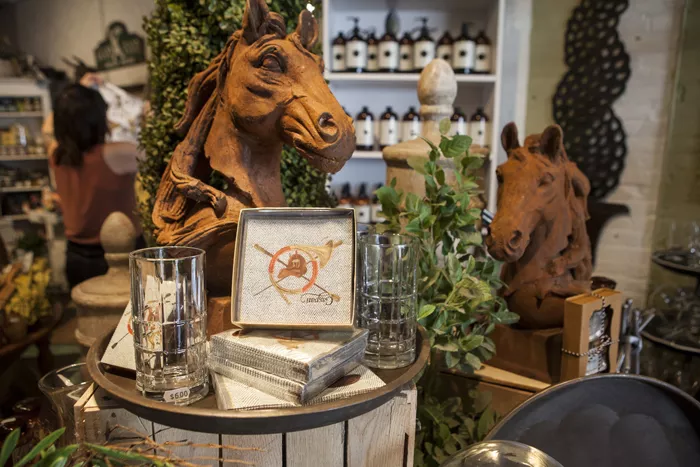 Savvy Chic | 2712 Riopelle, Detroit; 313-833-8769; savvychiceasternmarket.com
Tucked behind Eastern Market's sheds on Riopelle, Karen Brown's storefront, Savvy Chic, has been thriving in the district for 15 years. Though the shop was first opened as a vintage boutique, you'll now find a host of newly produced home goods that include candles from Paddywax, colorful aprons, soaps, honey dippers, wooden spatulas, and even foodstuffs. An annex to the store also offers clothing, shoes, and accessories for both men and women, along with bubble bath, special lotions, decorative soaps, and personal scents. Though the theme of the two stores might seem slightly disjointed, they're unified in their selection of unique goods and brands.
While we were in last week, we picked up a brown-and-mustard, butterfly-emblazoned tablecloth and a pair of circular Almost Famous-inspired sunglasses. We also had a really hard time putting down a footed, silver and glass soap dish, and on the way out noticed a printed paper table covering that was hard to resist. Prices are reasonable, especially considering the quality of the products sold here and the superiority that lends itself to uncommon goods.
Brown, who studied painting at the College for Creative Studies, has a strong sense of interior design and is constantly changing up what she has in stock. As soon as another retailer around town starts selling something that's been on her roster for a while, she'll find a new product to feature.
Savvy Chic is cozy and welcoming, and we'll definitely be back for more.