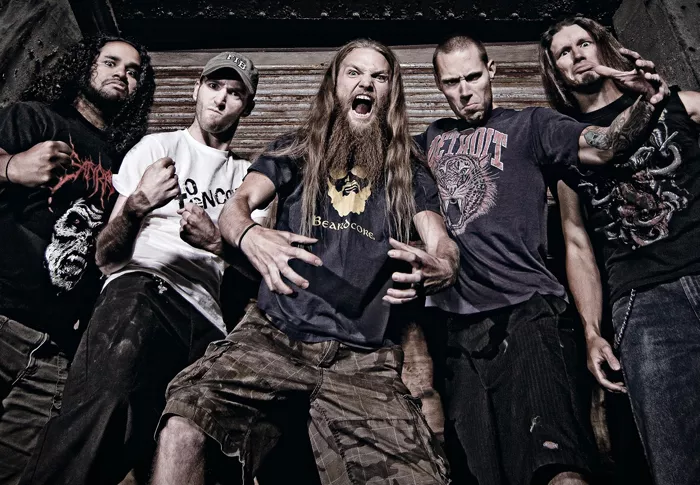 Indie
Jamaican Queens
Jamaican Queens pile on heavy rap beats, low-woozy-bass bursts, trundling 808 Rolands and cascades of spacey synth samples. Describing the JQ sound with his bandmate Adam Pressley, JQ-co-founder, guitarist, beat experimenter and producer Ryan Spencer tellingly repeats the phrase: "Fuck with it." (Jeff Milo)
Also: George Morris, Dale Earnhardt Jr. Jr., Julian Paaige, Flint Eastwood
Punk
Easy Action
The most recent band featuring Negative Approach frontman John Brannon, Easy Action is a far more straightforward rock 'n' roll band in the classic Motor City sense than either the pummeling, primitive hardcore of NA or the brooding art-noise of the Laughing Hyenas. Guitarist Harold Richardson agrees. "It's a rock 'n' roll band," Richardson says. "If you're familiar with Detroit rock, it's pretty much that. It's named after the Alice Cooper record."
Also: Glitter Trash, Wilson, Nice Hooves, the Meatmen
Metal
Battlecross
This Detroit power metal five-piece, consisting of guitarists Hiran Deraniyagala and Tony Asta, vocalist Kyle Gunther, bassist Don Slater and drummer Michael Kreger, formed in 2004 — though they didn't really start finding their metal feet until 2007. Getting on Metal Blade, a label with a big reputation, certainly hasn't hurt Battlecross. The Canton-based band has seen its reputation blossom, thanks to a series of big tours and a high-profile release of Pursuit of Honor. The following album, War of Will, saw them shift up another gear.
Also: Axe Ripper, Black Dahlia Murder, Hazardhead, HafLife
Blues
Jimmy McCarty
Let us all praise Jim McCarty. Since the '60s, his respective band tenures — Mitch Ryder & the Detroit Wheels, the Buddy Miles Express, Cactus, the Rockets, Mystery Train — have borne the twin marks of diligence and class. Among a certain generation of heavy-rock fans, he remains one of America's most esteemed musicians. It's telling, though, and more than a little bit vexing, that among the Motor City's contemporary garage-punk scenesters who've elevated his peers Ron Asheton and Fred "Sonic" Smith to godhood, McCarty is a prophet without honor — and he remains a performing mainstay locally. (Fred Mills)
Also: Alberta Adams, the Muggs, Andre Williams, Thornetta Davis
Jazz
Hot Club of Detroit
With a nod to Django Reinhardt, the Hot Club of Detroit plays gypsy-flavored jazz while capturing the spirit of downtown Detroit. "A lot of bands that model themselves after the Hot Club of France are now working with drummers or percussion of some sort," says HCOD rhythm guitarist Paul Brady. "We never have. And by doing that it forces us to think creatively about what we can do without it." Fair enough.
Also: Dave Bennett, Sean Dobbins Organ Quartet, Detroit Pleasure Society
R&B
Kem
Kem is one of those rare musicians whose music really is a reflection of his life, whose melodies are just as much healing medicine to him as they are ear candy to you. Once faced with homelessness and addiction, Kem made music his crutch, then his cross. Then he offered it to us. "Throughout my life," he says, "throughout my addiction, music was the only thing constant. I could absorb myself in that. When singing, you let all your inhibitions to the side. You're in the groove." (Khary Kimani Turner)
Also: Bettye LaVette, Melvin Davis, the Wrong Numbers, (a current version of) the Four Tops
Rap
Danny Brown
We here at MT headquarters have always loved Brown — his transparent raps of sex and streets, his dope self-parodies and skinny jeans, his bad teeth and brilliant rhymes, his cheap beats and can't-turn-away comic allure. Dude's a total original. The jovial rapper immediately gives an impression of a kid who's used to things going his way. He's a riot in person, and it's all wrapped up neatly when he flashes his trademark, tooth-deficient grin. He's got confidence, a sense of self-satisfaction, to spare. One thing is certain: He's not afraid to take career chances, and things do, inevitably, so far, work out in his favor. (MT Staff)
Also: Slum Village, Mae Day, Passalacqua, Cold Men Young
Electronica
Matt Clarke
Clarke has been DJing for 17 years, since he was 17 years old. And he's been involved in dubstep since 2005. He describes the music as, "typically, 140 beats per minute. It has a kick on the one and a snare on the nine. It's heavy, bass-influenced and that's pretty much the limitations to the genre. That's what defines it. It came out of UK garage, and drum & bass. Everything comes from UK house and techno. It's just one of the new offshoots of electronic music, focusing on that bass." Dubstep in the Motor City is building a sizable following because of guys like Clarke and artists such as Serax, Calico, Laceration Selekta and Item9.
Also: Carjack, Kevin Saunderson, Carl Craig, Jeff Mills
Pop
Electric Graffiti
These 15-year-old girls, who claim to be influenced by the Beatles and the Stones, though they also love Coldplay and Muse, say they often struggle to get gigs because bookers don't always take them seriously. While that is kind of understandable, it's a problem they likely won't have for long. Word is getting out that they have the quirkiest pop show in town and, hey, if they have to play a few libraries and parks first, so be it.
Also: Lightning Love, Pewter Cub, Lettercamp, Duane the Brand New Dog
Country
Whitey Morgan & the 78's
Strictly speaking, Morgan and his boys are from Flint, but they play all over the Detroit area. Morgan belts out songs in a voice from somewhere south of the Mason-Dixon line, and his band's outlaw country sound is beautifully rugged. Detroit, long a destination for northbound Southerners, can produce a band that's all-country, but in a very Detroit way.
Also: Ty Stone, Katie Grace, Alison Lewis, Doop & the Inside Outlaws
Classical
Detroit Symphony Orchestra
"It's an art form that differs from any other; you hear it as it happens, in time," says the DSO's Erik Rönmark. "There is certainly no reason that someone should feel unwelcome here. People come from all walks of
life, all types of people. Come and enjoy it, and you get to experience a work of art that you will never hear again because it just happens then. As soon as it's done, you were part of a crowd of 2,000 people that got to hear it just played that way. There's something about that. You might love the piece, you might not like the piece, but you'll certainly have an opinion of your own, just like you do when you see a great work of art in a museum."
Also: Anything at the Detroit Opera House, the Detroit Party Marching Band, the Birmingham Bloomfield Symphony Orchestra, the Royal Oak Symphony Orchestra
Folk
The Appleseed Collective
The Appleseed Collective formed in 2012, when Brandon Worder and Andrew Brown were both out busking in the streets of Ann Arbor. "I had a guitar player there, and he walked out of this café," Worder says. "My friend went in to use the bathroom and he walked out and said, 'Hey, can I pick up that guitar?' I said yes. He had just come back from New Orleans and he had learned a bunch of Dixieland stuff down there and got really into that. He had been more into garage rock before that. He played a Dixieland tune and I played along with him, and we just hit it off right there."
Also: The Crane Wives, the Ragbirds, Jill Jack, Jere Stormer