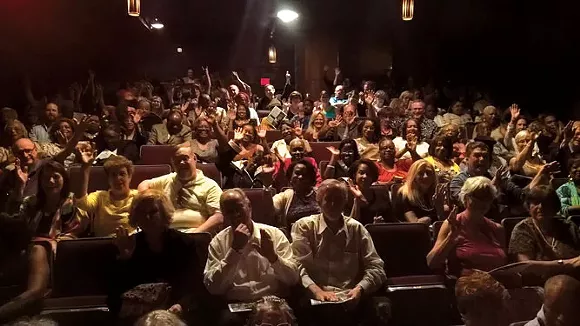 If you haven't been a spectator of live theater in a while, what you find might surprise you. In a day and age when overblown CGI graphics appear in lieu of character-driven drama, and when absolutely instantaneous videos on YouTube have shortened our attention spans, turning your cellphone off and giving yourself over to in-person performances right before your eyes can be revelatory. When the lights go down and the curtain goes up, you'd be surprised how the old magic of actual people telling a story in front of you still works as well as ever.
The things that make live theater a great first or second date are also the things that make it worthwhile all the time. No medium is better for discussing over drinks afterward, mostly because good performances of great plays offer a chance to grapple with important issues in the here and now. Why is that? Because playwrights of all sorts of perspectives still write for the stage, where off-kilter characters and unconventional plots still do get presented by a dwindling number of courageous theater companies. The kind of stuff that used to be in interesting movies a decade or two ago still abounds on the live stage.
Purple Rose Theatre
137 Park St., Chelsea; 734-433-7673; purplerosetheatre.org

Emmy-winning actor and Michigander Jeff Daniels founded his Purple Rose Theatre more than 25 years ago. The name was inspired by the 1985 Woody Allen film The Purple Rose of Cairo, in which Daniels starred, garnering a Golden Globe nomination. In 1986, Daniels moved back to his old stomping grounds of Chelsea, where he built this 168-seat house that often mounts productions of plays with local connections. The theater isn't half as well-known as it should be, and there isn't a bad seat in the house.
Matrix Theatre
2730 Bagley St., Detroit; 313-967-0999; matrixtheatre.org

Nestled off the main thoroughfares of Mexicantown, the Matrix Theater has been at the forefront of community-oriented, often community-driven theater. At Matrix, the art of theater is just one of three pillars along with community and social justice. In a way, the theater's mission is as much education as entertainment, with workshops and classes that seek to engage the people who live around it. In fact, many of the theater's most successful shows grew out of working with the people of Southwest Detroit.
The Detroit Repertory Theatre
13103 Woodrow Wilson, Detroit; 313-868-1347; detroitreptheatre.com

The Detroit Repertory Theatre, or "the Rep" as it's often known, is tucked away on a depopulated stretch of Woodrow Wilson Street on the city's west side. For more than a half-century, "the Rep" has staged several plays a year, including plenty of national premieres of topically important work. The theater was a pioneer of race-blind casting, and productions often trade in important social issues — although lighthearted comedy also has its place. All productions have a prestige factor, with quality sets, pitch-perfect lighting design, and a tight technical ensemble, to say nothing of the gorgeous lounge and bar, which is probably the longest in Detroit.
The Ringwald Theater
22742 Woodward Ave., Ferndale; 248-545-5545; theringwald.com
About 10 years ago, Joe Bailey and Joe Plambeck leased a 3,000-square-foot former office in Ferndale and turned it into a theater catering to the LGBT community. The theater's bread and butter is farce — outrageous plays that feature drag wardrobe, gender-bending, naughty satire, and intentional overacting, such as Southern Baptist Sissies, Lesbian Vampires of Sodom, and Fatal Attraction: A Greek Tragedy. But they still manage to sneak in a play or two each season that veers into poignancy, even if they do often leave you laughing.