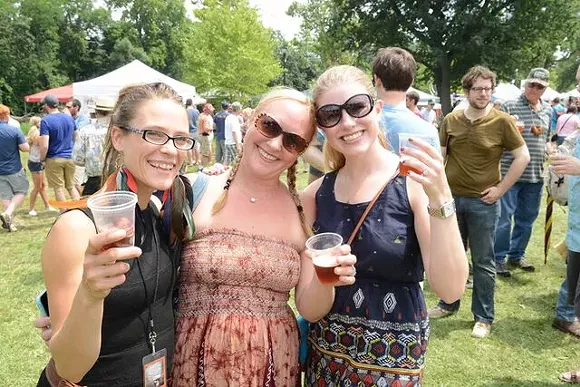 Festivals bring us together. We congregate for the camaraderie, to sample cultures or specialties served up by the experts, to sip and nosh in an endless buffet, to wile away an afternoon or evening celebration with our neighbors, friends, and more than a few tourists. Get out your calendar and make some plans, whether these happen to be in your backyard or across the way.
Summer Craft Beer Festival


July 18, 2015
John Ball Park - Grand Rapids
www.summercraftbeerfestival.com
More than 50 craft brewers from across the country will be on tap to offer 100-plus samples of beer, including a number of Michigan favorites. Live music will also be on order. Tickets $35.
St. Ignace Fish Feast


July 18, 2015
St. Ignace Marina Pier
www.stignace.com
This event showcases Michigan's love of the fish fry, with local restaurants serving up a variety fish delicacies, live music, and activities for the kids, including the Kid's Trout Fishing Pond.
Michigan Summer Beer Festival

July 24-25
Riverside Park - Depot Town, Ypsilanti
If you can't make it out to Grand Rapids, no worries, this Ypsilanti fest promises to be even more impressive, with more than 1,000 beers to try, as this is the oldest Michigan Brewers Guild festivals.
Wild Blueberry Festival


Aug. 21-23
Paradise, Michigan
This celebration honors the wild blueberries typical of the eastern Upper Peninsula with a blueberry brunch, music, horse-drawn wagon rides and an arts and crafts fair. Tickets $35.
Microbrew & Music Festival


Aug. 21
Traverse City
The Village at Grand Traverse Commons
www.porterhouseproductions.com
This 21+ event features at least 50 brewers from all over the state, live music, DJs, local food vendors and a home brewer's challenge. If you're coming from afar, save money on lodging and stay at Brew Camp, a new addition this year. Tickets range from $55 for Saturday passes to $240 for VIP weekend passes.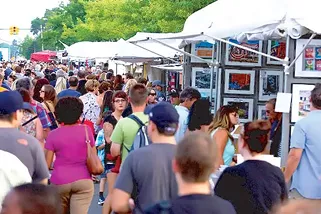 Ford Arts Beats and Eats, Royal Oak


Sept. 4-7
http://www.artsbeatseats.com/
You'll get your fill of a variety of food and drink vendors from across Metro Detroit during this Labor Day Weekend celebration. Admission is $3 until 3 p.m. and $5 after 3 p.m. on Saturday,Sunday and Monday.
Hamtramck Labor Day Festival

Sept 5-7
This 30+ year-old festival that celebrates the spirit of the working man, features a variety of Polish, Middle Eastern cuisine and carnival food, a beer garden and cocktails, in addition to DIY crafts for sale.
U.P. Fall Beer Festival, Marquette

Sept. 12
Mattson Lower Harbor Park
www.michiganbrewersguild.org

This relatively smaller beer fest is no less impressive as it overlooks Lake Superior. More than 400 locally crafted beers from 60 Michigan breweries will be on display. Tickets $35 in advance, $40 at the gate.
Grand Haven Salmon Festival
Sept 18-20
http://www.ghsalmonfest.com/

Try a number of salmon dishes, see who wins in the salmon cook-offs, run a 5K and find out who will win the Big King Fishing Contest. Tickets $10 adults, $5 children.
Dine Drink Detroit

Oct. 1-10
http://dinedrinkdetroit.com/


Here, another chance to sample celebrated menus all over the city of Detroit, with prix fix options at a discounted rate.
7th Annual Detroit Fall Beer Festival


October 23-24, 2015
Eastern Market
This is one of Michigan's largest beer tastings, with more than 600 craft beers from more than 75 breweries from across the state available for tasting.
These fabulous events are already in the rearview mirror for 2015, but they shouldn't be missed when we turn the calendar.
Restaurant Week - Ann Arbor
Usually mid-January, 2016 TBA
www.annarborrestaurantweek.com
BBQ, Blues, & Bluegrass
Usually mid-May, 2016 TBA
St. Joseph
www.stjoetoday.com/all-events
Detroit Restaurant Week
May
http://www.detroitrestaurantweek.com/
Cereal City Festival, Battle Creek
June
http://www.bcfestivals.com/
Pasty Fest, Calumet
June
http://www.mainstreetcalumet.com/
National Cherry Festival, Traverse City
July
http://www.cherryfestival.org/