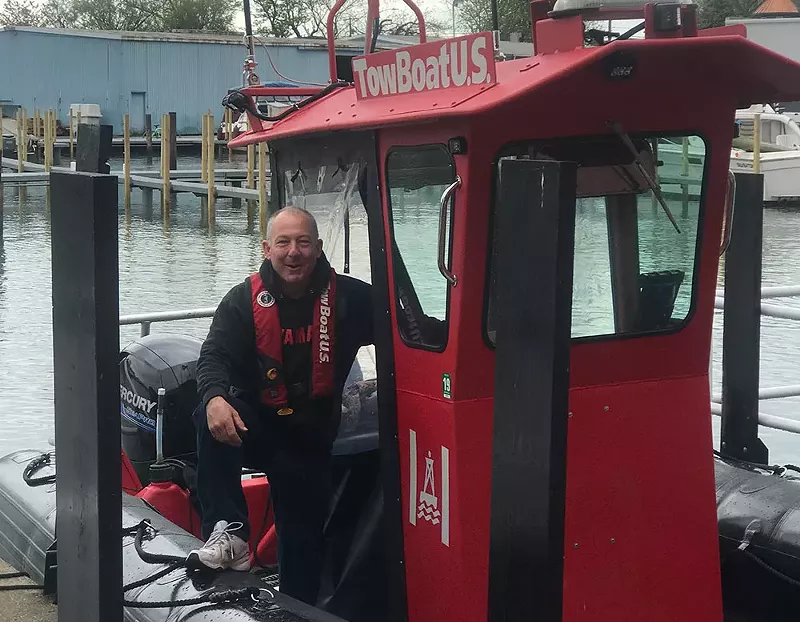 Here's something you landlubbers may not have considered: How do you get roadside assistance when your "road" is the Detroit River? Stranded motorists, of course, call their insurance company to arrange for a tow truck to haul their car off to the shop. What does a marooned boater do?

Well, it turns out they often pick up the phone and call their insurance company — for a tow boat. Yes, these wrecker drivers on the water not only exist, they're working just as hard as their counterparts on land — to help stranded and beached boaters and sailors.
For example, Damark Marine Towing Captain Jeff Pidcock, 51, plies the waters around his berth in Gibraltar, down near the mouth of the Detroit River. Day and night he travels miles in all directions to assist boaters who need a bit of rescuing.
It's the perfect gig for Pidcock, who grew up in Allen Park, and has always spent time near water, both recreationally and professionally.
"Being Downriver, the river is right in the name," Pidcock says. "And you can't hardly go anywhere without being around the water. I've been interested in it since I was a child. I ended up making a living with my hands and back working on boats for local service centers."
He says one thing led to another and an opportunity came up to purchase a marina, which he calls something "a poor kid from Allen Park probably should never have been able to afford." That led to a decade's worth of work on the water assisting pleasure boaters in distress. The hometown kid who never strayed far from Downriver has probably logged more miles on the water than Marco Polo. Last year he was able to purchase the towing business, and now he signs the checks.
"My office is a towboat," Pidcock says. "I mean, I do have an office on land, but it's used very seldom. I'm definitely hands-on. If I'm not in the shop working, I'm going to be out getting somebody out on the water. So my office is my wheelhouse — and it has a very nice view."
Often several times a day he and his crew will head anywhere from Detroit to Lake Erie to help out sailors and powerboaters. The nearest Coast Guard stations are on Belle Isle and in Toledo, and Pidcock helps fill in the gap between them.
"In many cases, we're the first responders," he says. "Having us out there, it helps them. We certainly don't do the job they do, but in some cases, whoever's on scene has to do that job when it's needed. We run across all kinds of stuff, from personal injuries to bad ski accidents to even drownings."
Fortunately, such tragedies are rare, and the incidents Pidcock responds to are, for the most part, not deadly, just ordinary mishaps: a busted propeller, damage from floating debris, a collision on the water. In fact, a lot of the calls that come in are due to silly mistakes. They usually come in at the end of the day, after boaters have had their fun and are now trying to get back home.
"Once the day's over at a popular hangout spot, everybody starts leaving at once, sort of like rush hour," Pidcock says. "So we'll get calls within that window of movement. Sometimes it's just something like they spent the day on the water listening to the radio and now they've found out their batteries are too weak to start the engine."
He adds with a laugh, "We don't do as many flat tires as AAA, but I bet we do as many jump-starts as they do."
Sometimes it's just a silly case of operator error.
"Sometimes they've had a few too many adult beverages and don't realize that their boat won't start because the kill switch is locked out, or that the boat isn't in neutral. And the all-time favorite is, 'Hey, I ran out of gas! I put $20 in it. I can put that in my car and drive all week.' Of course, when gas is $5 a gallon and you burn 15 to 20 gallons an hour... The out-of-gas stuff, I still find that to be the silliest thing. How people still run out of fuel I don't know — unless there's a faulty instrument or something."
Sailboats aren't immune to trouble either. It's not unusual for the engines they use to power in and out of open water to fail due to long periods of idleness. In fact, sailors use their engines so sparingly, sometimes they forget the fundamentals. Pidcock recently had to tow a sailboat from a fueling dock to a repair center after its pilot had mistakenly pumped gas into his diesel engine.
He adds that the lack of maneuverability on bigger sailboats sometimes causes problems. "Oftentimes, sailors get out of their lanes in the channels because of the length of their keel, and it's not too hard to run aground in a shallow spot," he says. "And, just like AAA pulls a car out of a ditch, we pull the sailboat off the sandbar."
But no matter how mundane the problem, boaters are always relieved when he arrives on the scene. They're happier to see him than any tow truck driver ever.
"Every problem you could have on land just seems amplified when you're in the water," he says, "because there's nowhere you can go. You're exposed out in a boat, there no getting away from the weather or the water."
And though he enjoys his role as waterborne savior, sometimes the calls he gets leave him chuckling and scratching his head.
"Just last weekend, we had a fellow tell me he needed a tow. He said, 'I'm in a white boat and I'm right out here in Lake Erie.'" He laughs and adds, "Well, it's an awfully big lake, you know? And 90 percent of the boats are white."
The most challenging jobs, Pidcock says, are when boats actually take on water. That's when his crews need to de-water them with special pumping equipment, to get them bouyant enough to tow them without dragging them on the way in.
"They're required to have some flotation," he says, "so there should be a portion still sticking up. It's usually the nose, bobbing like a cork in the water."
But the process of raising a partially submerged boat sounds like a daring rodeo trick.
"We try to hook them on the nose and pull them so they pop up out of the water like a waterskier. If we can get going and get it surfing on top of the water, it'll stay on top enough so we can get back in. Sometimes, we'll have another boat put pumps in and pump it while it's still moving forward. At that point, you're pulling up to a moving boat and jumping on board."
Leaping from boat to boat and pumping water out while in motion?
"The salvage stuff can be a little risky sometimes," Pidcock says. "If you're not on your game the opportunity for injury is ripe."
Pidcock has done those jobs and more. He's pulled boats as long as 72 feet and three levels, and knows how to properly process down boats damaged beyond repair and prepare them for the landfill. But it's evident that he cares much more about the people than the boats. That's the part of the job he loves.
"From my standpoint, it's actually very satisfying. You get to go out there, and people are usually really happy to see you, and you get to make sure everybody goes home happy."
He adds with a laugh, "For the last 25 years I've been married, my wife has thought I was nuts, but I really do enjoy what we do here."
Stay on top of Detroit news and views. Sign up for our weekly issue newsletter delivered each Wednesday.