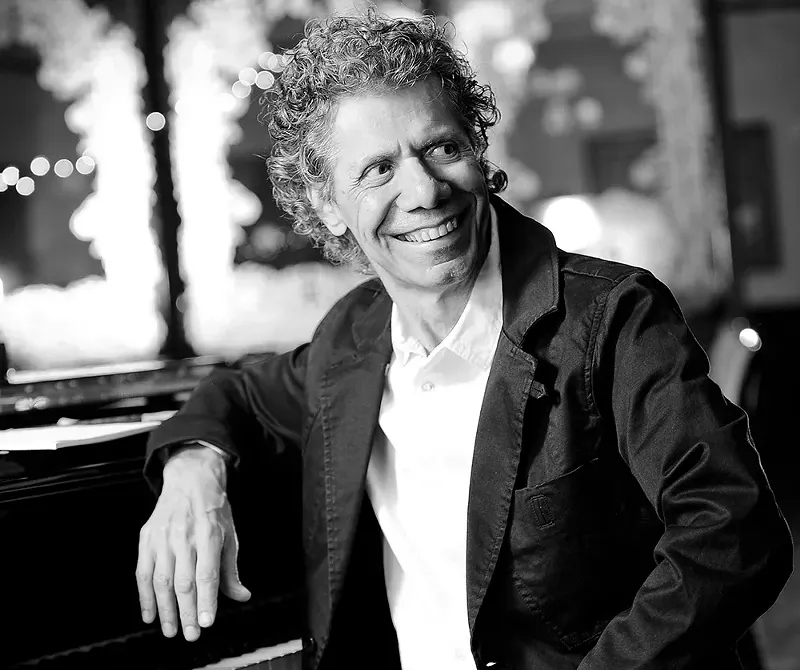 Correction: Due to illness, the 7:15 p.m. performance on Saturday, Sept. 1, of the Dr. Lonnie Smith Organ Trio at the Detroit Jazz Festival presented by Quicken Loans has been canceled. In its place, the Louis Hayes Quintet — Serenade to Horace will perform at that time on the Carhartt Amphitheater Stage.
The 39th iteration of the Detroit Jazz Festival continues to showcase both local gems and award-winning artists from all over the world who share one common trait: a love and pursuit of great jazz. Festival president and artistic director Chris Collins prides himself on the festival's ability to generate one-of-a-kind performances that demonstrate both the continuing strength of the genre and Detroit's position as a vital cultural center. With more than 50 performances, there is sure to be something for everyone. Here are 15 you just can't miss this year.
Chick Corea
JPMorgan Chase Main Stage
9-10:15 p.m., Friday, Aug. 31, Chick Corea Akoustic Band
Carhartt Amphitheater Stage
9:15-10:30 p.m., Saturday, Sept. 1, Chick Corea Elektric Band
Carhartt Amphitheater Stage
7-8:15 p.m., Monday, Sept. 3, Chick Corea with the Detroit Jazz Festival Symphony Orchestra and conductor, Steven Mercurio
This year's artist-in-residence is none other than the award-winning pianist and electric keyboardist and composer Chick Corea. As a member of Miles Davis' '60s band, Corea was instrumental in the formation of jazz fusion and is still one of the most well-known, well-regarded pianists in the jazz world today.
When asked why Corea was chosen for this year's artist-in-residence, Collins explains that the program is about seeking out artists that have a vast artistic influence on the worlds of jazz, music, and art. "Chick falls into that category maybe more than any artist on the planet," Collins stated. "He's crossed so many lines and done so many creative projects to push himself in different directions."
You have three unique opportunities to see Corea, including a performance with the Detroit Jazz Festival Symphony Orchestra.
Ravi Coltrane's Universal Consciousness: Melodic Meditations of Alice Coltrane
JPMorgan Chase Main Stage
6-7:15 p.m., Saturday, Sept. 1
The late Alice Coltrane, wife of the legendary John Coltrane, was born in Alabama, but grew up in Detroit. She attended Cass Tech, which is notable as a high school that has birthed an incredible amount of prominent jazz musicians. Alice played the piano, organ, and this writer's personal favorite, harp. Later in life she began to explore electronic keyboards as well. Her style progressed from working within conventional jazz traditions to exploring new realms of spirituality and freedom, in no small part due to a spiritual conversion in which she embraced Hindu philosophy, established the Vedantic Center in 1975, and became the spiritual director of an ashram.
One of the three children she had with John, Ravi is a brilliant saxophonist in his own right. To witness Ravi's tribute to his mother's soaring cosmic music will be nothing short of otherworldly. As a bonus, for the first time in the Detroit Jazz Festival's history, this performance will be simulcast live at 6 p.m. in real time on Detroit Public Television.
Dr. Lonnie Smith Organ Trio Carhartt Amphitheater Stage
Note: This performance has been cancelled.
How can you miss the man who Jazz Times has described as "a riddle wrapped in an enigma wrapped in a turban"? Dr. Lonnie Smith is almost certain to be the only person who has recorded tribute albums to Jimi Hendrix, John Coltrane, and Beck. (Yes, that Beck.) A Hammond B-3 organ wizard, a true living legend, and one of the most creative jazz organists to ever walk this earth, Smith's Jazz Fest set promises to be a spirited one.
Straight Ahead 25th Anniversary Reunion Carhartt Amphitheater Stage
5:15-6:30 p.m., Saturday, Sept. 1
The 25th anniversary reunion performance of Straight Ahead is an exciting opportunity to see one of the few all-women jazz groups live — and all four of them are Detroit natives, too. Though the lineup has changed throughout the years, and at times has even included men, this performance includes Regina Carter's incomparable violin, Gayelynn McKinney's energetic drums, Marion Hayden's eloquent bass, and Alina Morr's lively piano. Guitarist, composer, and singer-songwriter Elden Kelly will also be joining them for this set.
Omar Sosa Quarteto AfroCubano
Carhartt Amphitheater Stage
7:15-8:30 p.m., Sunday, Sept. 2
Cuban-born composer, bandleader, and pianist Omar Sosa plays a compelling blend of jazz and world music, interweaving the artistic traditions of Africa and the Americas to create his own unique sonic expressions. His music is as delicate as birdsong, highly emotive, and utterly heartfelt. At Jazz Fest you can expect the quartet to perform contemporary takes on traditional Cuban musical styles.
Marcus Miller
Carhartt Amphitheater Stage
9:15-10:30 p.m., Sunday, Sept. 2
Composer, producer, and multi-instrumentalist Marcus Miller has worked with everyone from Miles Davis to Mariah Carey. A short list of his achievements includes two Grammy awards, an appointment as an UNESCO Artist for Peace, and the scoring of more than 30 films. Best known as a bassist, his jazz stylings range from traditional to smooth, but he travels the paths of R&B, rock, and funk just as well.

Resident Ensemble: Terri Lyne Carrington and Esperanza Spalding – Tribute to Geri Allen
JPMorgan Chase Main Stage
8-9:15 p.m., Sunday, Sept. 2
Pianist, composer, and educator Geri Allen passed away last year; it is natural and fitting that two other important women of jazz are paying tribute to her this year. Drummer Terri Lyne Carrington and bassist Esperanza Spalding are joined by the Detroit Jazz Festival Symphony Orchestra to premiere a brand new work focused on Geri's music. The performance is sure to be as uplifting as it is moving, a measured homage to a blazingly expressive musician and woman.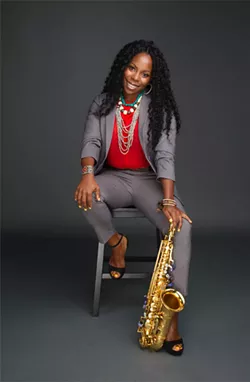 Tia Fuller
JPMorgan Chase Main Stage
4-5:15 p.m., Saturday, Sept. 1
Listen up, kids: Saxophonist Tia Fuller has graced the stage with no less than the likes of Beyoncé. A composer, bandleader, and full-time professor at Berklee College of Music, Fuller juggles a demanding schedule while still maintaining her solo career. This year has seen the release of her fifth album Diamond Cut, which showcases her radiant tone and confident technique — sure to be on display at this performance.
Cécile McLorin Salvant
Carhartt Amphitheater Stage
4:30-5:30 p.m., Monday, Sept. 3
A modern-day Billie Holiday, Salvant's latest album Dreams and Daggers came out on Mack Avenue just last year. A mix of standards and originals, it's a stunner from top to bottom, earning her a third Grammy nomination and second Grammy award for best jazz vocal album thanks to Salvant's crystal clear vocals. A playful, transformative sensibility informs Salvant's take on the standards, while her originals are breathy pieces of moody poetry. This performance is sure to bring all this gorgeous energy to the stage.
Alex Harding and Organ Nation
Absopure Water Front Stage
2-3 p.m., Sunday, Sept. 2
Has baritone saxophone been missing from your life? Not to worry, as Detroit native Alex Harding is bringing his rich, expressive bari sax playing to Jazz Fest with his trio Organ Nation. Joined by Djallo Djakate on drums and Jim Alfredson on organ, the group presents a sonic exploration of jazz through its blues origins, funk fusions, and swinging styles.
Hubtones: Freddie Hubbard 80th Birthday Celebration JPMorgan Chase Main Stage
4-5:15 p.m., Sunday, Sept. 2
For the old-school among us is a birthday celebration that takes its name from one of trumpeter Freddie Hubbard's classic '60s Blue Note albums. In honor of what would have been his 80th birthday, four prominent trumpeters are coming together to breathe new life into Hubbard's swinging, swaggering tunes.
Joan Belgrave: You're My Everything — Songs of Love & Life
Wayne State University Pyramid Stage
2-3 p.m., Sunday, Sept. 2
The wife of late local luminary trumpeter Marcus Belgrave, Joan is a force to be reckoned with. Known for her vivid melodies and vocal flexibility, to listen to Belgrave is a soothing emotional experience. She fills the air around her with an atmosphere of romance and warmth. From jazz to blues to gospel to soul, Belgrave does it all with heart and style.
Karriem Riggins with the Detroit Jazz Fest Alumni Band and guests
JPMorgan Chase Main Stage
2-3:15 p.m., Sunday, Sept. 2
In the center of the Venn diagram for jazz and hip-hop is Karriem Riggins. Yet another Detroit native on the lineup, Riggins began studying music in the sixth grade under none other than Marcus Belgrave. Two years later he switched to drums — on a set that Belgrave actually gave him — and never looked back. As a drummer, he has recorded and performed with everyone from fellow Detroit native trumpeter Donald Byrd to vibraphonist Bobby Hutcherson to pianist Norah Jones. At the hip-hop end of his musical spectrum, Riggins has done production work for Slum Village, Erykah Badu, and Common, among many more. Common is a part of Riggins' most recent project too, a new group called August Greene that thoughtfully blends hip-hop, soul, and jazz (Robert Glasper is also a member). It should be a pleasure to see what Riggins has in store with the Detroit Jazz Fest Alumni Band and who the special guests will be!
Mind's Eye
Carhartt Amphitheater Stage
1:30-2:30 p.m., Sunday, Sept. 2
The music of Mind's Eye has been compared to Miles Davis' mid-1960s quintet — that alone is reason enough to catch this quartet. Based out of Grand Rapids, the group formed in the early '90s to present original music in their own modern jazz style. At Jazz Fest they will premiere brand new works composed specifically for this appearance.
Senri Oe
Wayne State University Pyramid Stage
3:45-4:45 p.m., Sunday, Sept. 2
For 25 years, 57-year-old Senri Oe was a pop star and actor in his native Japan. His career was massively prolific and successful, resulting in over 40 singles and nearly 20 albums. One day, when he was in his 40s, he caught sight of his own face in the reflection of a store window. He wasn't smiling, and that troubled him. He realized that he needed to chase his childhood dream: becoming a jazz pianist. Shortly after, he quit the pop world and immersed himself in jazz piano. His music is delightful and dramatic, moving and melodious, and a true testament to the fact that it is never too late to follow your heart.
Detroit Jazz Festival takes place Aug. 31-Sept. 3 across four stages in Hart Plaza in downtown Detroit; 313-469-6564; detroitjazzfest.org; Admission is free; If you can't make it to Detroit Jazz Fest, or want access to all the stages simultaneously, you can livestream high-def audio and video for only $10 from the Detroit Jazz Festival Live app.
Get our top picks for the best events in Detroit every Thursday morning. Sign up for our events newsletter.