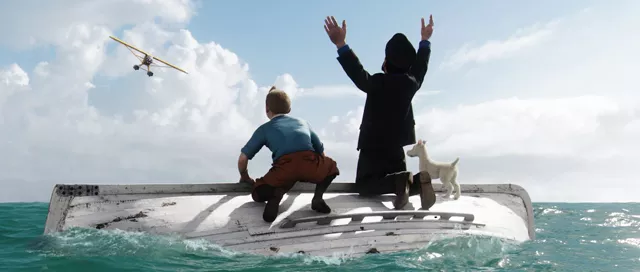 The Adventures of Tintin
C+
Recently, in a shameless bit of product placement, contestants on The Amazing Race were asked to find an actor dressed as Tintin hiding somewhere in Brussels, Belgium. The Yanks had no clue who the world-famous little character was, though it took only moments for passers-by to ID the intrepid boy journalist with the upswept Conan O'Brien-like ginger 'do, whose exciting illustrated exploits spanned the '20s to the '70s. Europeans of all ages know and adore the famed creations of Belgian cartoonist Georges Remi, aka Hergé; but, over the decades, repeated efforts to infest the colonies with Tintin-mania have failed. This time the strategy is more impressive; recruiting the heavyweight skills of exec producer Peter Jackson and director Steven Spielberg, our nation's royal mythmaker, to sprinkle his pixie dust and adapt the page to the screen.
The story, cobbled together from multiple graphic volumes, is rudimentary MacGuffin-chasing boilerplate: The boyish reporter Tintin (Jamie Bell) buys an old model boat at an outdoor market, unaware that it contains a hidden map that will cause some dastardly types to chase him to the ends of the earth and back.
Along for the thrill-ride are his trusty Jack Russell terrier Snowy and the brutish, jovial, hard-drinking old tar Captain Haddock, (Andy Serkis), who looks a bit like a young Peter Ustinov.
The material seems tailored to Spielberg's epic impulses: a heady stew of travelogue, mystery, action and the sort of earthy, bare-knuckled adventure that stirred his boyhood imagination. Indeed, with its mixture of treasure-hunting, globe-hopping, brawling and puzzle-solving, this big-screen rendition of Tintin plays like a yet another multimillion-dollar Saturday afternoon serial; the sort of throwback entertainment that made Raiders of the Lost Ark a groundbreaking blockbuster. There are marvelous set pieces here, one involving a prop engine plane and a thunderstorm, and a breakneck motorcycle chase through crowded streets and across rooftops.
All that's missing is the spark, humor, romance, and the essential humanity that made Indy into an immortal screen hero.
Instead of something real and gritty, we get a floating, unreal world of photorealistic settings and motion-captured human actors color-corrected and rendered in glorious, shiny rubber detail, down to the tiniest pixel. In his seminal Understanding Comics, Scott McCloud outlined the notion that the more simplistic a character's design, the more universal and relatable they become. The charm of Hergé was that while his fine line drawings featured expansive, intricately drawn settings, the figures remained cartoony. Yet in the translation to the screen, we get characters with realistic hair and skin textures that alarmingly retain their cartoon proportions. And in classic cartoon style, they are impervious to concussions — as the heroes take more blows to the head than Mike Tyson ever did. While the CG allows dynamic stunts that would be implausible in live action, it also blunts the impact a bit. The mid-20th century originals were sometimes ethnically insensitive, and this version flirts with that in its depiction of Arabs.
Hergé's Tintin was a product of its time, but so is Spielberg's: a retro futurist attempt to look forward and backward simultaneously. The result is whiplash.>
Tintin, Captain Haddock and Snowy in The Adventures of Tintin.