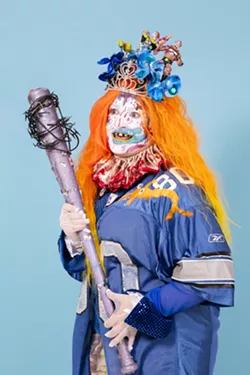 We first got put on to visual and performance artist Bailey Scieszka when we heard a couple of friends talking about her in 2014.
"Do you know Bailey?" asked Gentleman No. 1.
"Yeah," said Gentleman No. 2. "Honestly, her stuff really scares me."
At the time, Scieszka was developing a demonic shape-shifting character called "Old Put," who often took the form of a scary clown.
On an almost nightly basis, Scieszka would take on the character, contorting her face into terrifying expressions with paint and donning whimsical costumes and handmade accessories reflective of consumer culture (think candy-wrapper crowns and cowboy hats made from recycled cases of Natty Light). She'd then craft fairy-tale-like plots involving Old Put and convey them visually through colorful drawings. Eventually, a grant from Detroit's PuppetArt theatre brought the stories to life.
Inspired by Detroit's larger-than-life ambulance-chasing lawyer contingent, Scieszka's first performance piece depicted Old Put's quest to create a sex doll of Joumana Kayrouz. While such a story is fairly imaginative on its own, a plot twist highlights the depth and self-awareness Scieszka brings to her work: Old Put's journey to create a lifelike sex doll produces something far too real, and in the end, the fake Kayrouz is killed because she wants to go to art school.
Flash forward three years, and Scieszka has taken Old Put international, putting on performances in galleries in France and Switzerland, with accompanying exhibitions that showcase her drawings and the crafts that have adorned her characters. But since the election of Donald Trump, the tone of Scieszka's work has grown far more dark. Old Put is no longer a mainstay in Scieszka's colored-pencil and Sharpie sketches. Now, viewers are met with a bloodied alien-devil creature dressed up in Confederate or American flag print. The images are gory and convey a deep evil: In one, the being gives birth to a long serpent and cuts off the newborn's head with a sword. Blood spews from the creature's nipples as a sick, fanged smile spreads across its face.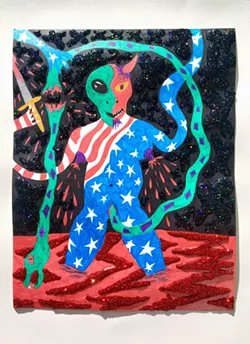 What lives in the mind of the person behind these grotesque images? We figured there was no time better than Halloween to find out.
Metro Times: What's Old Put's deal? We feel like it's scary but also has some endearing qualities, like how it looks for love through a sex doll and sometimes wears light-colored flowy, feathery things.
Bailey Scieszka: I do things that are really disturbing, and so I know like Old Put — a demon and clown — these things aren't really warm and fuzzy subjects, but I find the comedy in the dark things. You know, saying the darkest things with the brightest colors — so that's kind of how I came to Old Put. I do try to see the humor and the sunshine in these grotesque and dark subjects, just because I think that's interesting. The things that disturb me are things I like to explore.
MT: People say they're frightened by your work. How does that make you feel?
Scieszka: Yeah, I get that a lot. I've been trying to contend with that because I've been using things that scare me, like the Confederate flag as a symbol. I don't know if by using it, am I making it entertainment? Is that bad? But I do like finding things that disturb me and then kind of running with them, but I don't know how to contend with the [perception of my work] at this point.
MT: Weren't you hired once to do a kid's party as this clown?
Scieszka: For my friend's baby's first birthday, yeah, I was hired as the clown. [Laughs.] I mean, every time I do makeup it's pretty fucked up because that's just my aesthetic, but maybe because she was a 1-year-old she didn't really notice. It is kind of my dream to do a kid's birthday party, but I can see how it comes off a little serial killer.
MT: What are some of the most wild responses your work has received?
Scieszka: I used to have a DeviantArt I'd put all of my drawings on, but I don't have one anymore because people would really misconstrue what I was doing. For a while I had this gay KKK character, where it was a guy in pink klan robes, and I would get lots and lots of messages about how fucked up and disturbing it was and how people didn't think it was funny at all and didn't see anything good in this work. So I had to get rid of my DeviantArt because I didn't want to upset people without the right context.
That definitely made an impact on me — that I shouldn't be putting my work out there as much as I do if it's going to be misconstrued, which is why my Instagram [is locked]. I get a lot of messages about things, where people don't see it as a critique, they see it as kind of a celebration of these things when it's not. People think I'm saying these things are amazing and cool, and maybe it's because it looks like it's not done seriously — but actually that's just how I can draw.
MT: It seems like your work runs counter to your personality. You come off like a really sweet person.
Scieszka: I guess, yeah, I think I'm like super Midwestern, otherwise (laughs). I grew up really liking Insane Clown Posse and people like that, and so they kind of have this horrorcore quality that has influenced me. I've also watched a lot of horror films and really like them.
MT: What are some of your other influences?
Scieszka: ICP is one of them, wrestling was another huge one for me. And actually a lot of the face paint ideas came from my genuine interest and love of professional wrestling. I just like these big, over-the-top entertainers or local heroes.
MT: Is Halloween your favorite holiday?
Scieszka: No, usually I feel really out of place on Halloween because I like to dress up like all the time. I feel like I wish it was Halloween all the time, so I actually kind of sulk when it's Halloween. I think Easter is actually my favorite holiday because the imagery is so bizarre.
MT: Do you ever go around publicly in the clown garb?
Scieszka: I used to dress up like every night after work, so if I wanted to get something from the store I'd just have to go in makeup, so the people at like Marcus Market used to think it was just this normal thing, but then there was the clown thing last summer where everyone was terrified of clowns so it kind of put the kibosh on that for a bit. Before, nobody would care, nobody would even really bat an eye, but now there's all this tension around it, so I've kind of done it more in private or for shows.
MT: The state of the country is really horrifying right now, and we feel like we noticed a shift in your work after Trump assumed office. How would you characterize the changes you've made?
Scieszka: It was kind of interesting because leading up to that point, I had just left my job because I was really unhappy with my boss, and I was kind of doing this character in these wrestling videos who was talking about all these injustices against them, and then a couple months later Trump won. And it was really the same kind of ill feelings I had toward there being no justice. And now with the white nationalists — it really, really disturbs me. I've been trying to kind of play around with that in my work, and I don't want to glorify it, I really just want to show how evil everything is. So yes, there has definitely been a shift in the tone.
MT: Yeah, your stuff's gotten really gory, but also like phallic and satanic and extraterrestrial. Trump's presidency seems to have really affected you.
Scieszka: I mean, I feel like it is the real horrors of the world. You don't need to really be scared of the clowns that are walking down the street, they're already in the White House and getting press coverage 24-7. I don't see them as human anymore; I see Trump and all these characters as being super-villains. I have a lot of ill feelings toward all of it.
Scieszka's drawings will next be on display with gallery What Pipeline at NADA Miami, Dec. 7 to 10. Her next local show runs from Jan. 18 to Feb. 23 at the University of Michigan.