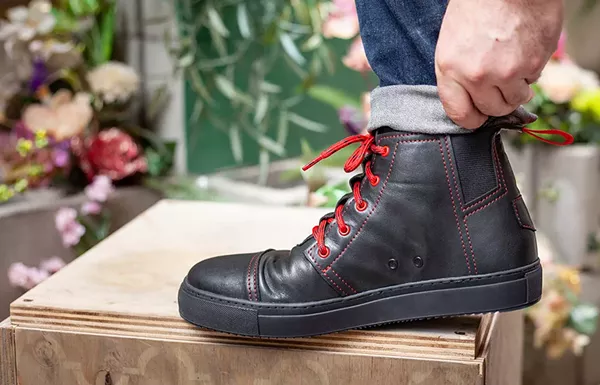 In the fall of 2014, Jarret Schlaff, president and co-founder of shoe company Pingree Detroit, stumbled upon two struggling veterans in Detroit. "In the same week, back-to-back, I found veterans that wanted to work but couldn't find work," he says.
The first man he encountered was Ryan, a homeless veteran squatting near Schlaff's Detroit home on the city's east side. Jarret brought him some peanut butter and jelly sandwiches and water, and, in the meantime, learned his story.
Ryan, six months removed from his tour in Afghanistan, was squatting in a home after having been kicked out of his brother's house. "He kept waking [his brother and sister-in-law] up because he was having trouble sleeping," he says. At night, the veteran's PTSD would creep up on him, like a bogeyman, during his sleep.
Ryan wanted to work, but the jobs he found weren't very meaningful. He felt isolated and disconnected from society. Schlaff kept this man in mind around the time when he met a second homeless vet — a man with a master's in engineering — sitting outside a coney, begging for work. It was at this point when Schlaff felt he needed to do something.
So Schlaff and a veteran friend set off on a listening campaign to understand what it was that veterans needed. They took to the streets to talk to veterans, and organized with nonprofits to better understand the desires within the community. There was a gap, they found, between basic needs being provided and offering work that paid a living wage.
According to
one statistical analysis
, in 2015 Michigan had almost 83,000 homeless veterans, about 6 percent of the total homeless veteran population in the U.S. That number had climbed by over 10,000 since 2013. In Detroit, the problems for the community only get worse.
A 2017 study
found the Motor City ranked dead last for returning military officers in numerous categories including affordability, livability, veteran-friendliness, income growth, and veteran health facilities. In other areas, like housing, poverty, and education, Detroit didn't rank much higher.
Perhaps most important, though, veterans like Ryan often felt extremely isolated, missing the previous connections that were so important in military life.
"You go from a place of extreme camaraderie and support where everyone is looking out for you, where the person next to you — your life is in their hands — would literally give their life for you," says Schlaff. "That's such a powerful bond. That's a community. That's a tribe."
The solution for Schlaff was to found Pingree Detroit, a worker cooperative that specifically hires veterans to make sneakers, boots, and other apparel using recycled materials from the auto industry.
The name was chosen after Hazen S. Pingree, a Civil War veteran and a bootmaker who later went on to become the Mayor of Detroit and subsequently the Governor of Michigan. Pingree is seen today as a staunch
social reformer
, expanding social welfare programs and breaking up monopolies, paving the way for the future Progressive Era. Schlaff says these philosophies translate directly into his worker cooperative of the same name.
There are six individuals that are part of Pingree Detroit. Only a handful are currently worker-owners, and all the workers earn between $13 and $15 an hour. In order to pay people a living wage, however, the shoes Pingree Detroit provides don't come cheap, averaging $200 to $400 a pair, with styles including the "Governor" boot and "The Mayor" high-top sneaker. The co-founder says with that price, the shoes are also designed to last forever. (His secret is allowing owners to replace damaged soles to allow for increased longevity.) The shoes also come with a label inscribing a quote and photo of the shoemaker, connecting producers directly with their customers.
The company unveiled the sneakers — the first ever manufactured in Detroit — at a pop-up event in Detroit's Cadillac Square this week.
Auto supplier company Lear Corporation provided the company with much of their materials that would otherwise be thrown away. Pingree Detroit gets most of its investing and consulting from the Center for Community-Based Enterprise or C2BE, a worker cooperative consulting group, which has helped the company
generate $100,000 in revenue
this year with the hopes of earning $464,000 next year. The money is currently divided 77 percent to the workers, 14 percent to investors, and nine percent to the founders — eventually.
Schlaff says the co-founders still have not received a dime for their work. To earn money, Schlaff bartends at Motor City Brewing Works. In 10 years, the co-founder hopes the company will be completely worker-owned and, by that time, he'll be able to get a slice of the pie.
Like the real Pingree, Schlaff hopes to put more emphasis on people, and less on the corporate structure for creating capital. Investing in people, he explains, doesn't need to come from raising taxes, but by simply changing how money is spent.
"Think about the corporate welfare that we currently give — the billions of dollars in tax breaks we currently give to those who don't need it," Schlaff says. "GE can pay their fare share, WalMart [too]. So, what does it look like to actually hold folks accountable and have them pay their fare share, and redirecting that to actually benefiting the folks at the bottom level who would thrive by having access to certain things?"
Worker cooperatives restore this order, democratizing the workplace, providing worker-owners the opportunity to choose where, why, and how much they want to work. They can, for instance, only work 15 hours a week (as John Maynard Keyes
predicted
we would be today) if they so desire. The answer, to Schlaff, lies not in productivity, but human value.
But Schlaff believes such a shift will translate to higher productivity as well. "If someone on the line sees a way to innovate, and improve a process to make it better quality, to quicken the process, they are able to have that input directly, horizontally with the rest of the team," he says.
Eventually, Schlaff wants to expand his company to include hundreds of veterans and Detroiters.
For now, the company's growing ranks include Nate Crawford, an Air Force vet who served in Afghanistan and Korea. Crawford landed a job at Pingree Detroit in June after a bout of homelessness and a short stint working at a private security firm.
"I finally got a company I feel proud about selling," Crawford says, "where I'm feeling geeked about coming to work everyday because I'm seeing my work right there."
More information is available at pingreedetroit.com.

Sam Corey is a Metro Times fall editorial intern.

Stay on top of Detroit news and views. Sign up for our weekly issue newsletter delivered each Wednesday.