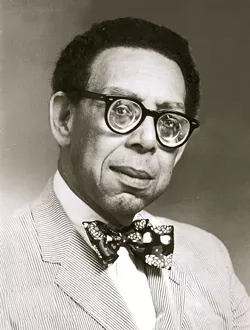 This year, Aug. 4 marks the 100th birthday of Detroit native Robert Hayden. Emerging from a foster home, he would join the Federal Writers' Project and later make invaluable contributions to Afro-American folklore, along with his history of Michigan's Underground Railroad. He would also teach at the University of Michigan.
Hayden was born in Detroit's old Paradise Valley neighborhood. As his biological parents split before his birth, he was adopted by a foster family that lived on the same street as his birth mother.
This was a tumultuous foster home, according to Mark A. Sanders, who wrote about Hayden for The Oxford Companion to African-American Literature, Hayden both witnessed and received numerous beatings in this house of "chronic angers" that would forever haunt him, as the memory of those traumas brought "[his] dark nights of the soul."
Adding to an already embattled upbringing, Hayden suffered severe problems with his vision; this hampered him from partaking in the athletic activities enjoyed by nearly all the other young males in his neighborhood. As if there were not enough obstacles present, his small stature put him at a further disadvantage in a hardscrabble environment, where most every boy had to physically fight.
Hayden would find solace in literature. Immersing himself in reading and study, he obtained a scholarship to Detroit City College (now Wayne State University). Later, while pursuing a graduate degree at the University of Michigan, Hayden studied under the renowned poet W.H. Auden, whose tutelage elucidated the subtleties of poetic form and technique.
As a poet, Hayden's innate gifts were refined. Among his most prominent poems is "The Whipping," in which an older woman chases down and then beats a young boy in a frenzied rage. When the assault concludes, the woman "leans muttering against / a tree, exhausted, purged / avenged in part for lifelong hidings / she has had to bear."
Hayden's professor Auden once grimly declared in his own poetry, "Those to whom evil is done / do evil in return." Hayden, more so than most, had witnessed this cycle; some view much of his work as an eloquent attempt to end the cycle of anger and its resulting evils.
As part of the Federal Writers' Project, Hayden had conducted extensive research on black history and folk culture — two subjects that would provide much fodder for his writings (both poetry and prose), works that were admired for their historical consciousness as much as for their literary merits.
Another enduring quality in Hayden's writing is his economical use of words. "Nothing superfluous, nothing lacking" is an old writers' maxim to which his work adheres.
Along with his writing, Hayden had a long academic career, first teaching at Michigan, then later at Fisk University in Tennessee, before returning to Ann Arbor. He was married to one Erma Morris, a follower of the Bahá'í faith, to which he eventually converted.
Hayden — who died at age 66 in Ann Arbor in 1980 — was described in The New York Times Book Review as "one of the most underrated and unrecognized poets in America." Some might deem this decent "recognition" in its own right. More recently, in April 2012, the U.S. Postal Service featured Hayden on a postage stamp — one designated as "Forever."
Ray Cavanaugh is a freelance writer from Boston. Send comments to [email protected]