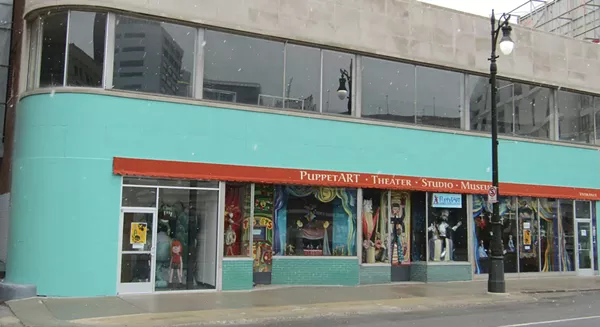 PuppetArt Theatre has operated on 25 E. Grand River for almost 20 years, but today it was announced that the quirky performance space is shutting its doors at the end of the month due to the current space "no longer meet[ing] its needs as a growing center for puppetry."
This doesn't spell the end of the PuppetART Theatre entirely, though — they have plans to relocate and spend some time "on the go" looking for a new accommodating space, according to the theater's
Facebook page
. They say they will still hold shows and workshops, and will visit different spaces throughout the metro Detroit area.
The theater plans to go out with a bang by holding performances of one of their favorite acts, "Banana for Turtle," for one last run. Performances will be held on August 12, 17, and 19 in addition to a final farewell on Sunday, August 20.
The PuppetART theatre is not the only longtime downtown Detroit business to pack up and relocate. Earlier this summer the legendary Henry the Hatter announced they were closing its downtown Detroit shop after losing its lease after 100 years in business. One person even posted a photo of the sign being taken down today
on Reddit
.