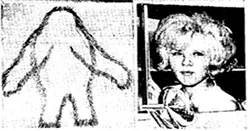 MLive
does a lot of things really well. But, we're not sure we have the same sense when it comes to what makes something "weird" or "unusual." Of course, we grew up taking school field trips to the Heidelberg Project, so it's possible that our radar for strange needs realignment.
Anyway, the local online news source recently composed
a list of the most unusual places in every county in Michigan
.
To give you a little sense of how things went slightly awry, we will simply say that they named restaurant/bar Pete's Garage the most unusual place in Monroe County.
I mean, that's just plain wrong. Mostly because this county is home to the
Monroe Monster myth
, an urban legend that scared the bejesus out of locals in the mid-'60s.
As for the tri-county area, World's Finest Frozen Custard, which is a custard shop/mini golf course won for Macomb County. Really? Marvin's Marvelous Mechanical Museum won for Oakland County (and OK, that place is legitimately frightening), and the Heidelberg Project won for Wayne County, shocking absolutely no one ever.
Hell, Michigan won for Livingston, County and like, meh. And Ann Arbor's Fairy Doors won for Washtenaw County and I guess that's cute.
Some winner we can agree with, however, are the creepy-as-fuck Dinosaur Gardens in Alpena County, and the badass Crystal Coaster Alpine Slide in Benzie County. The Tunnel of Trees in Emmet County is also very beautiful during daylight hours (especially during Autumn!), but could potentially be terrifying at night.
The takeaway here is the Michigan is one of the coolest and weirdest places on the planet, but Pete's Garage is definitely not the most unusual place in Monroe County.