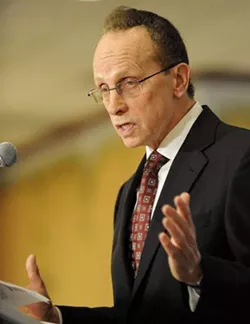 While Warren Mayor Jim Fouts prepared for a Martin Luther King Jr. Day celebration Monday,
Motor City Muckraker
posted leaked audio files
of Fouts allegedly saying the n-word, the c-word, and all sorts of other unsavory comments.
In the recordings, which are
posted at Muckraker
and embedded below, Fouts says things like "blacks do look like chimpanzees." Regarding women, Fouts says, "Think I want to date a fucking 60-year-old hag?" In another recording, he called older women "hateful dried-up cunts." (Fouts is 74.)
Muckraker
does not say how the recordings were obtained and notes that Fouts has denied their authenticity. However, the mayor has been in the news recently for previous comments. In December, Fouts was fired from his radio show on 910AM Radio Superstation after recordings were released in which he said people with disabilities "aren't even human beings."
In 2014,
video surfaced
of Fouts appearing to engage in public displays of affection with his 27-year-old executive assistant in Chicago.
Listen to the latest recordings below: