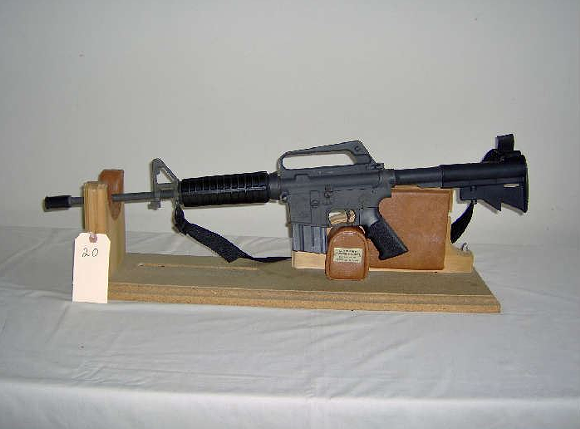 I don't know about you, but every estate sale I've ever been to is usually just an attempt to liquidate three tube TVs and a mismatched set of wine glasses. So, let's just say this Allen Park "Miracle on 38 Special Sale" isn't what I'm used to.
For starters, shoppers will be treated to a cornucopia of handguns, shotguns, rifles, and assault weapons, and plenty of ammo to boot. There's also a stock pile of hunting knives, arrows, and a really ridiculous amount of fishing lures. I mean, who really needs that many fishing lures. There are also throwing knives, butterfly knives, a handclaw and — perhaps most alarmingly — handcuffs.
There's also a complete Nintendo Entertainment System for sale, plus some Atari games, books (no, we did not spy Mein Kampf among them), a slew of cameras, a movie projector, and even a three-piece ceramic bathroom set.
Most disturbing though, has to be the Nazi memorabilia found in the form of Nazi military hats, weapons, a Nazi propaganda photo book, Deutschland Erwatcht, and even a photo of Adolf Hitler. Seriously, what sort of den of iniquity is this place?
The estate sale is put on by a company called R&S Resale, they essentially manage estate sales by doing inventory on items, advertising and staffing the sale. I called the company to make sure this was a single estate sale and not some sort of gun/Nazi-enthusiast, end-0f-year resale extravaganza, but an employee told me she was "pretty sure" it was a regular old single home estate sale.
Frightening.
The sale is open this Friday and Saturday from 9 to 5 p.m. and Sunday from 10 a.m. to 4 p.m. If you want to purchase any of the guns, you're required to have your permit and a valid ID. You don't need anything to purchase the Nazi memorabilia except to not give a fuck that everyone present will know you're a pyscho and a total asshole.
For a glance at a curated list of the most upsetting items available for sale click
here
.
You can find more information about the sale
here
.