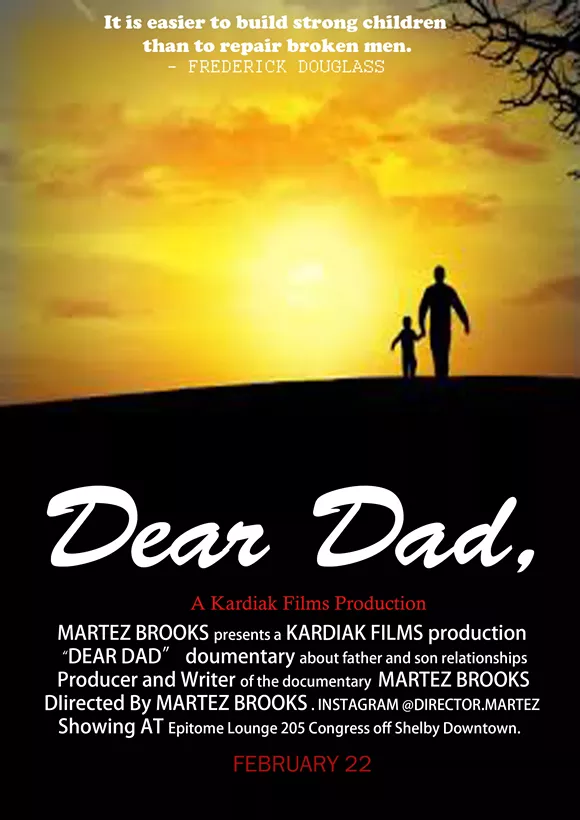 "Dear Dad" documentary screens on Monday, Feb. 22
Martez Brooks, owner of Kardiak Films, has been reestablishing his purpose. The young filmmaker spent much of 2015 on tour with Detroit emcee Dej Loaf filming her performances and capturing moments. Although Brooks made a strong name for himself working with Loaf, he decided to step away and reconnect with some of his earlier unfinished projects.
That brings us to his new documentary,
Dear Dad
. "It's about father and son relationships, and the factoring roles that the fathers play in the change in the world that we all want to see. Growing up, I didn't have any positive role models to look up to and I know the factor that it played on my life. If watching my documentary can change one man's perspective in the world, then my job is done and if it changes much more than that, then we might be on to something," Martez Brooks says.
The film highlights the stories of men who lost their fathers early in life and new fathers who understand the importance of fatherhood. Brooks promises the film will be thought provoking and soul stirring.
Dear Dad
will be shown at Epitome Lounge on Monday, Feb. 22, at 7 p.m.; 205 Congress, Detroit.