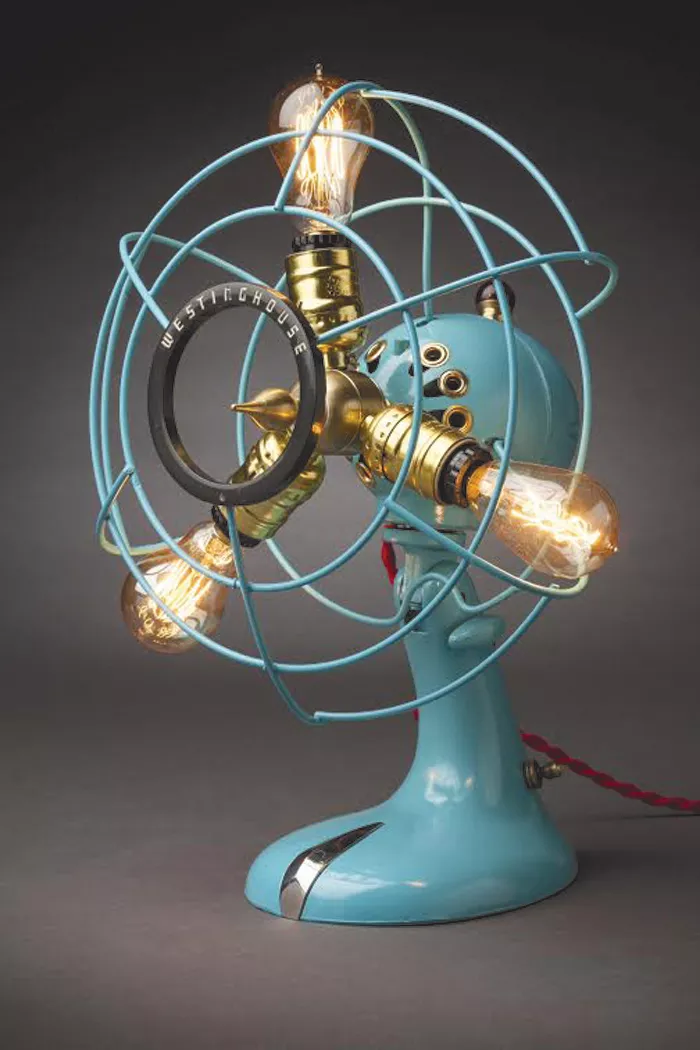 Joe Mazzola is the manbehind Eastworks Detroit. The local musician collects old fans and bits of metal piping, spigot handles, gauges, and other small oddities, crafting them into usable and unique lamps and other types of home décor. He combs estate sales, eBay, Craigslist, and similar places, looking for beat-up and worn-out fans, lamps, and other vintage gear. From there he tinkers with and transforms his finds into not only striking works of art, but functional pieces for everyday use.
"It's a lot of work," says Mazzola. "It takes about two to three days to make a lamp." The long hours of manual labor do factor into the price, which can run upwards of $700 for a free-standing floor lamp, while other pieces like leather bracelets fixed with old gauges cost about $40 to $75, and spigot flowers are $10 each. Pieces are so unique, they're worth the price and perhaps even saving up for. In fact, we've had our eye on the lamp featured here for quite some time.
Mazzola mainly sells his lamps online, but you'll also spot him at various fairs and events around the metro area. He doesn't currently have a brick-and-mortar store, but his works can be found at local shops like The Gallery in Royal Oak and the Detroit Artists Market.
"It's fun to do," Mazzola says. "It keeps me out of trouble. I love the challenge, always overcoming an obstacle."