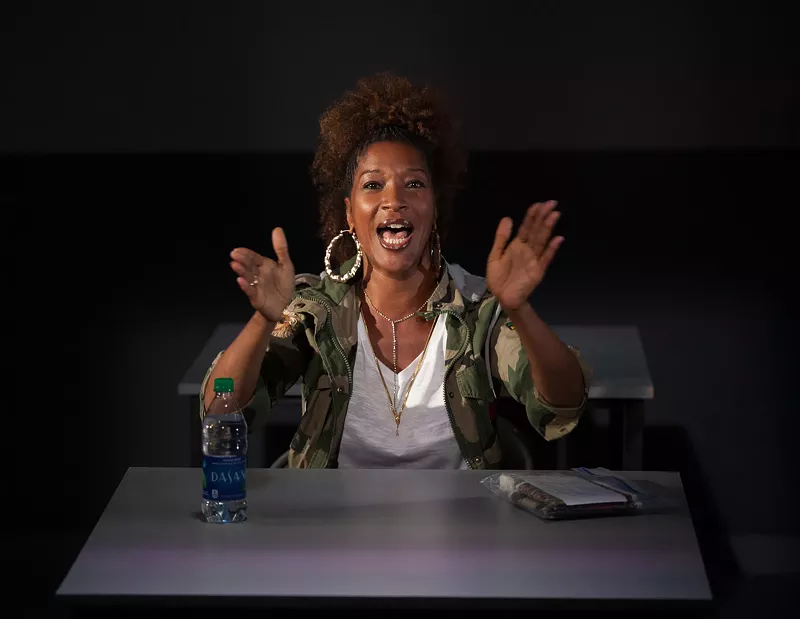 The Peculiar Patriot has everything that makes a good play. There's love, loss, impassioned speeches about prison reform delivered on top of tables, slam poetry monologues — you know, the good stuff.
Written and performed by Liza Jessie Peterson, The Peculiar Patriot is a one-woman show about modern-day slavery in the prison-industrial complex. It's being put on by the Detroit Public Theatre (DPT) until March 5 and is inspired by Peterson's work teaching inside New York prisons like Rikers Island.
The play chronicles "Betsy" LaQuanda Ross's visits to her childhood best friend in prison as they chat about recidivism, suicide, and racial inequality.
When we say chat, it's more like a one-sided conversation with someone who can't stop talking about themselves, but they're hilarious, insightful, and captivating enough to keep your attention. The audience becomes Betsy's incarcerated friend — she talks directly to them from a stage set up to mimic a prison visitation room. There's nowhere to go and nothing to do but wait for Betsy to come back, which she does faithfully.
It may be a one-woman show, but The Peculiar Patriot is full of character. Betsy doesn't just chronicle her rocky relationship with her incarcerated lover Curtis; Peterson becomes him as Betsy reads his letters.
Along the way, Peterson educates the audience on the pitfalls of our failed criminal justice system. It even gives real-life examples like the Pennsylvania "kids for cash" scandal where judges received kickbacks for putting juveniles away for minor offenses. Peterson manages to keep the audience laughing the whole way through.
Peterson has toured the country with the award-winning play and performed it in more than 35 penitentiaries across the U.S. The DPT run marks the show's Michigan premiere.
The Peculiar Patriot is part of DPT's Shakespeare in Prison program. Each performance is followed by a discussion with formerly incarcerated people like Lawanda Hollister, who went to prison at 17 and was released at 52 years old.
She now works as an engagement specialist for Nation Outside, a nonprofit organization that helps returning citizens and works toward prison reform.
"Prison only prepares you to live in person," Hollister said after the play. "It doesn't prepare you to re-enter [society], and especially not at 52 and you don't know anything. I had so many issues with the telephone. My parole agent told me to get on the Zoom so I went out and bought a whole new telephone for 400-and-some dollars because I'm like, 'Oh, I gotta get a phone with a Zoom on it.'"
Hollister wanted to open a food truck upon her release but soon realized she had a lot to learn about cooking on the outside.
"I can't use a knife and I don't know how to cut nothing because they ain't give me no knife [in prison]," she said. "But I'm coming out and I'm thinking I'm gonna get this job, I'm gonna run this food truck. I got all these high, shiny aspirations about how I'm going to fit back into society, and that did not happen at all. I don't even know how to drive, how am I gonna have a food truck? So I started from the bottom."
Hollister now runs a food pop-up called The Chow Hall.
Fellow returning citizen Tamika Daniels said basic needs like housing are the most difficult hurdles to overcome when re-entering society.
"You try to get a house, you try to get an apartment, and you're denied," she said. "Not because of your credit, not because of the funds, or a bank account, but because you're a felon — something that happened back in '91. You're still judging me on that… and it's not fair because most of us, we're out here doing good, doing our best, giving back to our community, and people don't always want to give you a fair chance."
Daniels served 27 years in prison and emphasizes that "incarcerated people don't always get treated fairly. No matter what they've done, they're still human."
A limited number of free and discounted tickets are available to those who've been impacted by the justice system for every performance. For more information, see detroitpublictheatre.org.
Coming soon: Metro Times Daily newsletter. We'll send you a handful of interesting Detroit stories every morning. Subscribe now to not miss a thing.

Follow us: Google News | NewsBreak | Reddit | Instagram | Facebook | Twitter