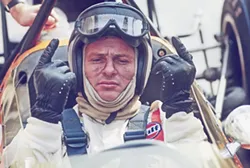 It seemed like a no-brainer: Other Midwestern cities like Chicago, Cleveland, and Indianapolis all had world-class film festivals — so why not Detroit?
That was the original premise behind Cinetopia Film Festival, which will celebrate its fifth year of bringing some of the best movies from festivals around the world to metro Detroit. The fest kicks off on Thursday at Ann Arbor's Michigan Theater and continues with 10 days of screenings at theaters across metro Detroit.
"We were going to film festivals and we were seeing a lot of great films that just weren't playing in the metro Detroit area, and the only places that they played were these international film festivals," says Russ Collins, the festival's founder and executive director of the Michigan Theater. "We wanted to make sure that that was available for audiences here in southeastern Michigan."
And as Collins points out, not every film that is screened at these big fests gets a wider release. "So the Detroit area was missing out on these great films that were playing in these festivals at Cannes, Toronto, Berlin, Sundance, Tribeca, and SXSW," he says.
Now, Collins says Cinetopia is officially a stop on the film festival circuit. "We developed relationships with some of the best distributors," he says. "So now after five years they're coming to us and saying, 'Can we do this during Cinetopia?'"
With more than 60 films and well over 100 screenings across metro Detroit and Ann Arbor, the festival's programming is wide-ranging and eclectic — a mix of big-name festival breakout hits as well as the obscure. It kicks off on Thursday with The Hero, starring archetypal cowboy Sam Elliott, who this time plays the role of a washed-up actor from the '70s.
There's also Sundance hit Patti Cake$, which tells the story of Patricia Dombrowski, a plus-size white rapper from New Jersey. (It reportedly sold to Fox Searchlight for roughly $9.5 million.) The film gets two screenings at Cinetopia; Saturday, June 3, at the Michigan Theater and Saturday, June 10, at the College for Creative Studies. Another festival hit is the comedy Band Aid, which stars Zoe Lister-Jones and Adam Pally as a married couple who deal with their relationship problems by starting a band (with help from Portlandia's Fred Armisen). That film also gets two screenings, at the Michigan Theater on Friday, June 2, and at Cinema Detroit on Saturday, June 10.
Other screenings are special to Detroit. On Friday, June 9, the Detroit Film Theatre will screen an excerpt of Ken Burns' upcoming documentary, The Vietnam War. The full doc is 18 hours long and officially airs on PBS in September, but the DFT screening offers a sneak peek. Co-director Lynn Novick will be present for a Q&A following the screening. Meanwhile, the festival will serve as the U.S. premiere of McLaren on Friday, June 2, a documentary on New Zealand racecar driver Bruce McLaren. (Fittingly, the film will be screened at the Henry Ford.)
The festival will have a strong presence of locally made films as well. Destined, written and directed by Detroiter Qasim Basir, follows the alternate histories of a man named Rasheed. In one timeline, he's an architect used to gentrify his old neighborhood; in the other, he's a drug lord. The film screens on Saturday, June 3 at the Michigan Theater and Friday, June 9 at the College for Creative Studies.
Another Detroit film, 12th and Clairmount, is made of found footage from the time of the Motor City's infamous 1967 summer of civil disturbance. It premiered at the Freep Film Festival earlier this year; it screens at Cinetopia on Saturday, June 3, at the Michigan Theater. Meanwhile, Symphony in D is a doc about composer Tod Machover's ambitious 2015 effort to capture the character of the city with a performance of a song with the Detroit Symphony Orchestra; it screens on Saturday, June 10, at the Detroit Film Theatre. And a returning series called "Detroit Voices" will close out the festival with a series of Michigan-made short films on Sunday, June 11, at the Charles H. Wright Museum of African American History.
And then there's the oddball: Rat Film is the genre-defying documentary on Baltimore's rats we didn't know we needed. Cinetopia marks the film's Michigan premiere; it screens at the University of Michigan on Saturday, June 3 and Cinema Detroit on June 10. And Bugs provides a dispassionate look at cultures that eat insects (don't cringe; if human population continues the way it's been going, we're going to need to find other ways of getting protein soon). The film screens at the Michigan Theatre on Friday, June 2 and The Henry Ford on Sunday, June 4.
Of course, it would be impossible to see everything Cinetopia has to offer. But Collins says he hopes audiences will keep an open mind and see things they weren't planning on seeing.
"You go to a festival differently than most events that you go to. You go to the Jazz Festival, there are of course a few headliners, but there are also a lot of folks that you probably have never heard of unless you're a real jazz head," he says. Cinetopia festival-goers should adopt a similar mindset, he says.
"If you can, set aside three days, or four days, or if you have the capability, all 11 days," he says. "Just go to film after film after film. You're going to stumble into stuff that you had no idea that you wanted to see."
Starts Thursday, June 1; various venues; see cinetopiafestival.org for the full schedule.