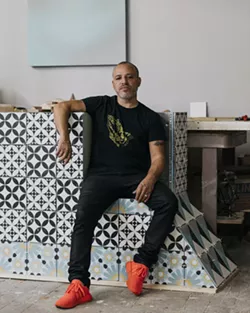 A previously unused alleyway located between Grand River and Gratiot Avenue, The Belt has become an increasingly popular hangout that still feels a little secret. Between colorfully painted walls, the exhibition space hosts outdoor events during the summer months.
As the warm season comes to a close, Library Street Collective — the driving force behind the Belt's creation — will host a special art exhibit featuring Carlos Rolón, a Chicago-based artist with Puerto Rican roots.
This won't be Rolón's first exhibit in Detroit, rather he's worked with LSC two other times to bring his "post colonial vantage point" to Detroit. He deals in functional sculptures and his brand new site-specific exhibition,
Loiza,
will bring a little Puerto Rican flavor to the Belt.
The exhibit is inspired by Puerto Rico's Barrio Loiza, a place the community gathers around food-vending roadside kiosks.
"When visitors walk through the passageway of
Loiza
, the hope is when you enter the environment, you're immediately transported to another place and time. You forget for a moment about the world around you and become immersed in the present moment. More importantly, as an artist who incorporates a social practice component within my studio practice, it's important for me to recreate ideas of memory that have personally created a sense of community and diaspora that exists independently of our smart
phones, and create conversation," Rolón said in a press release.
To help visitors feel transported, Standby bartenders will be serving craft cocktails inspired by Puerto Rican culture and a mariachi band will perform. AstroWifey, another Chicago-based artist who is known for crafting
bomb nail art
, will be on hand creating Caribbean-inspired nail art on a first come, first served basis (prices will vary).
The event starts on Friday, Aug. 25 at 6 p.m.