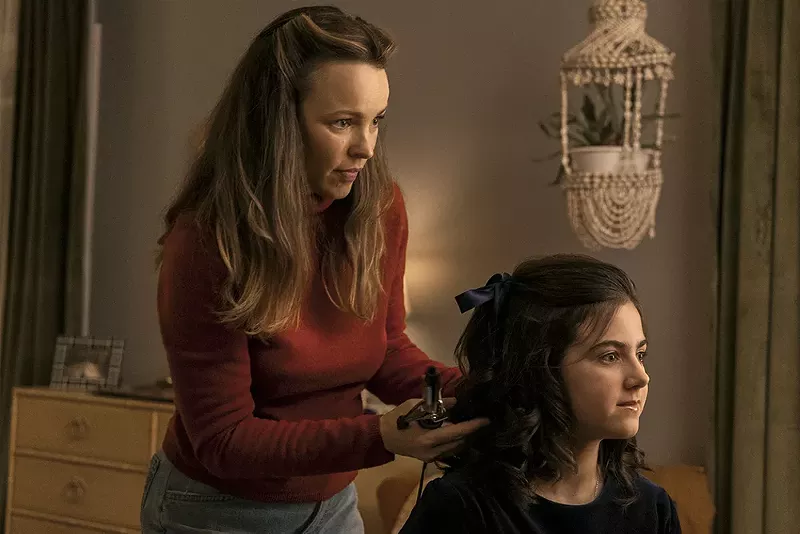 Growing up ravenous for any "young adult" content that offered the slightest glimpse of sexuality, I — along with generations of girls — gravitated to Judy Blume novels like a shark drawn to (menstrual) blood. But I was never a Margaret fan. Give me Deenie any day. Why look up to a sixth grader desperate to get her period when you could aspire to be a masturbating model with scoliosis? The thing about Blume's adolescent heroines, however, is that all of them spoke to someone. And even if one didn't speak to you, the storytelling was so damn good that you'd tear through the book anyway.
Margaret — the eponymous heroine of Blume's 1970 Are You There God? It's Me, Margaret. — is arguably the author's most beloved. And now, over 50 years from the book's publication, her glorious, painful coming of age has made it to the big screen. It's the kind of movie you're afraid to see because there's so much on the line and so easy to screw it up. I imagined a revisionist fantasy of 1970s suburbia (which, if you want it, is Licorice Pizza), a lead actress who resembles a tween TikToker more than an awkward New Jersey transplant, a reactive homage to the nuclear family that tosses out all of Blume's latent progressivism. Thankfully, Kelly Fremon Craig's second feature is none of that. It's a poignant, mid-budget film that stays faithful to the ethos of any Blume novel: Take adolescence — and adolescents — seriously, and the rest will fall into place.
As Margaret, Abby Ryder Fortson is at once endearingly self-conscious and relatably self-centered (anyone who isn't at twelve should be crushed by a vest of merit badges). When her quirky interfaith parents Herb and Barbara (Benny Safdie and Rachel McAdams) surprise Margaret after summer camp with news that they are leaving their New York City home for a suburban house across the Hudson, she is justifiably piqued — retreating to her room to implore a higher power to intervene. And so begins a series of voiceovers that mirrors the novel's internal monologue: "Please help me God. Don't let New Jersey be too horrible. Thank you."
As it turns out, New Jersey isn't that horrible — at least at first. Quickly adopted by charismatic tyrant Nancy Wheeler (Elle Graham) — who lives in "the bigger house" down the street — Margaret is inducted into a "secret club" with two other girls from her school. Here she discovers that, puberty-wise, she is, well, behind. Much of the film's humor stems from the girls' zest for both increasing their bust size and consuming anything remotely taboo — whether it be a diagram of a penis in an anatomy textbook or a centerfold from a filched copy of Playboy.
But beyond Margaret's hyper-focus on achieving the milestones of puberty (most notably her period), much of her turmoil is of an existential variety we might otherwise associate with dead European philosophers and twentieth-century intellectuals. As the only child of non-practicing parents, should she embrace the Jewishness of her father and doting grandmother Sylvia (a delightful Kathy Bates) or the Christianity of her mother? Does God hear her prayers and act on her behalf, or is there "nobody up there" listening?
If her puberty obsession seems petty compared to her spiritual ambivalence (and indeed the "we must increase our bust!" scene is played, appropriately, for laughs), we must simply remember that the two are necessarily of a piece. After all, what could be more seismic for the self than to know that one's body can, biologically at least, conceive and carry another human being? What could be more alluring — and alarming — than knowing that the size of one's breasts might correlate to the amount of attention one receives? Margaret might not be overtly aware of the burden her "womanly" body is about to bestow, but the movie is, as is her mother (McAdams, the original "mean girl," has possibly never been so warm).
For those who've never anticipated, or endured, menstruation: This movie is still for you. While Margaret's evolution remains the central focus, the narrative honors the implicit magic of grown-ups at any stage of life also continuing to grow. We see this when Barbara realizes that she can say "no" to the manicured moms at the middle school and embrace her bohemian ways. We see this when Sylvia escapes her lonely prewar Manhattan walk-up and snags a silver fox in Florida. We see this when Mr. Benedict (Echo Kellum), Margaret's sixth-grade teacher, gets through his first year teaching with a new sense of resolve. If you're living life right, at any stage you can be "coming of age." Blume knew that and this film does too.
After the credits rolled to Margaret, my movie-going companion — a gay, thirty-something university librarian — commented, "This is so much better than The Fabelmans." He was right. Are You There God? It's Me, Margaret. isn't self-mythology disguised as drama. It's a soulful account of a story whose classic status is made all the more real by its resonance today. No matter your background, it's a sweet, honest, moving movie. Period.
Coming soon: Metro Times Daily newsletter. We'll send you a handful of interesting Detroit stories every morning. Subscribe now to not miss a thing.

Follow us: Google News | NewsBreak | Reddit | Instagram | Facebook | Twitter