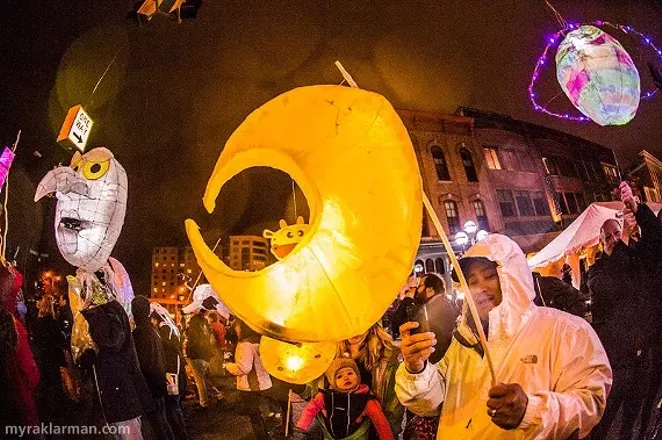 Ann Arbor's 1th annual FoolMoon festival is set to return to the streets of Kerrytown on Friday, April 7, and on Wednesday organizers announced new details for the event.
"With a theme of UFOs (unidentified foolish objects), guests will be transported to another galaxy, so let's blast off!" organizers said.
As usual, the festival includes a procession of illuminated art installations, pop-up performances, and a dance party.
This year features a number of guest artists. Those include Allida Warn's "Mahtava" (Finnish for "spectacular" or "awesome"), which organizers describe "a giant inflatable explosion with tendrils emerging from a pod that seems to breathe, dangling in the market, moving and changing colors to create joyful fun while the DJ and others jam out."
Another out-of-this-world installation is "WHOOPS!" by Carrie Beattie, which is described as "a spacecraft [that] has just foolishly crashed into a lab containing specimens of unidentified foolish origin."
Performers include Yoda the Bard, Necto Nightclub's resident DJ, who starts at 7 p.m. At 7:30 p.m., nationally competitive jump rope team Jumpin' AllStars will perform and teach jump rope lessons with illuminated ropes.
The illuminated procession kicks off at 8:15 p.m. from two locations: the Ann Arbor District Library Downtown Branch (343 Fifth Ave.) and the Ann Arbor Farmers Market (4th Street side). It will be led by the Detroit Party Marching Band and Groove.
More information is available at assembli.us.
Coming soon: Metro Times Daily newsletter. We'll send you a handful of interesting Detroit stories every morning. Subscribe now to not miss a thing.

Follow us: Google News | NewsBreak | Reddit | Instagram | Facebook | Twitter