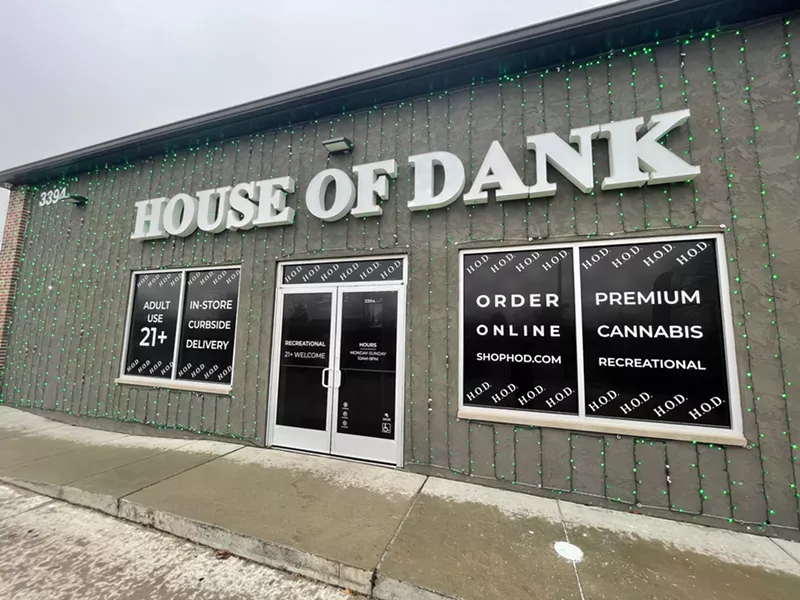 At long last, licensed dispensaries are allowed to sell adult-use cannabis in Detroit.
The city's first dispensaries to sell cannabis for recreational use opened for business on Wednesday to anyone age 21 or older, no medical marijuana card necessary.
"The Motor City is rec!" DaCut, a Gratiot Avenue dispensary, posted on its Instagram page.
"@houseofdank.fortst is now REC!" local chain House of Dank wrote on its page. "We have BIG plans for a celebration so stay tuned! Head over today & see what we got in the meantime."
Both dispensaries were previously licensed to sell to medical marijuana cardholders only. The dispensaries received final approval for adult-use sales from the state of Michigan late Tuesday afternoon, the Detroit Free Press reports.
While Michigan voters approved cannabis for adult use in 2018, it took Detroit years to opt-in to the program. That's because City Council member James Tate wanted to create a cannabis ordinance with an emphasis on social equity, or helping people from communities like Detroit that have been harmed the most by the racist war on drugs.
But the ordinance had to be rewritten as the city faced several lawsuits arguing that it was unfair to give licensing preference to longtime Detroiters. Eventually, the city came up with an ordinance that offers two tracks for licenses, so "equity" and "non-equity" applicants aren't competing with each other.
"This has been a very, very, very challenging time to get to this point," Tate said at a news conference last month announcing the new licenses. "Every step of the way, there was criticism, people said 'you're doing it wrong, you are trying to make something perfect that can't be perfect. Why are you fighting? Why is this important? Just move on.' Today is why we fight."
Michigan voters approved cannabis for medical use in 2008. But the number of medical marijuana cards issued, which cost money and time to obtain, has been declining for years, as customers have flocked to adult-use dispensaries in other municipalities to get their fix.
"Why would you go to a medical marijuana dispensary when you can go to Hamtramck or anywhere else and walk in without a card?" Adolph Mongo, a spokesman for the advocacy group Citizens for Better Social Equity, previously told Metro Times. "You are going to have people going out of business after investing hundreds of thousands of dollars. All of those buildings are going to go empty. It's unreal."
The city approved an initial wave of 33 adult-use licenses, with a total of 160 available. Applications for a second round of licenses could open up later this month.
We will be updating the Metro Times cannabis directory with all the latest dispensaries in Detroit to offer adult-use sales.
Coming soon: Metro Times Daily newsletter. We'll send you a handful of interesting Detroit stories every morning. Subscribe now to not miss a thing.

Follow us: Google News | NewsBreak | Reddit | Instagram | Facebook | Twitter