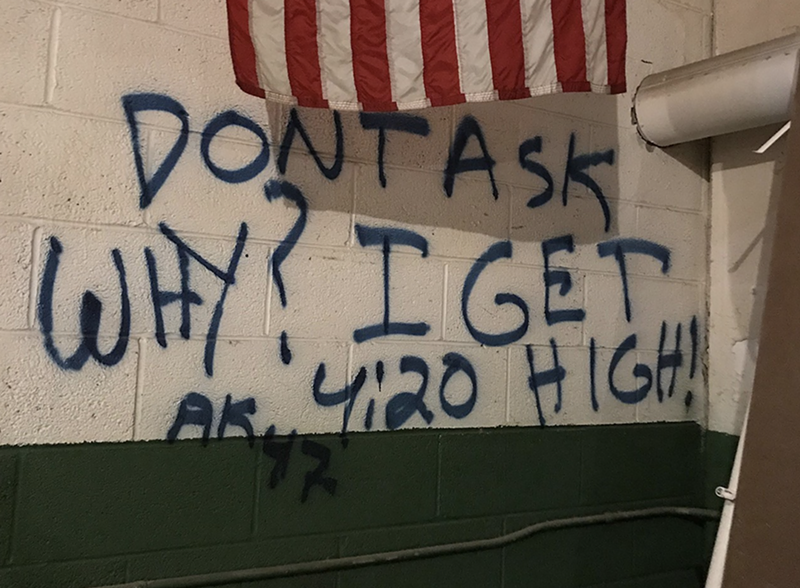 Although 4:20 comes around twice every day, 4/20 only comes around once a year. And although the marijuana lovers' holiday started off about as soggy as it can get thanks to Saturday's rain, it didn't put much of a damper on most festivities.
One event that the rain and weather cooled off was the party at The Reef provisioning center (6640 E. Eight Mile Rd., Detroit; 313-992-4202; findthereef.com). Folks over there were geared up for a big day with a canopy in the parking lot and a grill with hamburgers and hot dogs for hungry revelers.
I've got to say that indoors, The Reef is the most impressive provisioning center I've visited as far as space and vibe. The waiting room is huge and well-appointed with big leather couches, a couple of big viewing screens, cool music, and a generally relaxed vibe. There's plenty of space to move around in here. The room with all the product was equally impressive. There were 14 registers going in there at stations that were each fully supplied with medicinal products.
Outdoors it was cold, wet, and windy, although free snacks and games attracted some hardy partiers. I asked a couple of women enjoying their burgers why they were standing out in the cold.
"We came for the festivities and the deals that are available here at The Reef," said one.
Her friend added, "Definitely to mix and mingle amidst the crowd." As they fell into what seems a long practiced manner of finishing the other's sentences, the first woman added, "Definitely get high." Her partner jumped in, "Enjoy the flower."
OK, they were headed for a fun afternoon at The Reef. I headed over to BDT (21640 John R Rd., Hazel Park; 248-542-6110; facebook.com/bdthazelpark) to check out the annual event there. BDT is a chain of smoke shops that has been one of the backbone supporters of legalization drives. Their 4/20 party took place in the building next door, with numerous cannabis-related posters on the walls. The sweet smell of burning cannabis hit my nose the second I entered the place, and the ebullient crowd played bingo and munched pizza as they enjoyed their favorite herb. As a sign on the wall read: "Smoking Allowed — No Cigarettes."
"I've been smoking since about 14, so I just always loved weed," one partier told me. "So I wanted to celebrate on a different scale. Now that it's recreational it's more open, it's a better enjoyment. I don't have to be scared or hiding about it. It's good to be more open about it now."
At 4:20 p.m., a ceremonial spliff was fired up. It was about 18 inches long, smeared with wax, and fatter than any cigar around. The BDT folks used a Shop-Vac to get it going and admonished the folks lined up to smoke it that they need to "suck hard." That joint suffered the same problem that often assails a regular joint: it burned faster up one side than the other.
The day went down as usual at BDT. Next I headed over Grey Area (4200 W. Vernor Hwy., Detroit; facebook.com/greyareadetroit), where a show titled Plants Make People Happy was getting started. Grey Area is something of a gallery, boutique, and studio where aura photographs are taken. One feature of the show is aura photos taken when the subject has used marijuana. The photos showed different auras evident when different kinds of marijuana are used.
"Obviously, it's 4/20," said proprietor Eileen Lee. "For me I've been a big cannabis advocate, but more specifically medical cannabis. I really wanted to create an event and a show to elevate not just cannabis but advocate plant medicine in general."
The snacks at the opening were CBD-infused, and there was CBD soda to drink. Aside from the aura photography — the photos are taken in a yurt, which dominates one of the rooms — a collection of unusual-looking wooden pipes were on display. There was no smoke in the air there, but I did notice a few guys smoking something outside.
Then it was over to the Russell Industrial Center (1600 Clay St., Detroit; 313-872-4000; russellindustrialcenter.com). I missed the 420 shuttle bus that left from there earlier, but I was on time for the Spadespill420 party. Spadespill is a party where people play the card game spades. Crystal Caddell has been doing them for a while, and this one just happened to line up with 420.
"It's an event where we bring the culture together," Caddell said. "It's how you bring your family together. We play spades, drink, have fun, talk, dance. It reminds you of an old-school family reunion."
Caddell's family is all-in. Her father oversees the door, her grandmother handles the catering, and her uncle's security company works the event. And if somebody in the family wants to smoke weed, there's a room down the hall for that. And maybe in the fashion of acceptance for all that comes with all the characters at a family reunion, the words "Don't Ask Why I Get High" are painted on the wall of that space.
After that it was over to PJ's Lager House (1254 Michigan Ave., Detroit; 313-961-4668; pjslagerhouse.com) to catch the Duke Charelle album-release party — except Duke wasn't there yet at 11 when the thing was advertised to end at 11:30. So I caught a few tunes by the Rhett Yocom Blues Band, who seemed to be the first of three warm-up acts. Yocom was laying down David Gilmour- and Jimi Hendrix-esque riffs from the stage. "It's the first 4/20 that's recreationally legal," he said on the side of the stage. "We get to be out playing a 420 party."
"I'm just speechless, man," a bandmate tossed in. "I've waited all my life for this to happen."
So have a lot of people. When you look at the landscape of 4/20 across Michigan, it seems like the state has embraced marijuana for at least one day. There was a 420 Canna Expo at the Soaring Eagle Casino in Mt. Pleasant. There was a Kushstock festival in Clio. Damn near every provisioning center around had sales and discounts for the day. There was weed and yoga, weed and painting. Heck, even the Free Press published a guide to 4/20 events.
Maybe April should become marijuana month in Michigan. We have the Hash Bash, our traditional marijuana event that has turned into a three-day festival, and shortly after that we get 4/20. It wouldn't take much more to bring that unmistakable odor of the herb throughout the state all month long.
It's a new era for marijuana in Michigan. Sign up for our weekly weed newsletter, delivered every Tuesday at 4:20 p.m..