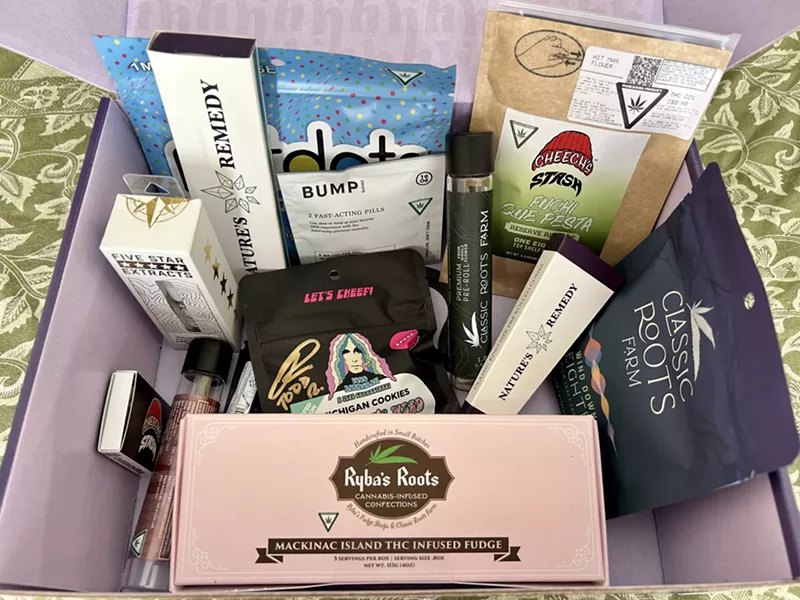 Walking into a cannabis dispensary can be overwhelming.
A Michigan-based company is poised to make the process easier and more educational with a monthly cannabis subscription club that delivers a curated box of products to your front door.
HighHello began its subscription service in metro Detroit last month. The company hopes to branch out to other areas of the state in the future.
For $100 a month, you get a box packed with a variety of flower, edibles, concentrates, and vape cartridges, along with educational material and a 15-minute virtual meeting with a bud tender. Smaller boxes are available for $75 if you prefer just flower, edibles, or concentrates.
Metro Times
decided to try a $100 box, and we were impressed with the quality, quantity, and variety of products.
We received three eighth-of-an-ounce packages of premium flower, two pre-rolls, a vape cartridge, THC-infused milk chocolate and Mackinac Island fudge, two fast-acting THC pills, and a lighter. It was more than enough cannabis to last a month.
Each product came with educational material.
To subscribe, see
HighHello's website
. You can cancel your subscription at any time.
"There are so many new products in dispensaries all the time," Vadim Shiglik, co-founder of HighHello, tells
Metro Times
. "It can be overwhelming for people. We want to lend some kind of tool for navigating those waters."
HighHello partners with cannabis brands to offer new products every month. In an industry that is growing so quickly, it can be difficult for brands to stand out.
"It's so hard to run a business, create a quality product, and advertise in ways that are not traditional," Shiglik says. "This is an additional tool for them to advertise their brand and connect with the customer."
Shiglik says the box is fun because it's different every month and includes products that a customer might not usually buy.
"We are always mixing it up" he says. "There is always enough to share with friends. You get to try awesome products from a variety of companies and learn about them while you do it at a price that makes you feel comfortable."
Coming soon: Metro Times Daily newsletter. We'll send you a handful of interesting Detroit stories every morning. Subscribe now to not miss a thing.

Follow us: Google News | NewsBreak | Reddit | Instagram | Facebook | Twitter