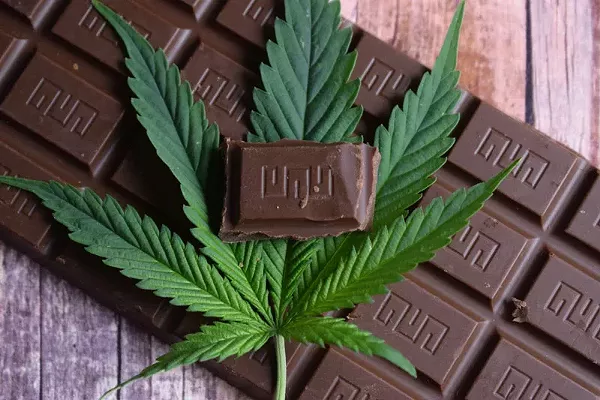 Thanks to Michigan voters, marijuana is now legal for recreational use, but
it is not for sale in any stores
yet.
Fortunately, that magical entity that Republicans are always praising — you know, the market — has come up with a solution. It just requires a lot of winking and nudging.
That's because under the new law it's perfectly legal for an adult over the age of 21 to gift another adult cannabis. Officially, the law permits "giving away or otherwise transferring without remuneration up to 2.5 ounces of marihuana, except that not more than 15 grams of marihuana may be in the form of marihuana concentrate, to a person 21 years of age or older, as long as the transfer is not advertised or promoted to the public."
Presumably, the gift-givers have grown their pot under the state's medical marijuana law, or are card-holders who purchased their bud at a marijuana provisioning center. But what if you don't have a friend with a medical marijuana card who can gift you?
Enter the entrepreneurs.
The Detroit News
did a round up on some businesses that offer a "free gift" with purchase of some other good, like artwork or T-shirts. Officially, that free gift is only hinted at.
On High Road LLC
, which got its start on the east coast, offers a free gift when you buy a "Munch Bag" package with some of its "High Art." For example, there's the "Hybrid Art Red Wing Hot Box," which comes with "Fire Hot Fries, water, artwork, and a pre-rolled empty cone for rolling a joint. If you select a "Lit bag" when ordering, you get an extra gift, available for pickup or delivery.
"We gift premium experiences with the purchase of one of our custom curated Munch Bags or High Art subscription boxes," the website says. "A portion of every sale will go to the fight for criminal justice reform and bridging the racial disparities within the war on drugs and legal cannabis industry."
Then there's Ann Arbor's
Smoke's Chocolate LLC
, which sells chocolate truffles starting at $32. It too is coy about what it offers. "Smokes Chocolate was founded on December
6th
2018. We are a Chocolate Delivery company," the website says. "We love that the Great State of Michigan allows adults +21 to smoke marijuana."
There's also
CannaMich
, which sells T-shirts ranging from $80 to $340 that come with a different gift depending on the price. It is less coy about the ruse.
"Michigan law allows for marijuana to be gifted, so with any T-shirt purchase comes a free gift of your choosing as well as free delivery to anyone within Wayne County, MI," its website says.
Smoke's owner, 30-year-old Marc Bernard, evoked Republicans' favorite concept of
laissez-faire
when asked by the
News
about what his company does. "We don't touch the cannabis at all," he said. "It's entirely up to the drivers and at their discretion. All we do is sell chocolate."
To be clear, many experts believe such businesses operate in a legal gray area. Josh Hovey, a spokesman for the advocacy group the Coalition to Regulate Marijuana Like Alcohol, admitted these companies are likely legally dubious, and will probably disappear when Michigan starts to roll out recreational marijuana stores like those found in other states that have ended prohibition, which is expected next year.
News
. "I guess they believe the opportunity to be first to the market is worth the legal risk."
Stay on top of Detroit news and views. Sign up for our weekly issue newsletter delivered each Wednesday.