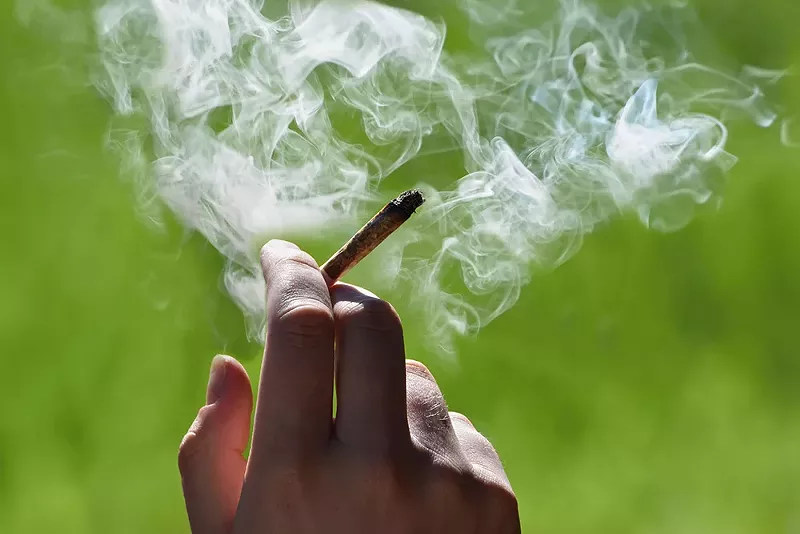 The 2018 midterm elections resulted in
victory
for Michigan voters in support of Proposal 1, the legalization of marijuana for recreational use. However, some Michigan cities are being total buzzkills.
At least 60 municipalities have opted out of allowing recreational marijuana sales, according to Michigan's Department of Licensing and Regulatory Affairs. In metro Detroit, this includes Grosse Pointe, Milford, Northville, Allen Park, and Plymouth.
"While communities are not required to let us know, we have requested that they do so just to make things a little easier for everyone involved," LARA communication director David Harns says. Harns adds that the list provided to
Metro Times
is unofficial — it's a list of communities that have contacted LARA directly. There are communities that have opted out but have not notified the department (
such as Pinckney
).
No reason for the opt-out was given to LARA, but just because some communities have done so doesn't mean that they won't eventually allow recreational marijuana sales.
"Given the potential this legislation has to fundamentally alter the community, city administration cannot stress enough the importance of careful analysis, as to potential impacts on land use considerations and the need for thoughtful deliberation, as the community moves forward," Monroe City Manager Vince Pastue wrote in a memo,
MLive
reports. "Determining what marihuana establishments will be considered; how many and where; how close to a school, a park, a church or a residential area?"
The list of municipalities that have notified LARA that they have opted out of recreational marijuana sales are as follows:
Cheshire Township (Allegan)
Overisel Township (Allegan)
Three Oaks Township (Berrien)
Coldwater Township (Branch)
Newberg Township (Cass)
Volinia Township (Cass)
Sault Ste Marie (Chippewa)
Dallas Township (Clinton)
Greenbush Township (Clinton)
Ironwood (Gogebic)
Ingham Township (Ingham)
Williamston (Ingham)
Caspian (Iron)
Nottawa Township (Isabella)
Brady Township (Kalamazoo)
Charleston Township (Kalamazoo)
Portage (Kalamazoo)
Prairie Ronde Township (Kalamazoo)
Ada Township (Kent)
Cleveland Township (Leelanau)
Fairfield Township (Lenawee)
Oceola Township (Livingston)
Pentland Township (Luce)
Village of Armada (Macomb)
Frenchtown Charter Township (Monroe)
Monroe (Monroe)
Ashland Township (Newaygo)
Village of Milford (Oakland)
Northville (Oakland)
Grant Township (Oceana)
Bridgehampton Township (Sanilac)
Brown City (Sanilac)
Village of Carsonville (Sanilac)
Elmer Township (Sanilac)
Flynn Township (Sanilac)
Lamotte Township (Sanilac)
Maple Valley Township (Sanilac)
Marlette (Sanilac)
Village of Melvin (Sanilac)
Minden Township (Sanilac)
Village of Port Sanilac (Sanilac)
Sandusky (Sanilac)
Speaker Township (Sanilac)
Washington Township (Sanilac)
Watertown Township (Sanilac)
Algonac (St. Clair)
Burtchville Township (St. Clair)
Casco Township (St. Clair)
Columbus Township (St. Clair)
Kenockee Township (St. Clair)
Richmond (St. Clair)
St. Clair (St. Clair)
Mottville Township (St. Joseph)
Sherman Township (St. Joseph)
Sturgis Township (St. Joseph)
Tuscola Township (Tuscola)
Geneva Township (Van Buren)
Allen Park (Wayne)
Grosse Pointe (Wayne)
Plymouth (Wayne)
The new law, which went into effect on Dec. 6, allows adults 21 and older to possess, use, gift, and buy cannabis. It also provided regulations for personal growing and the operation of canna-businesses. This applies to the cities above; they just won't allow retail stores to sell marijuana.
As of right now, there aren't any retail businesses currently operating and likely won't be for at least another year, which means if you're not a registered medical marijuana patient in Michigan, you'll have to get weed the old fashioned way. (You know, your buddy down the street.)
Stay on top of Detroit news and views. Sign up for our weekly issue newsletter delivered each Wednesday.