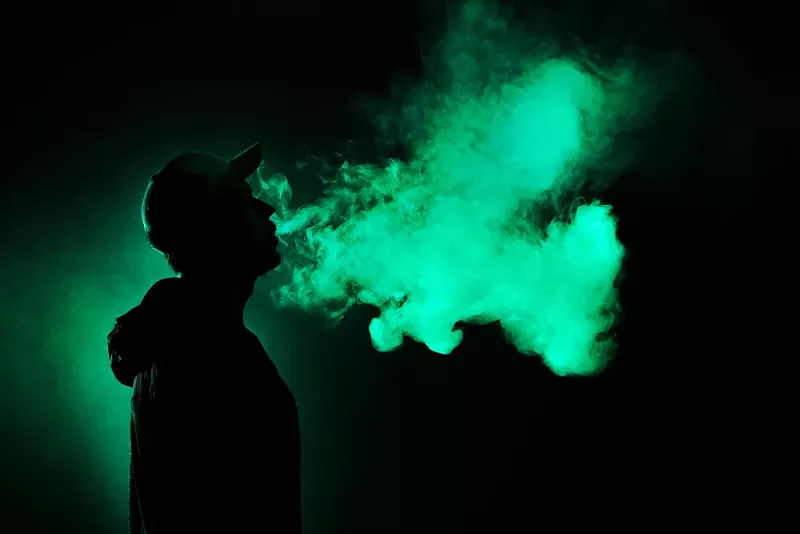 Apparently, the mainstream media has learned nothing from the big vaping scare from a couple of years ago, with even outlets like
The New York Times
still getting basic facts about it wrong.
To recap: Back in 2019, hundreds of people began to get sick with a mysterious respiratory illness that was sending otherwise healthy young people to the hospital. At the same time, such disparate officials as Michigan Governor Gretchen Whitmer and President Donald Trump
found common ground in declaring a war on nicotine e-cigarette companies
like Juul, citing
a rise in teen vaping
. That led to bans on flavored e-cigs, with the reasoning being that these flavors are more appealing to kids.
But health officials eventually identified the cause of the deadly illness as black-market marijuana oil cut with a chemical called vitamin E acetate, which could stick in the lungs. By then, it was too late — the hysteria caused many people to conflate vaping black-market pot, which is dangerous, to vaping e-cigs, which is less dangerous.
It didn't help that the mainstream media repeatedly conflated the two issues,
routinely reporting on the vaping illness without clarifying
that it was connected to black-market cannabis and not e-cigs. (A
Metro Times
story
pointing out this simple distinction
remains our top-read story of all time.)
These reporting issues are still happening, however.
On Wednesday,
The New York Times
ran
an opinion piece about sexism and double standards in Silicon Valley
that led to the high-profile trial of Elizabeth Holmes and her former company Theranos. Tucked in the story was a brief reference to the popular e-cig company Juul:
Leading this race to the bottom, Juul brought vaping mainstream, raising billions of dollars along the way. Kevin Burns, the chief executive who helped raise $12.8 billion for Juul from Altria, a tobacco giant, claimed his product was designed to help people stop smoking cigarettes. Nevertheless, in June 2019, Congress launched an investigation into Juul's part in the youth nicotine epidemic, including efforts to market its products as safe to children. By mid-February 2020, a report from the Centers for Disease Control and Prevention showed that 68 people in the U.S. had died from lung injury associated with the use of vaping products.
The hyperlink for the "68 people" dead links to a Centers for Disease Control and Prevention page about EVALI, or the CDC's term for the illness, also known as "e-cigarette or vaping use-associated lung injury."
Right at the top of the page, the CDC notes, "National and state data from patient reports and product sample testing show tetrahydrocannabinol (THC)-containing e-cigarette, or vaping, products, particularly from informal sources like friends, family, or in-person or online dealers, are linked to most EVALI cases and play a major role in the outbreak."
THC, of course, is the main component of marijuana that makes you high.
In other words, the deaths have nothing to do with Juul and everything to do with black-market cannabis oil.
That editors at one of the world's top news organizations are still getting this wrong is alarming, to say the least. It's no wonder so many people were confused about vaping.
To be clear, e-cigs, which were marketed as a healthier alternative to old-fashioned cigarettes, are not harmless. They are still addictive, and as a relatively new technology researchers are still learning about their effects on the body.
And they're still highly appealing to kids. A study published in June in the journal
JAMA Network Open
found that
nearly 20% of high schoolers and almost 5% of middle schoolers reported last year that they currently vaped
. Many reported vaping fruit-flavored products.
In the meantime,
U.S. Food and Drug Administration has asked for an extension as it reviews e-cigarette products for approval
. While the products have been sold in stores for years, they have not yet been technically approved by the agency and have been in a sort of regulatory limbo since 2016.
Updated Monday, Sept. 20: The New York Times
has since deleted the reference to vaping deaths from the piece.
Stay connected with Detroit Metro Times. Subscribe to our newsletters, and follow us on Google News, Apple News, Twitter, Facebook, Instagram, or Reddit.