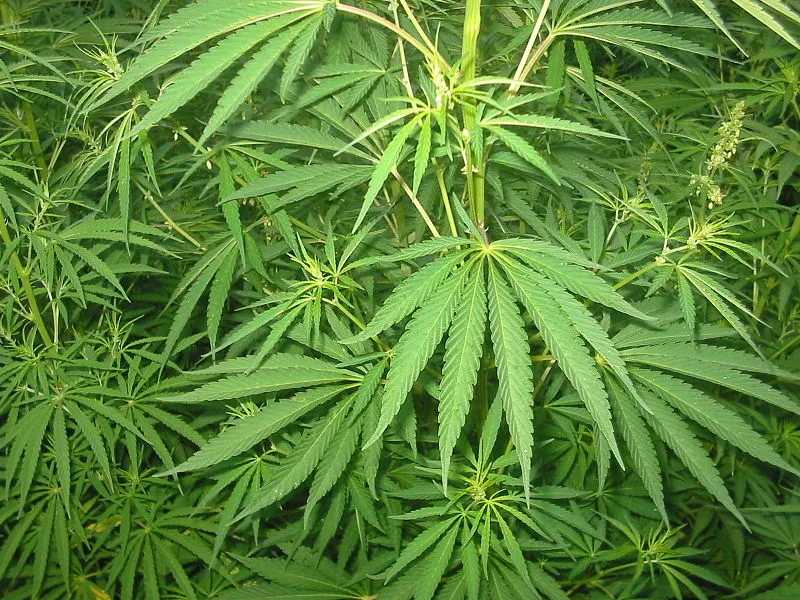 The 42nd Annual Hash Bash in Ann Arbor was the highlight of a flurry of activities around marijuana the past few weeks. A reported 3,000 people were at the University of Michigan Quadrangle for the Bash — part pep rally, part political effort and part toke-down.
State Rep. Jeff Irwin, D-Ann Arbor, was one of many speakers at the well-organized and well-run event, which included local and national activists. Mason Tyvert, who works for the Washington, D.C.-based Marijuana Policy Project, and who headed up the legalization campaign team in Colorado, spoke; other speakers included National Organization for the Reform of Marijuana Laws founder Keith Stroup and seed geneticist D.J. Short.
Irwin got the crowd cheering when he said, "I believe we should legalize marijuana. … The good news today, on the 42nd anniversary of Hash Bash, is we're winning. We're winning the battle against marijuana prohibition."
He cited electoral victories for legalization in Washington state and Colorado as evidence of the changing tide. Then he talked about how activist involvement had made a difference in softening some of the more draconian measures in bills passed by the Michigan state Legislature last December regarding medical marijuana, adding that he would introduce a decriminalization bill in the state Legislature. Irwin asked for help in pressing other legislators to support decriminalization.
"We're going to end the drug war," Irwin said. "We're going to legalize marijuana here in Michigan. The amount of blood and treasure that we've spilled in this failed drug war are an embarrassment to our country."
The Hash Bash came on the heels of a Pew Research Center poll showing that 52 percent of Americans believe marijuana should be legalized. Speaker after speaker referenced the poll that, for the first time, showed a simple majority in favor of legalization. In the past, polls have shown a plurality of Americans in support of legalization but never a majority.
"It smells like freedom," said Tyvert. "This is not just the tipping point; this is the tip of the iceberg."
No fool's day: Things aren't quite so friendly for the herb in the Michigan state Legislature, where folks still seem to look at certified medical marijuana patients as possibly criminal. Bills passed in December 2012, which went into effect April 1, 2013, put strictures on medical marijuana in Michigan. HB4856 stipulates that marijuana transported in vehicles has to be in a container in the trunk. If the vehicle has no trunk, then marijuana must be "enclosed in a case that is not readily accessible from the interior of the vehicle." That seems to follow the model of alcohol law, which prohibits open containers inside cars; however it doesn't seem to regard marijuana as medicine because I don't know of any laws forbidding carrying any kind of medicine inside a car.
That thinking seems to follow the same path with HB4851, which requires doctors who recommend marijuana use to establish a "bona fide physician-patient relationship" that involves reviewing patient records. This is all well and good, except it seems as if it's more a view that medical marijuana patients are criminal.
Its (unstated) aim seems to be restricting access to patients seeking cannabis as a medical solution. For instance, in last week's Higher Ground column, I discussed a medical marijuana patient who was addicted to painkillers. His pain management doctor knew nothing about marijuana and would not recommend it for him. The patient found another doctor who would. He then got off the prescribed opiates he was addicted to. He went back to his pain doctor and showed that he was off the drugs. Now, the doctor understands that marijuana can be useful. Still, with little training or understanding of marijuana, and legal issues remaining unsettled, many doctors are loath to recommend it.
A couple of years ago I reported about an HIV doctor who had been recommending marijuana for patients. After State Attorney General Bill Schuette said that federal law trumped state law, the doctor stopped recommending marijuana for fear of prosecution. In another case, a patient who had previously been recommended to use medicinal cannabis went back to his doctor for recertification. The doctor wouldn't do it because he had been told that if he recommended marijuana to his patients he could no longer work at that clinic.
Doctors are being ostensibly pressured to eschew a course of treatment for fear of retribution should they prescribe — or even recommend — a substance that is purportedly "legal."
There currently exists a punitive atmosphere toward physicians who choose a "legal" medical protocol, which effectively places undue hardships on patients who may be forced to "shop" for doctors who are even open to the idea that marijuana is a useful therapy.
Another part of the same bill allows outdoor grows. However, the garden must be enclosed on all sides and not visible to the unaided eye. The enclosure must be locked and anchored to the ground. Anyone planning to grow marijuana should be warned to take a close look at the law — as there are specific materials required for use in making the enclosures.
April 1 was actually a good day in Rhode Island: A law that was passed last year decriminalizing possession of as much as 1 ounce of marijuana went into effect. The law, first introduced in 2010, makes possession a civil offense punishable by a $150 fine.
Getting spacey with time: We all know that time is relative, and that marijuana users' time perception may get a little rubbery while under the influence. It seems like the federal government has fallen into that time-vortex when it comes to having anything to say about last November's legalization votes in Colorado and Washington.
U.S. Attorney General Eric Holder has said at least a few times since late in 2012 that the Obama administration would "soon" have something to say on the subject. Last month, Holder said the administration was "still considering" its response. I'm wondering what "soon" means to those folks. Maybe they've inhaled and don't realize that it's been five months since the historic votes. On the other hand, they have been busy with the fiscal cliff and the sequester — not to mention North Korea threatening to toss a nuclear weapon at its neighbor. So maybe we just have to hold our breath a little longer. As the old western swing song says, "Anytime you're thinking 'bout me. That's the time I'll be thinkin' of you." … Anytime, Mr. Holder.
We may not have to wait for him. Last Friday, rumors began circulating about a proposed bipartisan bill in Congress that would protect marijuana users and businesses from federal laws as long as they are compliant with state laws. Like I said, anytime.
They really meant it: Meanwhile, things seem to be moving along in the legalized states. That is if you consider the 25 percent tax in Washington state and the 38 percent tax they're considering in Colorado (in the Denver area) to be moving along. They must have really meant it when they said they wanted to "tax and regulate" the substance. Then again, the Colorado law allows folks to grow their own in an "enclosed, locked space." Am I having déjà vu here?
Larry Gabriel is a writer, musician and former editor of Metro Times. Send comments to [email protected].