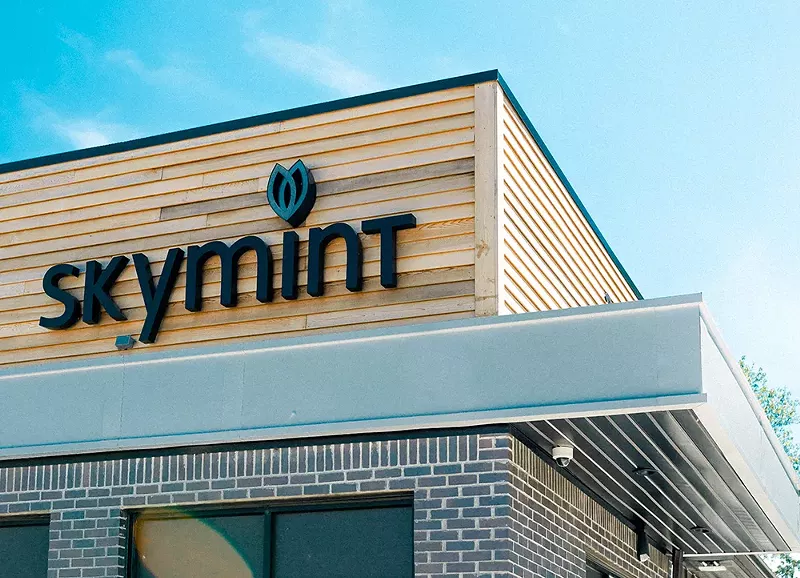 Skymint is chugging on despite being under receivership.
The Lansing-based cannabis company has reopened three dispensaries that were caught in a legal battle with 3Fifteen Cannabis and is gearing up for a massive weed giveaway in the lead-up to 4/20.
Skymint entered a court-appointed receivership in March following a lawsuit by Canadian investment firm Tropics LP alleging Skymint owes it more than $127 million. The suit alleges Skymint, which operates under parent company Green Peak Innovations Inc., burned through $3 million a month and only generated $110 million in revenue for 2022, well below its annual forecast of $263 million.
Skymint was then hit by a second lawsuit by New-York based cannabis investment firm Merida Capital Holdings, which alleges the company misrepresented its financials and management.
What does this have to do with the 3Fifteen dispensaries? Well, Tropics LP lent Skymint $70 million to acquire 3Fifteen and its 12 dispensaries across metro Detroit, and Merida (a majority shareholder in 3Fifteen) lent $8 million toward the acquisition.
3Fifteen challenged the company's leadership, subsequently taking control of dispensaries acquired by Skymint in Hamtramck, Grand Rapids, Battle Creek, and Camden. But an Ingham County Circuit Court judge ordered 3Fifteen to cede control of the dispensaries back to Skymint after determining 3Fifteen violated the court's receivership order, Crain's Detroit Business reports.
3Fifteen was also ordered to return $494,045.24 that was removed from the company's bank accounts and return access to those accounts to Skymint employees.
Meanwhile, Skymint is preparing to give away thousands of dollars in cannabis and other freebies from April 10-20.
The giveaway includes Skymint's Big A$$ 10-gram joint, free weed for a year, an Airbnb gift card, and several "party packs."
Michigan residents can enter the giveaway via in-store kiosks at Skymint dispensaries. No purchase is required and one winner will be selected at random each day until the promotion ends. You also have to follow @skymintofficial on Instagram to win.
For more info see skymint.com.
Coming soon: Metro Times Daily newsletter. We'll send you a handful of interesting Detroit stories every morning. Subscribe now to not miss a thing.

Follow us: Google News | NewsBreak | Reddit | Instagram | Facebook | Twitter