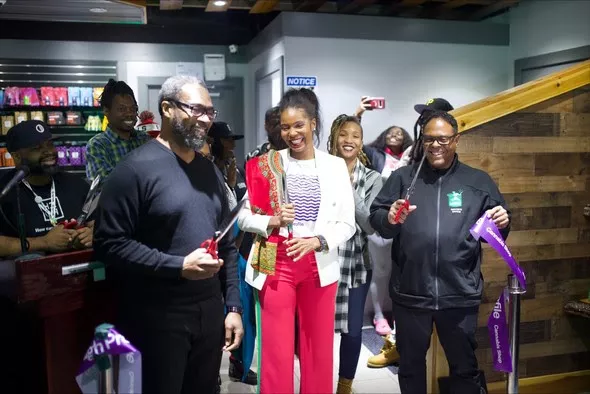 Another Black-owned dispensary opened in Detroit over the weekend after
the city approved 34 applications in December for cannabis businesses
to finally open.
High Profile Cannabis Shop opened on Saturday at 20327 Groesbeck Hwy. on the city's east side.
It's the latest adult-use dispensary to open in the past two weeks that is part of Detroit's social equity program, which is designed to ensure that Black residents are represented in the legal cannabis industry. Others include
Nuggets
, Da Cut, and House of Zen.
City officials joined co-owner Najanava Harvey-Quinn to celebrate the grand opening on Saturday.
"This truly is an unprecedented time and opportunity for entrepreneurial residents like Najanava to invigorate the community's prospects in the cannabis business," Deputy Mayor Todd Bettison said. "It cannot be emphasized enough: Black and Brown communities have a real chance to grow profits in a legal industry that had previously penalized generations of our residents. Following High Profile's footsteps, we look forward to seeing other licensed cannabis businesses open and cement Detroit as a model for opportunity in other cities."
As part of Detroit's adult-use cannabis ordinance that passed last year, the city offers assistance and licenses to "Detroit legacy" applicants, who are eligible if they are long-term residents who own at least 51% of the business. Low-income Detroiters and those with prior criminal cannabis convictions can also qualify if they've lived in the city for more than a decade.
High Profile Cannabis Shop sells dozens of varieties of flower, concentrate, vape cartridges, and edibles.
The store is a dispensary chain operated by Ann Arbor-based C3 Industries, with locations in Michigan, Massachusetts, and Missouri. It's the company's first dispensary in Detroit.
Harvey-Quinn knows first-hand the impact of the failed war on drugs. In 2008, her sister was arrested for possessing a small amount of cannabis. After witnessing the social and economic barriers that her sister faced, Harvey-Quinn began advocating for policy change to protect other victims of the drug war.
"Our city's social justice 'street fighter,' Najanava has been leading efforts to reposition those impacted by the War on Drugs from victims to owners," council President Pro Ten James Tate said. "I applaud her tenacity. She has fought tirelessly to see equality and equity in the cannabis industry and today she in her own right has won that fight. We stand with her and will continue to support her as we work together to break barriers for equity in cannabis for all."
Harvey-Quinn credited the city's legacy program with helping her get into the industry to make a difference.
"The Legacy Detroit program presented an opportunity for us to make sure Black and Brown people have a pathway to impact their communities as long-term residents," she said. "Being an owner, I hope to lead by example. I want us to make sure we all work together to leave the door open for generations of people of color who are trying to get into this industry."
So far, the city has issued 34 adult-use cannabis retail licenses. Of those, 20 are social equity applicants, which are people who live in a community disproportionately impacted by the war on drugs.
A total of 19 of the 34 businesses are owned by Detroiters. They include 10 Black men and seven Black women.
Under the city's ordinance, half of the licenses will be issued to social equity applicants.
Coming soon: Metro Times Daily newsletter. We'll send you a handful of interesting Detroit stories every morning. Subscribe now to not miss a thing.

Follow us: Google News | NewsBreak | Reddit | Instagram | Facebook | Twitter