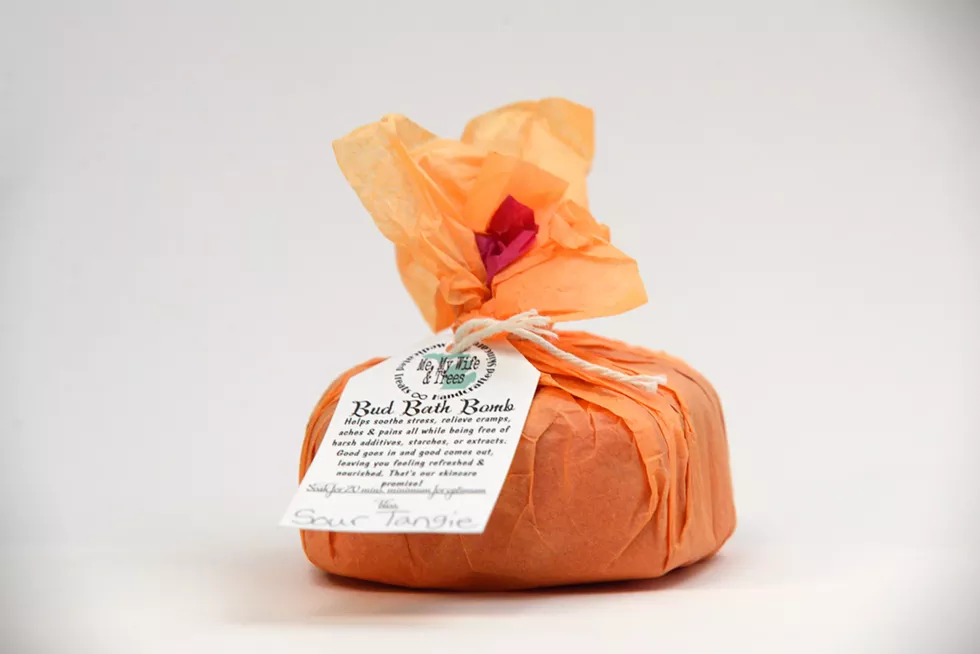 Bath bomb
Me, My Wife, and Trees
Move over, LUSH, there's a new bath bomb in town — and it's loaded with CBD. First, it should be said that we all should take more baths. Life is hard, work sucks, and baths are our friends. Me, My Wife, And Trees strike again.
The bath bomb comes in both small and large varieties, and several different scents. I choose the large Sour Tangie because it smells like a goddamn smoothie. What's in this bad boy? A natural blend of coconut oil, rice bran oil, essential oils, flowers, herbs, charcoal, Epsom salt, and CBD.
After recovering from Elevated Yoga for, like, three days because I am wildly out of shape, I decide to reward my creaky ass body with a soak and oh my god am I glad I did.
It is recommended to soak for at least 20 minutes to experience the full effects. Well, three episodes of Frasier and several gallons of hot water later, I feel like a noodle — heavy, tired, and cooked all the way through. I am prepared for the nap to end all naps. And I do. But I wake up sometime around 9 p.m. and have to wrestle with waking up or calling it a night. I have to assume the product lived up to its promise. It's pretty hard to feel pain or stress when you're passed the fuck out in the middle of a Saturday.
This item has scored a recurring spot on my grocery list.
Suite B Provisionary Center, 27332 Michigan Ave., Inkster; 313-228-5648; suitebmeds.com; Bath bomb available in various scents, $7-$20 donation.