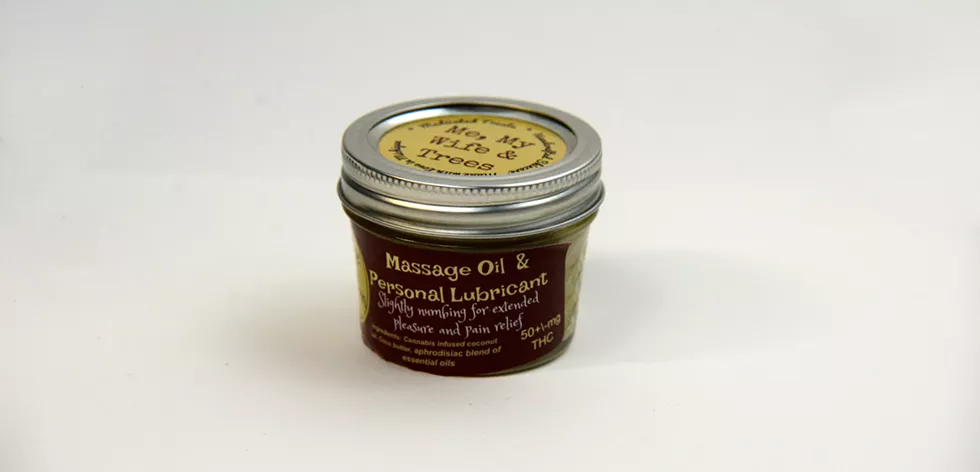 Lube
Me, My Wife, and Trees
When I ask the budtender if cannabis personal lubricant was intended for internal use during intercourse, he doesn't bat an eye. "That's the idea," he says. I can't wait to put this to work and thankfully for me, my partner is down to do the deed. However, when it comes time to getting nasty, I forget the lube downstairs. So, we have to go another round. Poor us.
Labeled as a slightly numbing massage oil and personal lubricant, the Me, My Wife, and Trees product contains THC-infused coconut and cocoa butter and an aphrodisiac blend of essential oils. Normally, I steer clear of any lube with warming or numbing properties. (Flashback to the time I thought to use K-Y warming jelly and upon insertion, my vagina became an instant volcano and I ran to the bathroom to splash water on my bits. This was not that.)
I first apply the oil to my partner, fearing a similar reaction as my previous experiences. The consistency in the jar is hard and salve-like, which made me question its lubrication properties. But when it interacts with the heat of my palms, it transforms into a silky oil, and the sweet and earthy smell erupts as it is applied. Within minutes, my partner tells me he feels a warming sensation and when asked if it was too intense, he eases into his pillow. "Not at all."
Eager to try this myself, I hop on. Though I do not experience the numbing as listed on the jar, the warming is subtle and surprisingly pleasant. We change positions to make sure we are properly exposed to the lubricant and before we know it we both reach climax more quickly than usual. This is most impressive considering it is our second hump sesh that day, and usually that means we have to be a bit more patient.
Unlike slippery, oily lubes, this is not something I feel the need to wash off or rinse. The smell is intoxicating and soaks into my skin like moisturizer after 20 minutes of play. Back door to oral, almost instantly we begin plotting all the fun ways we would experiment with this all-natural product. At $40 this seems like a luxury, but after one use is a bedroom necessity.
Suite B Provisionary Center, 27332 Michigan Ave., Inkster; 313-228-5648; suitebmeds.com; Personal Massage Lubricant, $40 donation.