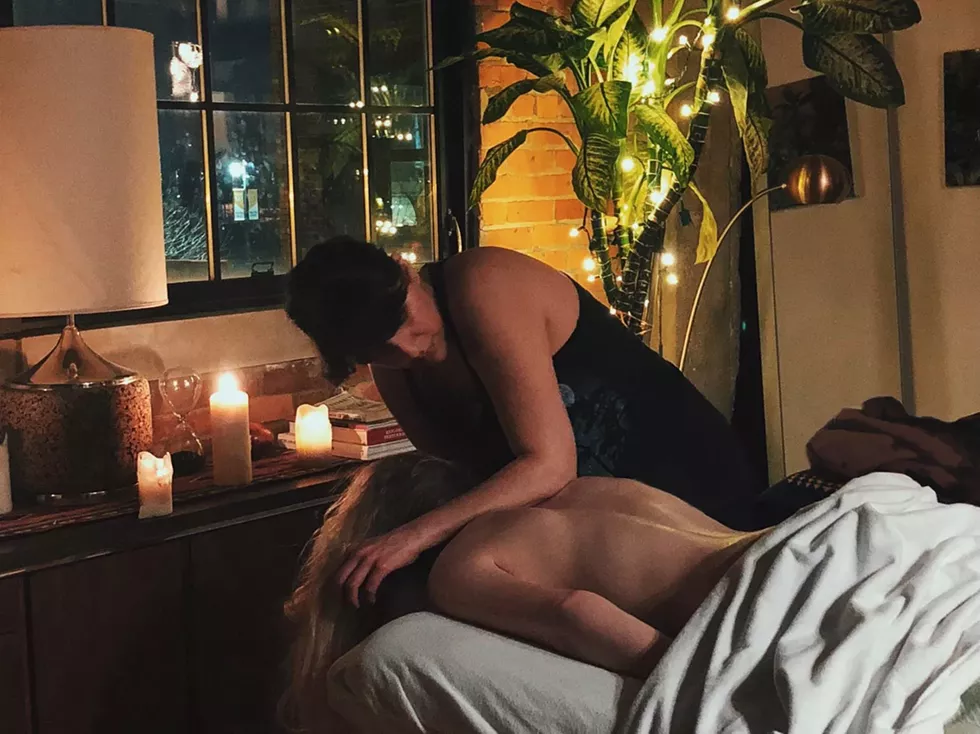 High-end
Green T Residency Spa
I would be lying if I said this was not my most anticipated weed wellness activity. Up until last month, I had never been professionally massaged. This may be hard to believe considering my history of pain. If I've learned anything during my week of weed wellness, it is that self-care does not come easily.
Originally, I book an appointment for a CBD oil massage offered by a newly beloved Detroit spa. When I arrive, however, I am told that the owners had chosen to decline their inclusion in my story as they were concerned about being associated with 4/20 or stoner culture. I am told that their older clientele might get the wrong idea. Despite my protests, I leave the spa massage-less and tenser than I had been when I walked in. My week of wellness was feeling pretty unwell.
A day later, and I get a message from my friend, artist, creative director, and medical marijuana goddess, Kristin Adamczyk.
"I think I can help," she says. As ambiguous as that sounded, I had no choice but to trust her. My story was losing steam, er, smoke.
There are two prominent cannabinoids found in cannabis — CBD and THC. These are the most studied and most understood elements, and the easiest to explain. To put it simply, THC is responsible for the "high" feeling, and CBD is non-psychotropic, meaning it will not alter consciousness or perception. CBD provides pain relief, anxiety relief, and aids in the reduction of inflammation, nausea, seizures, muscle spasms, and psychosis, to name a few. Both THC and CBD offer pain relief and elicit different effects by interacting with the body's endocannabinoid system. In short, our bodies were made to process cannabis. One is not better than the other, but like a peanut butter and jelly sandwich, they work best together. Mmm. Sandwiches.
Michigan is one of 29 states that have legalized the medicinal use of hemp-derived CBD oil. CBD oil from marijuana, however, is still considered illegal (unless you're a registered medical marijuana patient.) This explains why some establishments might choose to keep their CBD use on the down-low.
Adamczyk recently teamed up with masseuse and bodywork specialist, Zeena Marouf for their latest endeavor, Green T Residency. A female-owned and operated pop-up service, Green T is inspired by ancient Chinese tea time and honors reflection, multistep therapy, and self-care.
"There is an entire market of patients who want luxury, beauty, and wellness solutions that are just not being reached," Adamczyk explains. "We wanted to focus on the experience aspect. Patients shouldn't feel bad about their interest in alternative medicine."
Through the use of Michigan-made products and personally made CBD- and THC-infused topical recipes, each spa treatment is thoughtfully curated from a menu that consists of massage variations, topicals, and take-home items to prolong the effects of the treatment.
Adamczyk and Marouf agree to provide a hands-on demonstration of their services before their official launch. When I arrive at Adamczyk's loft, I am greeted with a cup of CBD oil infused lemon tea (a featured Green T Residency menu add-on) before being asked to discuss my pain-filled past. Though it is offered to me, I decline the floral pre-roll before my treatment as I wanted to feel the sensations from the products more purely. Before I know it, I am out of tea and it is time to disrobe and get my rub on.
In keeping with the citrus theme, I choose Michigan Organic Rub in Lemon. This would be applied to my problem areas, which happened to be my hip and lower back, as Marouf warms coconut oil infused with CBD drops for the better part of my treatment.
What happens during my massage is hard to say, as it is as close to an out-of-body experience as I had ever had (save that time I took Molly and went to Theatre Bizarre). OK, so I'm not rolling or tripping but I have achieved new levels of euphoria as Marouf takes on the impossible challenge of making a disabled woman feel invincible.
Her focus for my therapy was activating acupressure points from my face down to my toes. Whereas most massage therapists are scared to touch someone with fusions or surgical hardware, Marouf listens to my body and in turn, I melt into her movements. She uses her forearm to wiggle those nasty pinched nerves from my shoulder blades, opening my wings with her elbows. When she reaches my problem areas, she whips out the medicated balm I had selected earlier and works my hip in circles, which aided in the blood circulation of my tender muscle. The balm provides a deep-tissue warming sensation.
This is perhaps the most enjoyable hour of my whole damn life.
When the massage ends, I stand up and instantly feel as though I am standing straighter. I feel taller, my muscles vibrate with pleasure, and for the first time in years, I have forgotten that I was in any way broken.
Marouf encourages me to drink plenty of water, as hydration is key to healing muscles and detoxification.
"I've been a massage therapist for 12 years and I've learned that massage is just one tool," she explains. "Using cannabis in my practice just seemed like a natural thing — like exercise or drinking water. Self-care is so important, but this is just one piece of the puzzle."
On my way out, I am given a hemp-derived CBD patch by Pure Rations to take home, and leave with a newfound appreciation for my body and all that it is capable of — even if that means feeling good for just one night. My massage is both a wake-up call and a call to arms, back, neck, and legs. If our bodies are in fact temples, I was determined to worship at the Temple of Jerilyn every damn day.
For questions, inquiries, and Green T Residency updates, email [email protected].