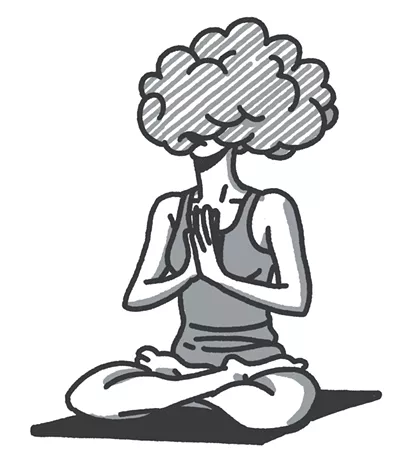 Higher self
Elevated Yoga
At first thought, yoga and weed see somewhat counterintuitive. The art of breathing paired with smoking? Then again, does it not make perfect sense to combine the two? I was prepared to high-five angels.
The 4/20 friendly studio, Elevated Yoga, hosts High Noon, Yindica, Hybrid, and Slow Burn classes Monday through Saturday. Thanks to a neighboring dispensary, Utopia Gardens, Elevated Yoga is able to support free yoga class to card-holding patients on Thursday nights.
Class starts with what is referred to as "sesh," a 30-minute smoke session and an invitation to connect with your breath, body, and fellow toking yogis. Participants are welcome to bring their own joints, vapes, pipes, bongs, bowls, and rigs, but thanks to Utopia Gardens, everyone was given a fat pre-roll upon registration. On this particular night, nearly 25 people cram into a room that comfortably holds 15 and the temperature flirts with Bikram levels as the room filled with smoke. Normally, my social anxiety might skyrocket in such close quarters. Instead, I am excited to be close to strangers even if our only interpersonal interaction was passing joints from one end of the room to the other.
It should be noted that I had not done yoga regularly for more than five years. In addition to not being the most flexible person (on account of those gnarly titanium rods I mentioned earlier), I am not known for my ability to stay focused (on account of my crippling neurosis). This would normally propose several challenges, but only after 20 minutes of smoking I am high enough to take them on.
Our teacher Lauren Williams makes me feel in control of my body and ensures that there is no right or wrong way to strike a pose. While others gracefully press themselves from their mats through a series of sun salutations, I give in to child's pose (which is ultimately just laying down) on more than two occasions. My legs are shaking, my arms are rubbery, and my core is weak. I am out of practice.
Instead of feeling powerless or inadequate, though, I tap into my heightened awareness, deepen my breath, and convince myself that I was capable of anything. This sensation is not comparable to drunken fearlessness or impaired judgment. This is a spiritual unpacking of stress and self-doubt that just so happened to be in a room of sweaty, stoned people.
"Yoga connects me to my breath and I can focus on bringing my breath into my body, which offers healing," Williams says. "Some of these people have been stabbed, have fallen out of airplanes and their parachute didn't open. I get to hear so many stories about pain, and oftentimes the only solution some of these people have is cannabis as their medicine. And yoga is movement medicine."
Williams says she was "nervous about people's judgment" at first. "There are a lot of yoga teachers in the yoga community that smoke weed," she says. "And they use it for the same healing reasons, but not everyone wants to put themselves out there. So, this was already happening. Now there's a space for patients where they feel comfortable to talk to one another and practice. I will teach yoga to anyone. I will go to jail and teach. I teach children. So, why wouldn't I do this? This is what I do."
As practice nears the end, I take to the boat pose with confidence despite the aching of my stomach muscles. Lauren leads us through some cooldown movements from a seated position and has us place our hands on our hearts.
"The light within me honors the light within you," she says. "Namaste."
Before we can bow our heads, a voice emerges from the back of the room: "If anyone would like dabs come on back."
The room bursts into laughter and we collectively shake out our sore limbs, peel ourselves from the floor, and continue our journey to connect with our highest selves.
Elevated Yoga is located at 2930 E. Jefferson Ave., Detroit; 313-444-9264; elevatedyogi.com or email [email protected]; Single classes are $10, monthly memberships are available for $50 donations.