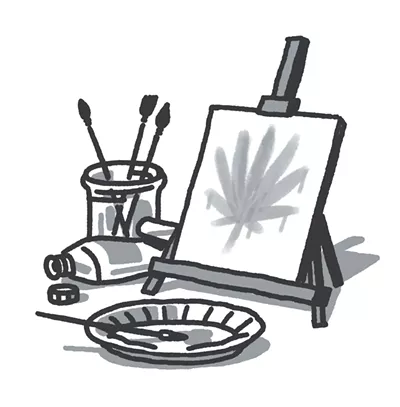 High art
Puff, Puff, Paint
When I first hear about Puff, Puff, Paint, I immediately think of Painting With a Twist, with the image of the universally quirky aunt and a shitty acrylic still-life of a wine bottle that is proudly displayed in her kitchen popping into my head. A riff off of the basic girls' night out, Puff, Puff, Paint had an extra something Painting With a Twist did not — weed.
Started in 2015 by MJ and art therapist Kay, Puff, Puff, Paint's mission was to start a less familiar conversation about the healing properties of sweet, sweet, cheeba.
"We wanted it to be more patient-oriented, not your typical stoner event," explains MJ. "You have to be tenacious when you do something like this. The law is changing. We're losing venues, but getting other ones. We have no choice but to press on."
When I sign up for one of their Puff, Puff, Paint events, MJ and Kay had just lost the use of their home venue due to a raid at a THC expo event the week before.
"I'm sorry this is so chaotic," MJ says. "This is our first time here. It's not usually like this."
In the basement of an undisclosed location in a multipurpose space, easels, pallets, and cups of water are passed out while Kay gives each artist a canvas. The subject matter for this class is the iconic Detroit skyline which Kay had already drawn onto the canvas for us to fill in. While we settle into our stations, everyone gets busy with the task at hand — smoking.
Like most of the weed-friendly activities in the city, Puff, Puff, Paint does not provide cannabis. For $30 they provide the service, supplies, guidance, and venue. Kay, who has a master's degree in art therapy, encourages us to start with the outline of the buildings. By this point, almost everyone has already begun blazing and I have already torn into one of several bags of munchies.
One woman was celebrating her birthday with us after Googling "weed events Detroit." "Art and weed? I was sold!" she says. "Now y'all just need to provide some nude male models to get this popping!"
Though Kay provides a suggested rasta-themed color palette, she is quick to remind us that all colors are available to us. This sticks with me. I am high and channeling Pocahontas vibes — painting with all the colors of the wind.
"The marriage between creativity and cannabis together really works. It's beautiful," Kay explains. "You feel more open. It's helped me as an artist and has helped me manage pain and anxiety. Working in the industry, cannabis is one billion, trillion times more effective than pharmaceuticals, which have become a huge crisis. Why not just use something natural?"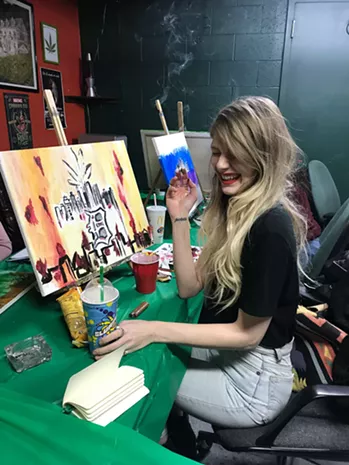 An hour into our painting, my hands are coated with a layer of acrylic paint and Dorito dust. I decide to take pause and peep at the 12 other masterpieces in the making. Some had drawn rainbows over the city. One woman freehanded a park because "kids are the future" and the artist across from me kept shaking her head. "I have no idea what I'm doing," she says, laughing. Kay gives positive feedback as she paces the room. When she reaches my painting and says nothing, I realize that maybe I had gone too rogue.
"I'm so high I made a political statement," I say, laughing using my Slurpee straw to point at the burning buildings I had added along the bottom.
"That is very unique," she assures. "I love how different these all are."
MJ, who has a son with special needs, says medical marijuana has made a drastic difference in his life. "He suffers from schizophrenia and his antipsychotic medication has given him a movement disorder called dystonia," she says. "The cannabis calms that down, he doesn't really have that anymore." MJ suffers from systemic sclerosis, a condition that causes severe joint pain and inflammation, and is more manageable through the use of cannabis.
"Puff, Puff, Paint was born from struggle and adversity," she says. "The feeling of being an outsider and having to hide what helps me."
By the end of my nearly three-hour Puff, Puff, Paint experience, I had devoured all three bags of snacks and my Slurpee, and created a painting that would likely be displayed in my basement, under the stairs, hidden out of sight, and never to be seen again. I am not an artist. But thankfully, that's not what this was about. The stresses of the week fell away as I balanced a joint and paintbrush between my fingers, and I am filled with silliness as I catch a glimpse of my masterpiece from the passenger seat on my way home. There are worse ways to spend a Friday night.
Information for future Puff, Puff, Paint events can be found at eventbrite.com or by visiting facebook.com/puffpuffpaint.org; Classes are $35 donation with advance registration, and $40 day of.