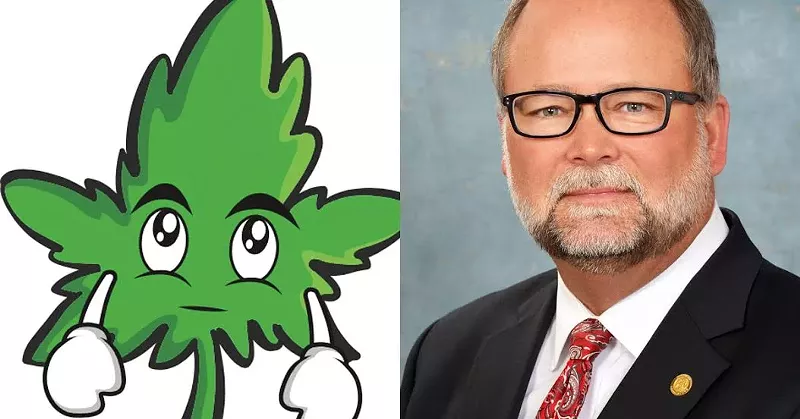 Remember when Michigan voters repealed the Emergency Manager law early this decade and then the Republican-led legislature subverted their will by passing a referendum-proof version of the law a month later? Well, the Lansing rumor mill is a'spinnin following yesterday's big news that
marijuana legalization will be on the November ballot
— and yes, there's some indication that Republican lawmakers could try to do some meddling in the lame duck session should voters approve it.
According to Lansing lawyer and legalization advocate Jeffrey Hank, there are two ways lawmakers could change the ballot initiative if it's approved. Following yesterday's green light from the State Board of Canvassers, lawmakers now have 40 session days in which they can approve the ballot initiative themselves and make it law. If this happens, the issue will not go before voters, and all lawmakers will need is a simple majority of 51 percent to make changes.
Another scenario — and this is the one Hank says he's hearing the most about — is that voters could approve the law, and then lawmakers could alter it in the lame duck session. To make changes at that point, they would need a three-fourths majority.
While Hank says he and other advocates would, on the one hand, like to see the legalization proposal adopted immediately, "We don't want the legislature to need only a simple majority to amend it because they can go in and undo it easily and there's a fear that they will create a more oligarchic [legalization] model where a few politically connected groups control the marijuana market."
A third and highly unlikely scenario, Hank says, is one in which lawmakers create their own alternative marijuana legislation and put that before voters in November alongside the legalization initiative by the Coalition to Regulate Marijuana Like Alcohol. But to do that, lawmakers would have to find some consensus on the thorny issue that they've approached with the pace of molasses in the past.
The lame-duck scenario was the subject of a WLNS report by political correspondent
Tim Skubick
yesterday. Skubick spoke to Senate Majority Leader Arlan Meekhof, who wouldn't confirm whether there were any such plans, but reportedly said, "We're asking about it." He added, "I haven't considered anything beyond getting it to my floor first."
Skubick spoke with one senator opposed to marijuana legalization who said he'd vote in a lame duck session to change the law should it be approved by voters.
"If the people of Michigan want it, I'm willing to come back in lame duck and perfect the law," Sen. Rick Jones of Grand Ledge was quoted as saying.
The coalition of groups behind the latest marijuana legalization initiative spent months crafting the language, and their final product is similar to initiatives passed in other states that have legalized pot. Hank and other marijuana advocates who put forth a 2016 ballot initiative through the group MILegalize have spent years working toward the goal of legalization. That initiative was rejected by the State Board of Canvassers after it said the group hadn't collected the required number of petition signatures within the number of days allotted by the state.
"To see talk that Republicans in the legislature would do this ... that really bothers a lot of us because we feel like we've already been cheated off, we should have been on the 2016 ballot, and we've done all the hard work twice,"' he says. "If they pull some sort of shenanigans now, that's really going to piss everyone off."
Earlier this month,
WDIV
reported that there'd been murmurings in Lansing that Republicans would try to pass legalization on their own before November in order to depress voter turnout. According to at least one expert, the marijuana legalization initiative could draw 2 to 3 percent more people to the polls.
More than 60 percent of Michiganders favor legalizing marijuana for recreational use, according to the latest poll by EPIC-MRA.
Stay on top of Detroit news and views. Sign up for our weekly issue newsletter delivered each Wednesday.