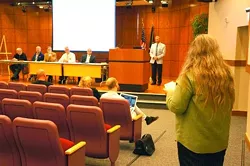 Last week, the Michigan Marihuana Review Panel, which makes recommendations on qualifying conditions to the Michigan Department of Licensing and Regulatory Affairs, heard public testimony on a petition to add Post-Traumatic Stress Syndrome to the list of qualifying conditions. If the panel recommends the condition and LARA Director Steve Arwood concurs, it would be the first condition added under the Michigan Medical Marijuana Act, and the first qualifying psychological condition in Michigan.
A previous panel actually heard testimony once and voted in favor of adding PTSD in March. However, that panel was disbanded due to a technicality on how it was formed. The new panel needed to hear new testimony in order to decide on the PTSD petition. About 20 people, mostly women, spoke at the most recent hearing.
Melody Karr, a medical marijuana activist and patient in northwest Michigan, spoke about her experiences after having seen her first husband kill himself with a gunshot to his head and having her second husband die when she was 32.
"Cannabis has been a godsend for me," Karr told me during a phone call after her testimony. "I once had a doctor tell me that a lot of his colleagues seemed to feel that cannabis was not a good treatment for PTSD because of the short attention span associated with it. They thought that talk therapy was best and cannabis could make you forgetful. I have talked about my problems, written about them and seen a therapist. It's not that I can't talk about it. The problem is that I can't stop. In the simplest possible terms, I can smoke a joint and forget to be all messed up. I can smoke a joint and start thinking about other things. I can smoke and think about the things that happened and have some perspective without the negative self-talk."
Charmie Gholson, an Ann Arbor activist, described her experience of having been beaten, raped and left for dead. She discussed how PTSD causes her to have flashbacks and nightmares that make her relive those traumatic experiences, as well as guilt, shame, hopelessness, difficulty maintaining close relationships, being easily startled and hypervigilance.
"It is a constant, never-ending battle to escape the torture that has chased me for some 40 years," Gholson testified. "Not even sleep offers a reprieve, because you better not go to sleep. You better not. …
"Cannabis isn't the only treatment I use for this debilitating disorder, but I know for a fact that is the most effective and safe treatment available to me. Using cannabis gives me a bit of stretched-out time, room to make a decision regarding my actions, rather than succumb to a trigger. … To put it simply, cannabis allows me to choose my course of action, rather than live in that reactionary chaos of madness and terror."
When the first panel heard testimony, most of it came from veterans who had experienced trauma in combat. That's partly because John Evans, an Ann Arbor-area activist who brought the petition that led to these hearings, is a Navy veteran. Most public awareness about PTSD has been around military experiences.
"I just know that too many young veterans aren't getting the help they need," says Evans, who wasn't present for last week's hearing. "I use medical marijuana for chronic pain and one of the side effects is I stopped dreaming. I don't have dreams. Veterans, you take away their nightmares and they can sleep. They can process things and deal with issues.
"I've come to find out that it is more prevalent and common than I realized. More people are able to talk about it more freely," Evans continues. "When you look at the assaults on women and any particular lifestyle or career, hospice care, emergency response, police, fire, anyone who's been through a natural disaster and lost their home, survivor's guilt, all of these can be triggers for post-traumatic stress. It is centralized in veterans who get the most press and acknowledgment, but it's much more common."
That there were a lot of women testifying is evidence of the recent trend where women are now stepping to the forefront in marijuana activism. Lawyer Alison Holcomb led the legalization effort in Washington state last year. Cheryl Schuman, winner of Most Outstanding Activist of the Year Award at the 2013 Seattle Hempfest, is taking a visible role in the current campaign for the Ohio Cannabis Rights Amendment.
A group of "Pot Moms," who said cannabis made them better mothers, were central in Piers Morgan's CNN special Gone to Pot a few weeks ago. In Michigan, Brandy Zink is chair of Michigan for Safe Access, a medical marijuana patient advocacy organization. Gholson is founder of Michigan Moms United, which helps protect families and children affected by the War on Drugs. She echoed the statements by the women on CNN during her testimony last week.
"Using cannabis for my PTSD allows me to be present with my children, eases my hopelessness and allows me to be compassionate with myself to alleviate some of the guilt and shame I internalized," Gholson said.
The 11-member panel, seven of whom are members of the state's Pain and Symptom Management Advisory Board, will decide whether or not to recommend adding PTSD to LARA within the next couple of months. Arwood will then decide whether to add the condition or not. The only nonmedical professional on the board is Dave Brogren, president of Michigan's Cannabis Patients United, a nonprofit dedicated to maintaining the core principles of the MMMA.
"It wasn't polished as much as it was powerful," says Brogren of the testimonies. "I sit through these things and hear people bare their souls and it's very difficult as they try to talk about things they'd rather not talk about."
Brogren says he's "cautiously optimistic" about the chance of the panel recommending PTSD. The previous panel voted in favor of it before it was disbanded for procedural reasons. State Medical Examiner Matthew Davis, a panel member, voted yes in a preliminary Aug. 6 count. As it stands now, if all panelists vote the way they did then the recommendation will go on to Arwood. There wasn't much at last week's meeting to turn someone against the petition if they already support it.
It seems that Arwood should take the recommendation of the panel. If not, it would be a purely political decision. In other states, such as Maine and Oregon, PTSD is a qualifying condition.
The MMMA was passed by voters nearly five years ago, and it called for this panel to convene within 90 days of it going into effect. The state dragged its feet on establishing and convening the panel; it didn't meet until last fall and then, after it recommended adding PTSD, there was bureaucratic reason to not accept the recommendation.
It seems the state has not been approaching the issue with due dispatch and, some might say its intent is malevolent.
It's about time state regulators start running the Michigan Medical Marihuna Program like they meant it. Voters meant it when they voted for it, and they're still paying attention.
Larry Gabriel is a writer, musician and former editor of Metro Times. Send comments to [email protected].