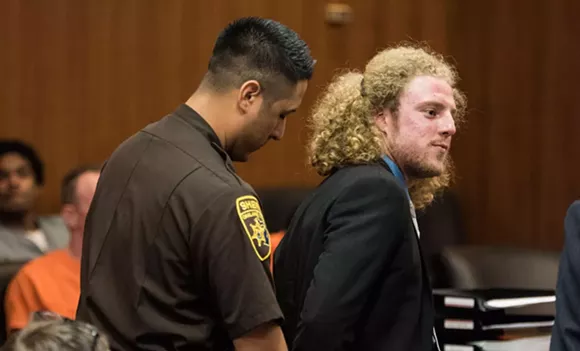 It turns out that Michigan's medical marijuana patient fees — the $60, (previously $100) two-year cost for most patients — have made the Michigan Medical Marihuana Fund flush with cash. And to return the favor, state law enforcement has tapped that fund to aggressively crack down on marijuana.
It's like a snake eating its own tail — or rather, smoking its own tail.
According to a
Detroit News
report
published Monday
, metropolitan Detroit sheriff's departments spent more than $600,000 on dispensary raids over the past year. And there's plenty of money for more: according to the report, the fund has raised more than $30 million.
"I really don't think it's appropriate to fund law enforcement on the backs of medical marijuana patients," medical marijuana attorney Matt Abel told the
Detroit News
. "… It's really a hidden tax on patients."
Critics say state law enforcement is overly aggressive when it comes to enforcing medical marijuana laws, often prosecuting minor offenders to the fullest extent of the law. According to last month's
Metro Times cover story
, marijuana arrests are up statewide — 11 percent higher than when the medical marijuana law was enacted in 2008.
"Marijuana is low-hanging fruit," criminal defense attorney Neil Rockind told
MT
. "There's no heroin smell, there's no cocaine smell. Marijuana cases for them, there's a lot of money in them and they're easy to detect. Police have the easiest time .... finding proof of and the easiest time prosecuting [them]."