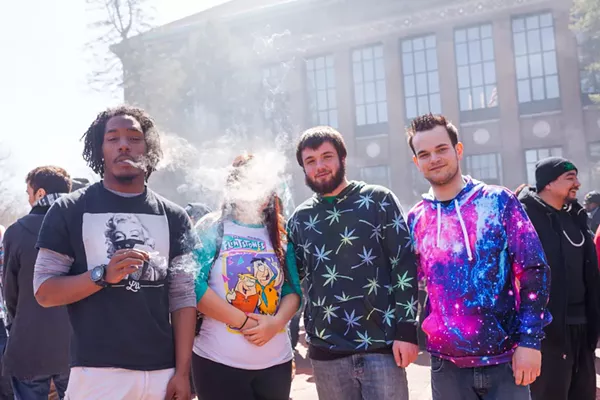 The people of Michigan have spoken: It's now 4:20 forever.
OK, chill out. Obviously, that's an exaggeration. But still, there's plenty of cause for stoners to rejoice. Michigan just joined nine other states, the District of Columbia, and Canada in legalizing recreational marijuana.
That's right: We're now as radical as Canada. Cowabunga!
With 55 percent of precincts reporting as of 11:40 p.m., 57.7 percent of voters had voted "yes" on Proposition 1, according to the
New York Times
. The proposal allows people 21 and older to possess, use, and buy cannabis for recreational use. Canna-businesses must obtain licenses and must be supplied by large-scale growers and be lab-tested, with grower licenses available for 500-, 1,000-, and 1,500-plant operations. The proposal also creates an additional license for marijuana "microbusinesses" for grows of up to 150 plants, and individuals can grow up to 12 marijuana plants per household.
The state will collect a 10 percent excise tax on marijuana sales, with revenue split between education, infrastructure, and municipalities that have approved marijuana businesses.
Unlike other states, Michigan's legalization effort does not include exoneration for those who've been convicted of marijuana crimes in the past. However, on the campaign trail gubernatorial candidate Gretchen Whitmer and attorney general candidate Dana Nessel have said they support such a path.
Michigan voted to legalize marijuana for medical use in 2008. A ballot initiative to legalize recreational use failed in 2016 when supporters did not get signatures within the requisite timeframe, but that was only because Republicans
changed the rules
to limit the window to collect signatures to 180 days.
As someone
who is fond of the leaf myself
, I'd like to personally thank everyone who voted to legalize weed. Thank you, Michigan!
Stay on top of Detroit news and views. Sign up for our weekly issue newsletter delivered each Wednesday.