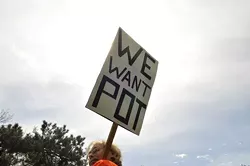 THIS MAY BE THE biggest news about marijuana since the War on Drugs kicked off under President Richard Nixon: Uruguay is standing on the verge of legalizing it.
A couple of weeks ago, the South American nation's General Assembly passed a bill that would legalize growing, selling and possessing the plant; it still has to pass in Uruguay's Senate and be signed by President José Mujica.
It would seem there's no contest there as the Senate is reportedly more in favor of the legislation than the General Assembly — and Mujica proposed it in the first place. However, there is no doubt in my mind that the U.S. government is working heatedly behind the scenes to derail this historic change. Past experience tells us that when a nation desires to do something counter to U.S. policy, our government twists arms and threatens to cut off any aid that it may be giving them.
But then, Mujica may stand strong. He is a former guerrilla fighter who spent 14 years in prison. His administration has one of the most liberal agendas in the Americas. In addition to legal marijuana, it supports same-sex marriage, has passed an abortion rights law and boosted the use of renewable energy. Among other reasons, legalizing marijuana is aimed at taking the market away from drug gangs.
For the moment, Uruguay leads a trend working its way across Latin America. The presidents of Guatemala, Colombia and Mexico have called for discussion about legalizing and regulating drugs. Former Mexican "drug warrior" presidents Ernesto Zedillo and Vicente Fox both now say that marijuana prohibition has failed and have called for new policies.
Closer to home, the three most recent U.S. presidents have all smoked it — although Bill Clinton maintains he didn't inhale — 20 states have medical marijuana laws and two states have legalized it for recreational use. However, an entire nation such as Uruguay would have even larger implications and repercussions. Other nations, such as Holland and Portugal, have decriminalized drugs to some extent, but Uruguay is proposing legalization. This would break the drug policy stranglehold the United States has held over governments in the hemisphere for decades.
The current policy obviously hasn't worked on drug traffickers. Some Latin American nations are looking for another way when it comes to drug policy, something based on evidence rather than fears. If Uruguay legalizes, then chances are that some other countries will be emboldened to change their own policies.
Uruguay's step is more evidence that anti-prohibition forces are active well beyond our borders, and they, too, are making progress.
Policy Back Home
YOU'D HAVE TO BE living under a rock around here to be ignorant of the petition that has been turned in by activists to put the question of decriminalizing possession and use of marijuana in Ferndale on that city's ballot this fall.
And you probably know they'll be voting on that in Lansing and Jackson too. That's because the media attention on those filings was so intense it was hard to miss. You'd think these initiatives were a new thing, but there were similar ones on ballots in five Michigan cities last year — Detroit, Grand Rapids, Kalamazoo, Flint and Ypsilanti — all successful.
"I've never seen anything like it," activist Tim Beck says about this year's media attention. "I've never experienced such media frenzy and I've been in this fight for 10 years. Ferndale was the 'crème de la crème,' every TV station in southeast Michigan was there. The word really got out. It's becoming so mainstream now — and more or less legitimate. We're winning the political and cultural battle with respect to the misguided policy of marijuana prohibition."
Ferndale is a suburban community of about 20,000 that is literally across the street from Detroit, where some 700,000 people live.
In contrast, when petitions were presented for Detroit's vote in 2010, it was noted, but there was nowhere near the media saturation we got over the last few weeks. Of course, officials in Detroit didn't want to talk about it. Not the mayor, nor the City Council; and the Detroit story had some drama to it. First, the Election Commission refused to put the issue on the ballot, claiming that it was counter to state law and thereby could not be voted on. The Committee for a Safer Detroit, which had initiated the petition drive, sued in Wayne County Circuit Court, which ruled in favor of the Election Commission. Then the Court of Appeals (none of this ever seems to be settled without an appeal) ruled in favor of the petitioners. And finally the state Supreme Court chose to let the COA ruling stand.
There was some media attention given last year's initiatives, but they happened on the same day that President Barack Obama overwhelmingly beat Mitt Romney. You can understand why other things were on people's minds back then.
There is no such distraction this year. One notable aspect of the Ferndale initiative is that it's the first Oakland County community to take a swing at softening marijuana prohibition. Oakland County has had one of the toughest responses against the Michigan Medical Marijuana Act. County Sheriff Mike Bouchard and Prosecutor Jessica Cooper have been very aggressive against medical marijuana facilities. So far they haven't commented on the Ferndale petition initiative.
Another reason these new initiatives have garnered so much attention is that the activists have a track record of success. And they're savvier on how to deal with media.
"I worked the issue a little smarter this time around," Beck says. "I've cultivated contacts in the media. It's just becoming more legitimate and I can speak with some credibility. When word got out that the petitions would be turned in, it spread like wildfire. The media are competitive and calls were coming out of the woodwork."
Even the actual media coverage is beginning to mature. They're starting to lose their nod-and-a-wink attitude with headlines with "hazy," "cloudy" and "up in smoke" double entendres.
That's happening in part because the story has to be taken seriously. If the changes are successful in Lansing, Jackson and Ferndale this year, that will make nine Michigan cities — including Ann Arbor — that have either legalized, decriminalized or made possession of small amounts of marijuana a lowest law enforcement priority. Those are many of our most prominent cities. The anti-prohibition snowball just gets bigger and bigger.
"We've got a foolproof method now, especially after the litigation in Detroit," says Beck, who pitches in with others around the state. "They can't keep us off the ballot anymore."
Larry Gabriel is a writer, musician and former editor of Metro Times. Send comments to [email protected].