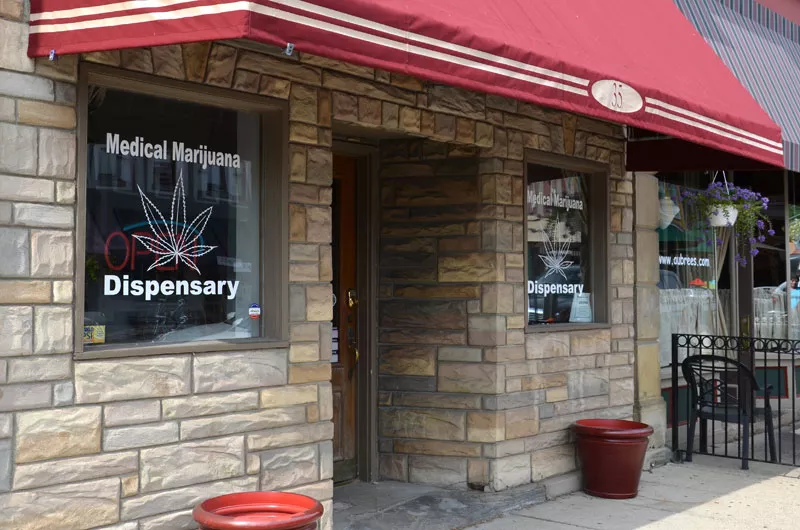 It's still not over for the business owners and patients caught up in the medical marijuana licensing mess.
The next step will be on Friday in Court of Claims Judge Stephen Borello's courtroom. That's when the state Department of Licensing and Regulatory Affairs and the Michigan Medical Marihuana Licensing Board are scheduled to show cause justifying the shutdown of currently open marijuana businesses before Dec. 15. Last week, Borello issued a stay on an Oct. 31 deadline previously set by the MMMLB.
Since that date is now a moot point, come Friday it will be five weeks until Dec. 15, so it hardly seems worth setting any deadline before that date — unless the goal is to throw the medical marijuana delivery system into chaos.
"It's a mess," said one business owner I spoke to over the weekend about the situation.
Even though this business owner's location is one of the state's few licensed provisioning centers, the owner isn't sure where provisions will be coming from after the 30-day period during which caregiver-derived marijuana can be sold. As it is, I had to sign a form saying I was aware that these cannabis products had not come from the state system — though it wasn't a big deal since everything that's been sold for the past decade hasn't come from the state system.
According to information provided by David Harns of LARA, as of last Friday, 64 licenses for medical marijuana had been granted. Among those are 37 provisioning centers, eight processors, three secure transporters, four safety compliance facilities, 11 Class C growers, and one class A grower.
It should have dawned on the MMMLB to start licensing growers some months ago. It takes four months to grow a marijuana plant to maturity. And considering that it's a new system and everything has to go through testing and all, maybe that really should have started six months ago.
On top of that, Class C growers can have up to 1,500 plants and Class A growers can have up to 500 plants. That means that 17,000 plants have been licensed to be grown at this point — and not all of those are even growing yet.
There are some 300,000 medical marijuana patients in Michigan, and an obvious disparity in the supply and demand. Even with the caregiver system and some patients growing their own, what the state has in place is woefully inadequate. I know from firsthand experience that maintaining a constant supply of quality cannabis growing in your basement is hard. The people who are good at it spend a lot of time tending their crops. My point is that a lot of people who once thought they were going to grow their own marijuana found out it was a lot easier to drive over to the store and buy some.
These numbers speak for themselves, and present a stark challenge for patients if they had to depend on the system today, or even on Dec. 15. Even if those license totals were doubled by next month, it would not come close to meeting the demand for patients. There were reportedly more than 200 provisioning centers in Detroit alone before a zoning ordinance and crackdown shut most of them down. Now there are only 37 licenses in the entire state.
Once patients have quickly wiped out that supply, it will be four months before replacement supplies will be available.
At the heart of all this is a medical marijuana system that was developed to root out what law enforcement considers drug dealers, rather than helping patients access medication. The process seems set to root out anybody that may have illegally profited from medical marijuana sales these past 10 years. In other words, they're trying to eliminate the drug dealers from getting a license to be a drug dealer.
It seems that everything the MMMLB has done since it started meeting in June 2017 has been to intimidate and overburden applicants. Marijuana activist Tim Beck says he believes that was the goal from the start.
Beck was part of the crew that brought the Michigan Medical Marihuana Act to voters in 2008 and Detroit's decriminalization vote in 2012. He's a keen observer of state politics and a self-described Republican. He's been frustrated with the pace of creating a statewide marijuana distribution system.
"I had no expectation that it would go on this long," Beck says. "The marijuana issue is a unique rail in the political system in this state. No politician wants to touch it. They're just scared of it. In their minds it's radioactive. The GOP control that we've had for a good eight years, they control the chairmanships, and they choose to do absolutely nothing. It's so toxic they don't want anything to do with it. It's all been gridlock created by the Republican Party."
That would explain what we've witnessed in Lansing. That "gridlock" has led to a mess of a ramp-up to a medical marijuana production and distribution system that is still not in place.
As it stands at the moment, Dec. 15 is the shutdown date, but that could change after Friday's hearing.
The Michigan Medical Marijuana Licensing Board has run roughshod over businesses owners since its second meeting in August 2017. In that meeting all businesses were threatened with a shutdown. Donald Bailey, a former police officer and a board member, called for all businesses to be shut down more than a year ago on Sept. 4, 2017.
It would have been a disaster had that happened. It's not clear what Bailey expected patients to do over the several months during which no medication would have been available under this plan. Luckily, the MMMLB chose not to follow that advice. Unfortunately, what they chose to do has been fraught with second-guessing, mistrust of the businesses, incompetence, and good old reefer madness.
According to Beck, the reason the medical marijuana licensing process looks like an effort to root out drug dealers is that it was largely written by law enforcement members who want to root out drug dealers. It started with state Sen. Rick Jones, who pulled together support for the 2016 laws allowing sales of medical marijuana.
"He's a former sheriff, he can talk cop talk," says Beck. "He went to every cop in the world and he was very patient. He explained the whole thing and he finally got them all on board or neutral. The law was basically written by cops. They wanted to make sure that no ne'er do well gets through the system. It's the equivalent of an anal exam you have to go through with the documentation and history. ... Just listen to this Bailey. He was a big cop, he was with the DEA, he was the top narc. He is determined that the guilty are not going to be rewarded for their illicit activities of the past. That's a cop mentality. You have to basically prove yourself innocent to get Bailey's vote and qualify for a license."
That's why we have this big hang-up. Whatever happens in the courtroom on Friday, it will not make enough marijuana for patient demand magically appear on the shelves at provisioning centers. In order for patients to have access to what they need, the MMMLB has to license a lot more growers and retail outlets, and push its deadline for shutdown into 2019.
Industrial hemp
As marijuana normalization moves forward, industrial hemp could be really big. It's in this area that people who claim that cannabis can revolutionize our economy have the strongest case. People in parts of the country that are not cannabis-friendly don't have a problem with hemp. You can make practically anything out of cannabis. You can eat it, wear it, sleep on it, decorate with it, wash with it, and fuel your vehicle with it, and numerous other things.
Hemp is a strain of cannabis with extremely low THC content. The fibrous stalks of the plant have long been used as a textile. However, it got thrown in with marijuana prohibition because police couldn't tell the difference between the plants. Hemp had a brief comeback with the "Hemp for Victory!" effort during World War II encouraging farmers to grow it. Peacetime brought a renewal of hemp prohibition, although there is wild roadside hemp growing throughout the Midwest.
Today's industrial hemp is imported mostly from Canada and China. Several states have recently tried reviving hemp farming. Maybe "Hemp for Victory!" should be the unofficial slogan of Michigan's legalization effort.
Stay on top of Detroit news and views. Sign up for our weekly issue newsletter delivered each Wednesday.