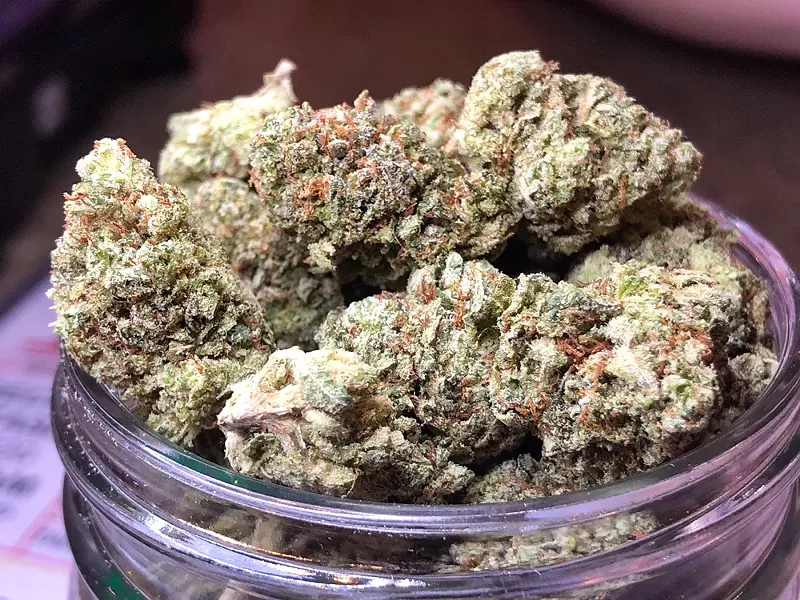 Six months after Michigan voters approved the legalization of recreational marijuana, hundreds of Michigan communities have created ordinances prohibiting cannabis businesses from opening within their borders.
Under the ballot initiative, which 55.9 percent of voters approved, communities have the option of banning or limiting the number of dispensaries, commercial grow operations, and testing labs.
Supporters were hoping the allure of a new tax base would prompt cash-starved municipalities to embrace cannabis businesses.
But so far, at least 386 communities — or about a quarter of all of Michigan's cities, villages, and townships — have adopted ordinances banning the businesses, according to data from the Michigan Department of Licensing and Regulatory Affairs. More communities are expected to ban cannabis businesses before the state begins taking applications — likely in December — from prospective dispensaries and commercial growers.
Proponents of dispensaries and grow operations say it's unfair for communities where a majority of residents approved legalization to ban the businesses that would allow people to buy recreational marijuana.
One of those proponents is former state Rep. Mike Callton, a Nashville, Mich., Republican who's now helping municipalities understand the laws and benefits of recreational marijuana.
"I don't understand the municipalities that opt out when their voters approved recreational marijuana," Callton says. "Communities aren't listening to their voters."
Under the new law, residents can override municipalities' ban on cannabis businesses by gathering petitions to put the issue on the ballot. Callton said he expects several ballot initiatives over the next two years.
The first community to challenge a ban on cannabis businesses was Royal Oak Township. But only 377 voters turned out on May 7, and the ballot initiative was defeated. The initiative called for an unlimited number of dispensaries and growers.
In the village of Vanderbilt, residents will vote on permitting cannabis businesses on Aug. 8. Vanderbilt residents approved the legalization of recreational marijuana in November with 57 percent of the vote, but elected leaders there want to stop recreational marijuana businesses from opening in the small town.
Cannabis activists believe many more communities would face challenges to their bans if more residents knew they had the option. The only requirement is to launch a petition with at least as many signatures from qualified voters as 5 percent of the number of people who voted in the last gubernatorial election.
"A lot of people aren't aware of their right to have a ballot initiative," says Matt Abel, executive director of the Michigan chapter of the National Organization for the Reform of Marijuana Laws (NORML). "More people need to become aware of it. We believe that will help stimulate more ballot initiatives."
Last November, voters in a vast majority of Michigan communities approved the legalization of recreational marijuana. Voters approved legalization in 100 of the 113 communities in Macomb, Oakland, and Wayne counties. But so far, elected officials in the tri-county area have banned recreational cannabis businesses in at least 34 communities. In Macomb County, eight of its 11 townships banned dispensaries and grow operations. The three that haven't are Bruce, Clinton, and Lenox townships, according to the latest state data.
Some of the communities that prohibited recreational pot said they may lift the ban once LARA establishes the rules and logistics.
LARA spokesman David Harns says the state plans to release a draft of the rules by June.
"We want to make sure that all of the communities have ample time to make a decision," Harns says.
In Dearborn, where a majority of residents supported recreational marijuana, the city council decided in December to opt out for 18 months and then revisit the issue.
"The city council wanted to see what the state regulations are going to be and how they are going to be implemented," says Debra Walling, corporation counsel for the city. "We want to wait and see."
In Sterling Heights, city leaders took the same approach. It's the most populated city in the state that banned cannabis businesses.
"At this time, they thought that opting out was the best option for them," city attorney Marc Kaszubski says.
The state's most populated cities — Detroit, Grand Rapids, and Warren — have not passed anti-recreational marijuana ordinances.
The communities that banned the businesses are going to lose out on a share of what the Senate Fiscal Agency expects to be $157.4 million in sales and excise taxes in the 2020-21 fiscal budget year. By 2022-23, the agency projects the tax revenue to reach $262 million.
It's a new era for marijuana in Michigan. Sign up for our weekly weed newsletter, delivered every Tuesday at 4:20 p.m.