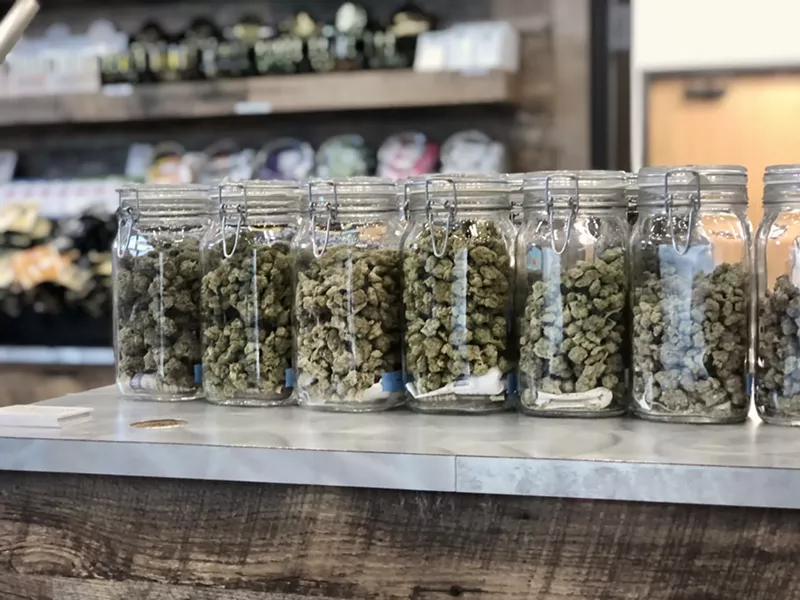 Highland Park has a problematic recreational marijuana ordinance that fails to ensure the cash-strapped city receives benefits from prospective cannabis businesses and gives sole authority to the clerk to dole out licenses, some council members said.
But Mayor Glenda McDonald is vetoing any attempts to amend the ordinance or even hold a public hearing on the issue.
The previous city council passed the ordinance in 2020, and now the city is preparing to accept applications for cannabis business licenses.
But the current council has all new members after voters elected them in November, and a majority of them want to amend the ordinance. They want to require prospective cannabis businesses to provide community benefits, a common mandate in municipalities that permit adult-use cannabis.
The current ordinance also gives Highland Park Clerk Brenda Green sole authority over the licenses, which critics say opens the city up to corruption and a lack of accountability and transparency. Municipalities typically empower a planning commission or appointed board to determine who gets a license.
Councilwoman Kallela Martin, who is helping spearhead the amendments, says the clerk has prevented her from placing the issue on the agenda.
Green didn't not return a call from
Metro Times
for comment.
Council members also want to amend the current ordinance to prohibit dispensaries and grow operations from opening near playgrounds, recreation centers, day care centers, and religious institutions. The current ordinance has no such restrictions.
During a tense meeting on April 20, the council imposed a moratorium on accepting cannabis applications to give members time to hold
a public hearing on the proposed amendments
at 7 p.m. Thursday.
But McDonald vetoed the moratorium and public hearing. Unless the council has enough votes to override the veto, the public hearing may be canceled.
Martin says she can't understand why the mayor is torpedoing changes that would benefit the community.
Under the amended ordinance, applicants would be given preference for offering community benefits, such as providing scholarships, renovating an abandoned building, or cleaning up parks.
"If you want a dispensary, get in here and start helping the community," Martin tells
Metro Times
. "I want businesses to invest in this community. I feel like the youth is robbed of some of the memories that some of our elder generations had. There isn't anything for the kids to do. Let's transform Highland Park together."
Entrepreneur Marcelus Brice, who led a rejected proposal to allow adult-use cannabis businesses to open in the city in 2019, says one of the most troubling sections of the ordinance is the clerk's sole authority over the licensing process.
"I have never in my life seen a clerk with this much influence over anything," Brice tells
Metro Times
. "The current process is not transparent. The clerk has all the power, and she has two employees. This is crazy and doesn't make sense."
Under the amended ordinance, cannabis licenses would be handled by a seven-member regulatory board appointed by the mayor and council.
"This creates transparency and takes away corruptibility," Brice says.
It's unclear why the mayor vetoed the public hearing and moratorium. McDonald declined to answer questions from
Metro Times
and said, "I will have my lawyers reach out to you."
Her lawyers, she said, won't be available Thursday.
"For a mayor to veto a public hearing, saying I don't want any discussion on it, is really odd and strange," Brice says. "I've never in my life heard of a mayor vetoing a public hearing to get input from residents about what they think of an ordinance."
The proposed amendments would also reduce the number of dispensaries from 10 to three – one each on Woodward, Oakland, and Six Mile. The current ordinance has five zones, including a two-block area of Woodward, where "a major funder" to the mayor, clerk, and former council has a building, Brice says. The donor also has a cannabis processing license.
The council is seeking help from an outside attorney, saying the city's legal team is not being helpful.
"You have an administration that doesn't want the council to be a part of the process," Brice says. "Instead of working with the council to get an ordinance that you won't get sued over, they are being obstructionist."
Coming soon: Metro Times Daily newsletter. We'll send you a handful of interesting Detroit stories every morning. Subscribe now to not miss a thing.

Follow us: Google News | NewsBreak | Reddit | Instagram | Facebook | Twitter